105 Best C.S. Lewis Quotes on Faith, Love, and Life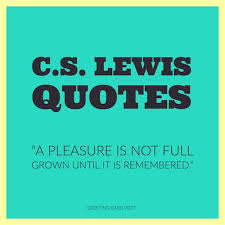 If you are ever feeling lost, take some great guidance from Clive Staples Lewis. World-renowned for his The Chronicles of Narnia series, and with the other works he has left us with powerful words. Read some of his best quotes on faith, love, and life.
105 of C.S. Lewis's Most Inspiring Quotes
Here are some of C.S. Lewis' most notable words. Here was not only a great writer but a wise and God-loving man.
Each day we are becoming a creature of splendid glory or one of unthinkable horror.
Since it is so likely that children will meet cruel enemies, let them at least have heard of brave knights and heroic courage.
To love at all is to be vulnerable.
We are what we believe we are.
Friendship is unnecessary, like philosophy, like art. It has no survival value; rather it is one of those things which give value to survival.
Love is something more stern and splendid than mere kindness.
Joy is the serious business of heaven.
Courage, dear heart.
Education without values, as useful as it is, seems rather to make man a more clever devil.
Everyone thinks forgiveness is a lovely idea until he has something to forgive.
Integrity is doing the right thing, even when no one is watching.
The Son of God became a man to enable men to become sons of God.
We laugh at honor and are shocked to find traitors in our midst.
Gratitude looks to the Past and love to the Present; fear, avarice, lust, and ambition look ahead.
Someday you will be old enough to start reading fairy tales again.
Friendship is born at that moment when one person says to another: What! You too? I thought I was the only one.
Experience: that most brutal of teachers. But you learn, my God do you learn.
There are far, far better things ahead than any we leave behind.
There is but one good; that is God. Everything else is good when it looks to Him and bad when it turns from Him.
Love may forgive all infirmities and love still in spite of them: but Love cannot cease to will their removal.
No man knows how bad he is till he has tried very hard to be good.
Love is not affectionate feeling, but a steady wish for the loved person's ultimate good as far as it can be obtained.
Crying is all right in its way while it lasts. But you have to stop sooner or later, and then you still have to decide what to do.
Humility is not thinking less of yourself, but thinking of yourself less.
No one ever told me that grief felt so like fear.
'You would not have called to me unless I had been calling to you,' said the Lion.
If we find ourselves with a desire that nothing in this world can satisfy, the most probable explanation is that we were made for another world.
What draws people to be friends is that they see the same truth. They share it.
You are never too old to set another goal or to dream a new dream.
All get what they want; they do not always like it.
We live, in fact, in a world starved for solitude, silence, and private: and therefore starved for meditation and true friendship.
In our own case we accept excuses too easily; in other people's, we do not accept them easily enough.
Better to be miserable with her than happy without her. Let our hearts break provided they break together. If the voice within us does not say this, it is not the voice of Eros.
I have learned now that while those who speak about one's miseries usually hurt, those who keep silence hurt more.
Nothing you have not given away will ever really be yours.
The task of the modern educator is not to cut down jungles but to irrigate deserts.
While friendship has been by far the chief source of my happiness, acquaintance or general society has always meant little to me, and I cannot quite understand why a man should wish to know more people than he can make real friends of.
Of all the bad men, religious bad men are the worst.
Do not waste time bothering whether you 'love' your neighbor; act as if you did. As soon as we do this, we find one of the great secrets. When you are behaving as if you loved someone, you will presently come to love him.
Mental pain is less dramatic than physical pain, but it is more common and also harder to bear.
A pleasure is not full grown until it is remembered.
The homemaker has the ultimate career. All other careers exist for one purpose only – and that is to support the ultimate career.
We are not necessarily doubting that God will do the best for us; we are wondering how painful the best will turn out to be.
Friendship is not a reward for our discriminating and good taste in finding one another out. It is the instrument by which God reveals to each of us the beauties of others.
What you see and what you hear depends a great deal on where you are standing. It also depends on what sort of person you are.
Pride gets no pleasure out of having something, only out of having more of it than the next man.
The truth is, of course, that what one regards as interruptions are precisely one's life.
It is not your business to succeed, but to do right; when you have done so, the rest lies with God.
Hardship often prepares an ordinary person for an extraordinary destiny.
A proud man is always looking down on things and people; and, of course, as long as you are looking down, you cannot see something that is above you.
We do not want merely to see beauty . . . We want something else which can hardly be put into words – to be united with the beauty we see, to pass into it, to receive it into ourselves, to bathe in it, to become part of it.
The future is something which everyone reaches at the rate of sixty minutes an hour, whatever he does, whoever he is.
Don't let your happiness depend on something you may lose.
Crying is all right in its own way while it lasts. But you have to stop sooner or later, and then you still have to decide what to do.
Miracles are a retelling in small letters of the very same story which is written across the whole world in letters too large for some of us to see.
Forgiveness does not mean excusing.
I sometimes wonder if all pleasures are not substitutes for joy.
I believe in Christianity as I believe that the sun has risen – not only because I see it, but because by it I see everything else.
You never know how much you really believe anything until its truth or falsehood becomes a matter of life and death to you.
The heart never takes the place of the head: but it can, and should, obey it.
Isn't it funny how day by day nothing changes, but when you look back, everything is different…
God has infinite attention to spare for each one of us. You are as much alone with him as if you were the only being he had ever created.
The pain I feel now is the happiness I had before. That's the deal.
Do not let us mistake necessary evils for good.
When we lose one blessing, another is often most unexpectedly given in its place.
If a man thinks he is not conceited, he is very conceited indeed.
God allows us to experience the low points of life in order to teach us lessons that we could learn in no other way.
Free will, though it makes evil possible, is also the only thing that makes possible any love or goodness or joy worth having.
We are mirrors whose brightness is wholly derived from the sun that shines upon us.
There would be no sense in saying you trusted Jesus if you would not take his advice.
But one of the worst results of being a slave and being forced to do things is that when there is no one to force you anymore, you find you have almost lost the power of forcing yourself.
Though our feelings come and go, his love for us does not.
It is safe to tell the pure in heart that they shall see God, for only the pure in heart want to.
God intends to give us what we need, not what we now think we want.
It is a very funny thing that the sleepier you are, the longer you take about getting to bed.
Faith is the art of holding on to things your reason has once accepted in spite of your changing moods.
Thirst was made for water; inquiry for truth.
Human history is the long terrible story of man trying to find something other than God which will make him happy.
Adventures are never fun while you're having them.
The door on which we have been knocking all our lives will open at last.
The sun looks down on nothing half so good as a household laughing together over a meal.
You must ask for God's help. After each failure, ask forgiveness, pick yourself up, and try again.
Do not dare not to dare.
Reality is not neat, not obvious, not what you expect.
God cannot give us a happiness and peace apart from Himself, because it is not there. There is no such thing.
One road leads home, and a thousand roads lead into the wilderness.
You may forget that you are at every moment totally dependent on God.
If you're thinking of becoming a Christian, I warn you, you're embarking on something, which will take the whole of you.
Readers are advised to remember that the devil is a liar.
If God had granted all the silly prayers I've made in my life, where should I be now?
Affection is responsible for nine-tenths of whatever solid and durable happiness there is in our lives.
The instrument through which you see God is your whole self. And if a man's self is not kept clean and bright, his glimpse of God will be blurred.
No good work is done anywhere without aid from the Father of Lights.
It is when we notice the dirt that God is most present in us; it is the very sign of His presence.
It is not out of compliment that lovers keep on telling one another how beautiful they are; the delight is incomplete till it is expressed.
Now is our chance to choose the right side. God is holding back to give us that chance. It won't last forever. We must take it or leave it.
To enter heaven is to become more human than you ever succeeded in being on earth; to enter hell, is to be banished from humanity.
God, who foresaw your tribulation, has specially armed you to go through it, not without pain but without stain.
Once in our world, a stable had something in it that was bigger than our whole world.
You don't have a soul. You are a soul. You have a body.
Relying on God has to begin all over again every day as if nothing had yet been done.
You can't get a cup of tea big enough or a book long enough to suit me.
A children's story that can only be enjoyed by children is not a good children's story in the slightest.
Aim at heaven, and you will get earth thrown in. Aim at earth, and you get neither.
The terrible thing, the almost impossible thing, is to hand over your whole self – all your wishes and precautions – to Christ.
Final Thoughts
What was your favorite C.S. Lewis quote? If you haven't read any of his books just yet, maybe you should pick one or two up. His work is considered part of contemporary class literature. If you enjoy this limited selection, you'll be able to appreciate his writing even more.
Top 99 Eleanor Roosevelt Quotes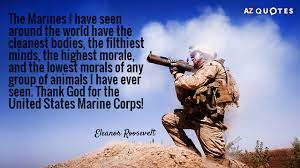 More than just the longest-serving First Lady in the United States, Eleanor Roosevelt left this world with much inspiration. Her words carried so much wisdom that they continue to move hearts up to this day. Celebrate her life's achievements by being guided by her famous quotes.
99 of Eleanor Roosevelt's Best Quotes
Here are just 100 of the most inspiring words she contributed to the world in her life. May you find inspiration to live your life as selflessly as she did.
You must do the things you think you cannot do.
Do what you feel in your heart to be right – for you'll be criticized anyway.
A woman is like a tea bag – you never know how strong she is until she gets in hot water.
Have convictions. Be friendly. Stick to your beliefs as they stick to theirs. Work as hard as they do.
People grow through experience if they meet life honestly and courageously.
I am what I am today because of the choices I made yesterday.
You can often change your circumstances by changing your attitude.
No one can make you feel inferior without your consent.
Beautiful young people are accidents of nature, but beautiful old people are works of art.
With the new day comes new strength and new thoughts.
Great minds discuss ideas; average minds discuss events; small minds discuss people.
Comparison is the thief of joy.
Do the things that interest you and do them with all your heart. Don't be concerned about whether people are watching you or criticizing you. The chances are that they aren't paying attention to you.
We are afraid to care too much for fear that the other person does not care at all.
Friendship with oneself is all-important because without it one cannot be friends with anyone else in the world.
One's philosophy is not best expressed in words; it is expressed in the choices one makes… and the choices we make are ultimately our responsibility.
It is better to light a candle than curse the darkness.
The giving of love is education in itself.
Work is always an antidote to depression.
The shoe that fits one person pinches another; there is no recipe for living that fits all cases.
I could not at any age be content to take my place in a corner by the fireside and simply look on.
It isn't enough to talk about peace. One must believe in it. And it isn't enough to believe in it. One must work at it.
I believe anyone can conquer fear by doing the things he fears to do, provided he keeps doing them until he gets a record of successful experience behind him.
Since you get more joy out of giving joy to others, you should put a great deal of thought into giving.
Life is what you make it. Always has been, always will be.
A stumbling block for the pessimist is a stepping stone to the optimist.
I think that somehow, we learn who we really are and then live with that decision.
Never allow a person to tell you no who doesn't have the power to say yes.
You wouldn't worry so much about what others think of you if you realized how seldom they do.
The future belongs to those who believe in the beauty of their dreams.
Since everybody is an individual, nobody can be you. You are unique. No one can tell you how to use your time. It is yours. Your life is your own. You mold it. You make it.
Learn from the mistakes of others. You can't live long enough to make them all yourself.
If someone betrays you once, it's their fault; if they betray you twice, it's your fault.
Probably the happiest period in life most frequently is in middle age, when the eager passions of youth are cooled, and the infirmities of age not yet begun.
The purpose of life is to live it, to taste experience to the utmost, to reach out eagerly and without fear for newer and richer experience.
Life must be lived, and curiosity kept alive.
Character building begins in our infancy and continues until death.
He who loses money loses much; he who loses a friend, loses much more, he who loses faith, loses all.
It is not fair to ask of others what you are unwilling to do yourself.
If life were predictable, it would cease to be life and be without flavor.
It takes as much energy to wish as it does to plan.
What one has to do usually can be done.
Only a man's character is the real criterion of worth.
To handle yourself, use your head: to handle others, use your heart.
Justice cannot be for one side alone but must be for both.
Hate and force cannot be in just a part of the world without having an effect on the rest of it.
When you have decided what you believe, what you feel must be done, have the courage to stand alone and be counted.
In the long run, we shape our lives, and we shape ourselves. The process never ends until we die.
It is a brave thing to have courage to be an individual; it is also, perhaps, a lonely thing. But it is better than not being an individual, which is to be nobody at all.
Be confident, not certain.
One thing life has taught me: if you are interested, you never have to look for new interests. They come to you. When you are genuinely interested in one thing, it will always lead to something else.
It is not more vacation we need — it is more vocation.
Never mistake knowledge for wisdom. One helps you make a living; the other helps you make a life.
Do one thing that scares you today.
Nothing has ever been achieved by the person who says, 'It can't be done.
Great leaders inspire people to have confidence in themselves.
Remember always that you not only have the right to be an individual, you have an obligation to be one.
Happiness is not a goal; it is a by-product.
I lived through this horror; I can take the next thing that comes along.
Anger is one letter short of danger.
When life is too easy for us, we must beware, or we may not be ready to meet the blows which sooner or later come to everyone, rich or poor.
Many people will walk in and out of your life, but only true friends will leave footprints in your heart.
One must never, for any reason, turn his back on life.
The very next thing you need to be doing is the thing that terrifies you the most.
You gain strength, courage, and confidence by every experience in which you really stop to look fear in the face.
No matter how plain a woman may be, if truth and honesty are written across her face, she will be beautiful.
You'll be damned if you do, and damned if you don't.
Life has got to be lived – that's all there is to it. At seventy, I would say the advantage is that you take life more calmly. You know that 'this, too, shall pass!
You have to accept whatever comes and the only important thing is that you meet it with courage and with the best that you have to give.
The mind must be trained, rather than the memory.
Choose a challenge instead of competence.
Success must include two things: the development of an individual to his utmost potentiality and a contribution of some kind to one's world.
When will our consciences grow so tender that we will act to prevent human misery rather than avenge it?
A mature person is one who does not think only in absolutes, who is able to be objective even when deeply stirred emotionally, who has learned that there is both good and bad in all people and in all things, and who walks humbly and deals charitably with the circumstances of life, knowing that in this world no one is all knowing and therefore all of us need both love and charity.
Do not stop thinking of life as an adventure. You have no security unless you can live bravely, excitingly, imaginatively; unless you can choose a challenge instead of competence.
It's your life – but only if you make it so. The standards by which you live must be your own standards, your own values, your own convictions in regard to what is right and wrong, what is true and false, what is important and what is trivial. When you adopt the standards and the values of someone else, you surrender your own integrity. You become, to the extent of your surrender, less of a human being.
Ambition is pitiless. Any merit that it cannot use it finds despicable.
There are practical little things in housekeeping which no man really understands.
When you cease to make a contribution, you begin to die.
Someone once asked me what I regarded as the three most important requirements for happiness. My answer was: A feeling that you have been honest with yourself and those around you; a feeling that you have done the best you could both in your personal life and in your work; and the ability to love others.
Freedom makes a huge requirement of every human being. With freedom comes responsibility. For the person who is unwilling to grow up, the person who does not want to carry his own weight, this is a frightening prospect.
The only things one can admire at length are those one admires without knowing why.
I'm so glad I never feel important, it does complicate life!
Understanding is a two-way street.
What you don't do can be a destructive force.
My experience has been that work is almost the best way to pull oneself out of the depths.
Enjoy every minute you have with those you love, my dear, for no one can take joy that is past away from you. It will be there in your heart to live on when the dark days come.
Courage is more exhilarating than fear, and in the long run, it is easier.
Life is like a parachute jump, you've got to get it right the first time.
Think as little as possible about yourself and as much as possible about other people.
The basis of world peace is the teaching which runs through almost all the great religions of the world. Love thy neighbor as thyself.
Today is the oldest you've ever been, and the youngest you'll ever be again.
It seems to me of great importance to teach children respect for life.
All of life is a constant education.
The future is literally in our hands to mold as we like. But we cannot wait until tomorrow. Tomorrow is now.
Strength that goes wrong is even more dangerous than weakness that goes wrong.
No man is defeated without until he has first been defeated within.
Every time you meet a situation you think at the time it is an impossibility, and you go through the tortures of the damned, once you have met it and lived through it, you find that forever after you are freer than you were before.
Your ambition should be to get as much life out of living as you possibly can, as much enjoyment, as much interest, as much experience, as much understanding. Not simply be what is generally called a 'success.
Final Thoughts
These words are part of Eleanor Roosevelt's many, many legacies. Hopefully, they continue to inspire people to be the kindest and most courageous they can be. May the wisdom she displayed throughout her life continue to serve as a reminder of the people that she envisioned us to be, the people she dedicated her life and work to.
Top 80 Broken Trust And Trust Issues Quotes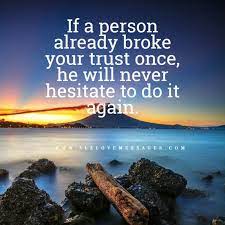 Trust is a very powerful and profound emotion. It is faith in someone that gives you the belief that they will not harm, hurt, or betray you. It is the building block, whether in friendship, in marriage, or in any relationship, that will keep the foundations strong and unwavering.
It is a fact of life that one way or another, all of us will have our trust broken at some point in our lives. If you have been cheated on or made you lose your confidence in some people or situations, here are some inspiring quotes to help you gain your trust and possibly learn to get over the pain.
80 Encouraging Quotes for People Whose Trust Has Been Broken
The finest souls are those who gulped pain and avoided making others taste it. —Nizariat
Trust but verify. —Ronald Reagan
Whoever is careless with the truth in small matters cannot be trusted with important matters. —Albert Einstein
A single lie discovered is enough to create doubt in every truth expressed. —Unknown
I'm not upset that you lied to me, I'm upset that from now on I can't believe you. —Friedrich Nietzsche
Don't trust the person who has broken faith once. —William Shakespeare
Rebuilding trust when it's been broken is not dependent only on the person who has broken it, or how many times they can prove they are honest. It depends on the person who has decided not to trust anymore. Though they may be totally justified in their decision not to trust, as long as they choose not to, the relationship has no hope of survival and should be ended. If or when they decide to trust again, there is hope reborn. —Doe Zantamata
To be trusted is a greater compliment than being loved. —George MacDonald
It is better to suffer wrong than to do it, and happier to be sometimes cheated than not to trust. —Samuel Johnson
Trust takes years to build, seconds to break, and forever to repair. —Unknown
You will never understand the damage you did to someone until the same thing is done to you. That's why I'm here. —Karma
A person may break your heart and damage your pride, but never ever give them the power to break your spirit. —Unknown
Whatever you do, never run back to what broke you. —Frank Ocean
Breaking someone's trust is like crumpling up a perfect piece of paper. You can smooth it over but it's never going to be the same again. —Unknown
I was never one to patiently pick up broken fragments and glue them together again and tell myself that the mended whole was as good as new. What is broken is broken, and I'd rather remember it as it was at its best than mend it and see the broken pieces as long as I lived. —Margaret Mitchell
Trust is like a mirror, you can fix it if it's broken, but you can still see the crack in that mother f*cker's reflection. —Lady Gaga
Sometimes, we need to be hurt in order to grow. We must lose in order to gain. Sometimes, some lessons are learned best through pain. Unknown
Start over, my darling. Be brave enough to find the life you want and courageous enough to chase it. Then start over and love yourself the way you were always meant to. Madalyn Beck
Trust starts with truth and ends with truth. —Santosh Kalwar
We're never so vulnerable than when we trust someone – but paradoxically, if we cannot trust, neither can we find love or joy. —Walter Anderson
"It was a mistake," you said. But the cruel thing was, it felt like the mistake was mine, for trusting you. —David Levithan
Broken trust doesn't have to mean the end of your story. It's time to write the next chapter. —Unknown
The saddest thing about betrayal is that it never comes from your enemies. —Anonymous
What's broken can be mended. What hurts can be healed. And no matter how dark it gets, the sun is going to rise again. —Unknown
Never trust the advice of a man in difficulties. —Aesop
What do people gain from lying? Besides losing: your respect, your dignity, your reputation, and those who love you. I guess those few minutes of satisfaction, smiling behind your lies, are soon well worth a lifetime of a regretful guilty conscience. —Amir Riveroll
Trust is built when someone is vulnerable and not taken advantage of. —Bob Vanourek
How powerful, to burn and still come out stronger. More beautiful. —Parth
People have to pretend you're a bad person so they don't feel guilty about the things they did to you. —Unknown
The best way to find out if you can trust somebody is to trust them. —Ernest Hemingway
It is easier to forgive an enemy than to forgive a friend. —William Blake
Trusting is hard. Knowing who to trust, even harder. —Unknown
I will breathe. I will think of solutions. I will not let my worry control me. I will not let my stress level break me. I will simply breathe. And it will be okay. Because I don't quit. —Shayne McClendon
One of the worst feelings in the world is having to doubt someone you thought was unquestionable. Unknown
If you have been brutally broken, but still have the courage to be gentle to others, then you deserve a love deeper than the ocean itself. —Nikita Gill
Trust has to be earned, and should come only after the passage of time. —Arthur Ashe
For there to be betrayal, there would have to have been trust first. —Suzanne Collins
After all, damn it, what does being in love mean if you can't trust a person. —Evelyn Waugh
Sorry is nothing, real apology comes when you can look in their eyes and see they hurt themselves just as much. —Unknown
Pain changes people, it makes them trust less, overthink more, and shut people out. —Unknown
Tell a lie once and all your truths become questionable. —Anonymous
Sometimes you don't know who you can and cannot trust. I still learn that over and over again. —Demi Lovato
To forgive someone who hurt you is easy but to trust them again is next to impossible. —Anurag Prakash Ray
Trust is the glue of life. It's the most essential ingredient in effective communication. It's the foundational principle that holds all relationships. —Stephen R. Covey
Keep your word once given! —L. Ron Hubbard
Trust yourself, you know more than you think you do. —Benjamin Spock
Sometimes trusting a friend is the hardest thing to do, even the closest friends can become enemies. —James Merrow
There are two reasons why we don't trust people. First – we don't know them. Second – we know them. —Unknown
The worst thing about being lied to is knowing you're not worth the truth. —Unknown
"Sorry" works when a mistake is made, but not when trust is broken. So in life, make mistakes but never break trust. Because forgiving is easy, but forgetting and trusting again is sometimes impossible. —Unknown
Not everyone can be trusted. I think we all have to be very selective about the people we trust. —Shelley Long
When someone breaks your trust, don't feel stupid for trusting them. You didn't do anything wrong. They're just an untrustworthy person. —Sonya Parker
If you give your trust to a person who does not deserve it, you actually give him the power to destroy you. —Khaled Saad
Don't trust everything you see. Even salt looks like sugar. —Unknown
All the world is made of faith, and trust, and pixie dust. —J.M. Barrie, Peter Pan
I don't trust people who don't love themselves and tell me, 'I love you.' There is an African saying which is: Be careful when a naked person offers you a shirt. —Maya Angelou
Love myself I do. Not everything, but I love the good as well as the bad. I love my crazy lifestyle, and I love my hard discipline. I love my freedom of speech and the way my eyes get dark when I'm tired. I love that I have learned to trust people with my heart, even if it will get broken. I am proud of everything that I am and will become. —Johnny Weir
A lie can travel half way around the world while the truth is putting on its shoes. —Charles Spurgeon
Friendship- my definition- is built on two things. Respect and trust. Both elements have to be there. And it has to be mutual. You can have respect for someone, but if you don't have trust, the friendship will crumble. —Stieg Larsson, The Girl with the Dragon Tattoo
You see, you closed your eyes. That was the difference. Sometimes you cannot believe what you see, you have to believe what you feel. And if you are ever going to have other people trust you, you must feel that you can trust them, too–even when you're in the dark. Even when you're falling. —Mitch Albom
The best proof of love is trust. —Joyce Brothers
Act like you trust people, but do not. —Unknown
Trust is like an eraser, it gets smaller and smaller after every mistake. —Unknown
If you have three people in your life that you can trust, you can consider yourself the luckiest person in the whole world. —Selena Gomez
To be trusted is a greater compliment than being loved. —George MacDonald
It takes 20 years to build a reputation and five minutes to ruin it. —Warren Buffett
Everyone suffers at least one bad betrayal in their lifetime. It's what unites us. The trick is not to let it destroy your trust in others when that happens. Don't let them take that from you. —Sherrilyn Kenyon
I do not trust words. I even question actions. But I never doubt patterns. —Unknown
The toughest thing about the power of trust is that it's very difficult to build and very easy to destroy. —Thomas J. Watson
Better to trust the man who is frequently in error than the one who is never in doubt. —Eric Sevareid
He who does not trust enough will not be trusted. —Lao Tzu
You may be deceived if you trust too much, but you will live in torment unless you trust enough. —Frank Crane
You must trust and believe in people, or life becomes impossible. —Anton Chekhov
Never trust anyone, Daniel, especially the people you admire. Those are the ones who will make you suffer the worst blows. —Carlos Ruiz Zafón
Forgiveness must be immediate, whether or not a person asks for it. Trust must be rebuilt over time. Trust requires a track record. —Rick Warren
The trust of the innocent is the liar's most useful tool. —Stephen King
Someone who thinks the world is always cheating him is right. He is missing that wonderful feeling of trust in someone or something. —Eric Hoffer
A man trusts another man when he sees enough of himself in him. —Gregory David Roberts
Trust, once you get it. It's priceless. But once you lose it, you are useless. —Unknown
Never trust a man who speaks well of everybody. —John Churton Collins

Final Thoughts

It may seem that trusting a person who broke your heart can be a difficult task, but letting go of the pain can make a big difference in our lives. If your trust has been broken, teach yourself to let go and move on. Then you can learn from that experience so you will somehow know when and who to trust next time.
Best Mother and Daughter Relationship Quotes and Sayings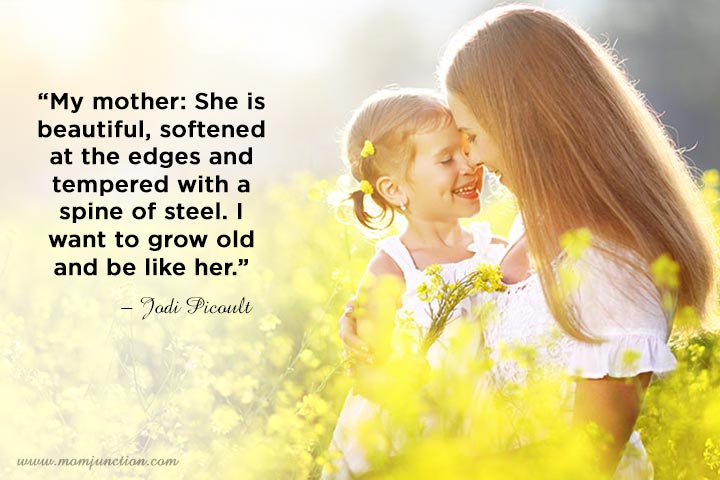 A mother and daughter's relationship is one of the most precious things in life. Their bond is powerful, and it is something that they treasure all their lives. Here are some of the best mother and daughter quotes to inspire you every day.
76 Mother and Daughter Quotes to Build a Stronger Relationship
If you're a mom, daughter, or someone who has either in your life, this selection of 80 quotes will definitely help improve your relationship with one another.
"A daughter is a mother's gender partner, her closest ally in the family confederacy, an extension of herself. And mothers are their daughters' role model, their biological and emotional road map, the arbiter of all their relationships." – Victoria Secunda
"A mother who radiates self-love and self-acceptance actually vaccinates her daughter against low self-esteem." – Naomi Wolf
"A mother is a daughter's best friend."
"A daughter is someone you laugh with, dream with, and love with all your heart." – Anonymous
"Mother-daughter disagreements were, in hindsight, basically mother stating the truth and daughter taking her own sweet time coming around." – Barbara Delinsky
"As mothers and daughters, we are connected with one another. My mother is the bones of my spine, keeping me straight and true. She is my blood, making sure it runs rich and strong. She is the beating of my heart. I cannot now imagine a life without her." – Kristin Hannah
"No matter how old she may be, sometimes a girl just needs her mom." – Unknown
"A mother's treasure is her daughter." – Catherine Pulsifer
"To describe my mother would be to write about a hurricane in its perfect power. Or the climbing, falling colors of a rainbow." – Maya Angelou
"Behind every young child who believes in himself is a parent who believed first." – Matthew L. Jacobson
"Having a little girl has been like following an old treasure map with the important paths torn away." – Heather Gudenkauf
"Mothers of daughters are daughters of mothers and have remained so, in circles joined to circles, since time began." – Signe Hammer
"A daughter may outgrow your lap, but she will never outgrow your heart." – Anonymous
"There is nothing as powerful as mother's love, and nothing as healing as a child's soul." – Anonymous
"To my daughter. Never forget that I love you. Life is filled with hard times and good times. Learn from everything you can. Be the woman I know you can be. Mom" – Anonymous
"A daughter is one of the most beautiful gifts this world has to give." – Laurel Atherton
"The older I grow, the more I realize that my mother is the best 'best friend' that I ever had." – Anonymous
"Mothers and daughters together are a powerful force to be reckoned with." – Melia Keeton-Digby
"Mothers and daughters are closest when daughters become mothers." – Anonymous
"Life doesn't come with a manual. It comes with a mother." – Anonymous
"A daughter is just a little girl who grows up to be your best friend." – Anonymous
"A mother knows what her child's gone through, even if she didn't see it herself." – Pramoedya Ananta Toer
"We laugh, we cry, we make time fly. We are best friends, my mom and I." – Anonymous
"As a child, I was very careful not to erase my mother's writing on the chalkboard because I would miss her." – Joyce Rachelle
"We mothers are learning to mark our mothering success by our daughters' lengthening flight." – Letty Cottin Pogrebin
"A daughter is God's way of saying, 'thought you could use a lifelong friend.'" – Anonymous
"Happiness is mother and daughter time." – Anonymous
"No one in your life will ever love you as your mother does. There is no love as pure, unconditional and strong as a mother's love. And I will never be loved that way again." – Hope Edelman
"A mom is a daughter's 'first' friend. And, through life, becomes her best friend." – Vicki Reece
"When I think of the exquisite love and sympathy which might be between a mother and daughter, I feel myself defrauded of a beautiful thing rightfully mine, in a world where for me such things are pitiably few." – Mary MacLane
"A son is a son till he takes him a wife, a daughter is a daughter all of her life." – Irish Saying
"I am not a perfect mother, and I will never be. You are not a perfect daughter, and you will never be. But put us together, and we will be the best mother and daughter we would ever be." – Anonymous
"My daughter makes me laugh with her incredibly humorous take on the world. Everything makes her laugh, and I aspire to take in the world the same shoes she does." – Anonymous
"Angels are often disguised as daughters." – Anonymous
"A mother. When you're a child, she walks before you, to set an example. When you're a teenager she walks behind you, to be there should you need her. When you're an adult, she walks beside you, so that as two friends you can enjoy life together." – Anonymous
"By the time you realize your mother was right, you have a daughter who thinks that you're wrong" – Sada Malhotra
"The mother-daughter relationship is the most complex." – Wynonna Judd
"Without my kids tomorrow wouldn't be worth the wait, and yesterday wouldn't be worth remembering." – Anonymous
"I don't want my children to follow in my footsteps. I want them to take the path next to me and go further than I could have ever dreamt possible." – Anonymous
"A mother's love for her child is like nothing else in the world. It knows no law, no pity. It dares all things and crushes down remorselessly all that stands in its path." – Agatha Christie
"I love my mother as the trees love water and sunshine. She helps me grow, prosper, and reach great heights." – Terri Guillemets
"From her thighs, she gives you life and how you treat she who gives you life shows how much you value the life given to you by the Creator. And from seed to dust there is ONE soul above all others. That you must always show patience, respect, and trust – this woman is your mother." – Suzy Kassem
"The more a daughter knows the details of her mother's life, the stronger the daughter." – Anita Diamant
"A daughter is a miracle that never ceases to be miraculous." – Anonymous
"Because even if the whole world was throwing rocks at you, if you had your mother at your back, you'd be okay. Some deep-rooted part of you would know you were loved. That you deserved to be loved." – Jojo Moyes
"No matter how old you are, you always want your mother's love and acceptance. I guess I'm hoping one day I'll get it back." – Hilary Grossman
"Of course, mothers and daughters with strong personalities might see the world from very different points of view." – Katherine Howe
"Good moms have sticky floors, messy kitchens, laundry piles, and happy kids." – Anonymous
"One of the most important relationships we have is the relationship we have with our mothers." – Iyanla Vanzant
"The heart of a mother is a deep abyss at the bottom of which you will always find forgiveness." – Honore de Balzac
"Moms hold their children's hands for a while, but their hearts forever." – Anonymous
"The woman who is my best friend, my teacher, my everything: Mom." – Sandra Vischer
"A daughter without her mother is a woman broken. It is a loss that turns to arthritis and settles deep into her bones." – Kristin Hannah
"If I could give my daughter three things, it would be the confidence to always know her self-worth, the strength to chase her dreams, and the ability to know how truly, deeply loved she is." – Anonymous
"Her smile makes me smile. Her laugh is infectious. Her heart is pure and true. Above all, I love that she is my daughter." – Anonymous
"Mother is the name for God in the lips and hearts of little children." – William Makepeace Thackeray
"A mother's arms are more comforting than anyone else's." – Princess Diana
"Whosoever does not believe in the existence of a sixth sense has clearly not regarded their own mother. How it is they know all they know about you, even those secrets you locked away so tightly in the most hidden compartments of your heart, remains one of the great mysteries of the world. And they don't just know—they know instantly." – Narissa Doumani
"Mothers, look after your daughters, keep them near you, keep their confidence – that they may be true and faithful." – Elmina S. Taylor
"If at first, you don't succeed, try doing it the way mom told you in the beginning." – Anonymous
"My mother: She is beautiful, softened at the edges and tempered with a spine of steel. I want to grow old and be like her." – Jodi Picoult
"A mother is one to whom you hurry when you are troubled." – Emily Dickinson
"When someone asks you where you come from, the answer is your mother… When your mother's gone, you've lost your past. It's so much more than love. Even when there's no love, it's so much more than anything else in your life. I did love my mother, but I didn't know how much until she was gone." – Anna Quindlen
"As is the mother, so is her daughter." – Bible
"In times of need, and in times of tears, in times of joy and in times of fears, there is mom. The one person who is always there." – Heather Stillufsen
"My mother was like sand. The kind that warms you on a beach when you come shivering out of the cold water. The kind that clings to your body, leaving its impression on your skin to remind you where you've been and where you've come from." – Clare Vanderpool
"Suddenly, through birthing a daughter, a woman finds herself face to face not only with an infant, a little girl, a woman-to-be but also with her own unresolved conflicts from the past and her hopes and dreams for the future. As though experiencing an earthquake, mothers of daughters may find their lives shifted, their deep feelings unearthed, the balance struck in all relationships once again off kilter." – Elizabeth Debold and Idelisse Malave
"When you are looking at your mother, you are looking at the purest love you will ever know." – Charley Benetto
"A little girl, asked where her home was, replied, 'Where mother is.'" – Keith L. Brooks
"Maybe she'd never really known her mother at all. And if you couldn't know the person whose body was your first home, then who could you ever know?" – Brit Bennett
"The mother is only really the mistress of her daughter upon the condition of continually representing herself to her as a model of wisdom and type of perfection." – Alexandre Dumas Pere
"We are born of love; love is our mother." – Rumi
"I allowed myself unintentionally to be led to hurt you, my dearest child, for whom I would have given at every moment my life! Reflection came always too late, but not the deserved punishment! My sufferings were great, very great. God be praised that those terrible times are gone by and that only death can separate me from you, my beloved Victoria." – Cecil Woodham-Smith
"Of all the haunting moments of motherhood, few rank with hearing your own words come out of your daughter's mouth." – Victoria Secunda
"Good daughters make good mothers." – Abigail G. Whittlesey
"Probably there is nothing in human nature more resonant with charges than the flow of energy between two biologically alike bodies, one of which has lain in amniotic bliss inside the other, one of which has labored to give birth to the other. The materials are here for the deepest mutuality and the most painful estrangement." – Adrienne Rich
Final Thoughts
The connection between a mother and daughter is something that is not easily broken. It is something that even diamonds couldn't cut through. Treasure your mother as well as your daughters for they are more valuable than any other jewel on earth.
Let these 75 nuggets of wisdom help you better appreciate the blessings that came into your life in the form of a mother or daughter.