Best Tactical Vests On Amazon Reviews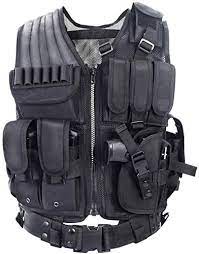 Tactical Vests may not be part of your everyday wear but when you need one, it's better to have than to have not. Whether your law enforcement, a survivalist or a kid on his way to some airsoft fun, wearing a vest conveniently keeps everything you need to get through the day just a second away from your hand. Following are ten of Amazons best in Tactical Vests, all chosen on the basis of quality and high customer satisfaction ratings.
1. UTG 547 Law Enforcement Tactical Vest
Fully adjustable in length and width, this tactical vest has a lot to offer for something that only weighs 4.5 pounds. Featured are 4 adjustable rifle mag pouches with tight velcro closure, drain holes, and elastic to hold mags securely. A cross-draw holster, sturdy loop system for extra gear, and extra double-mag pouches which are interchangeable with the holster as well as zippers you can depend on all make this vest worth having.
2. Nc Star Vest
Being well organized can be the key to winning in most cases and this tactical vest will certainly help you there. The Nc Star is fully adjustable and keeps all your gear where you can find it in a hurry when you need to. Zippers are strong, length and width are adjustable, and the pistol belt includes two pouches which double as the perfect spot for small tools, flashlight, etc. The drag handle is heavy duty and wont let you down if you ever need to use it. This vest is a good choice for either kids or adults who need a convenient way to carry their tactical gear hands free.
3. Yakeda Army Fans Tactical Vest Cs Field Outdoor Equipment Supplies Breathable Lightweight Tactical Vest Swat Tactical Vest Special Forces Combat Training Vest
The Yakeda tactical vest offers the cooling comfort of a mesh design as well as being adjustable in width or length. Made for easy wearing, this vest features an adjustable universal right hand cross-draw holster, deluxe rifle mag pouches (also adjustable) with drain holes and elastic to keep mags secure. Ideal for hiking or any kind of outdoor activity where keeping the little things organized can mean the difference between success or failure.
4. Rothco Uncle Milty Vest
The Rothco vest has 17 pockets, all with either velcro or zippered closure. Add to that a total of 4 large outer pockets (zippered) for anything from laptops to iPads and what you have is a hands-free, wearable travel bag. Constructed of 55% cotton and 45% polyester its pliable comfort is something you will appreciate by the end of the day. This vest is a good choice for those that enjoy the outdoors yet don't want the bother of having to carry a bag around with them for cameras, water, snacks, etc.
5. Nwestun Tactical outdoor vest for outdoor games hunting and shooting black ACU Tan colors available
Being made in the USA and weighing only 2.6 lbs are two good reasons to consider the Nwestun tactical vest. 4 pistol mag pouches are removable and the back is designed for the insertion of a plate should you decide to do so, plus 1 triple mag pouch is also included. Made of high density nylon oxford fabric with quick release buckles this vest is perfect for games or more serious activities. It will keep you organized and help make you a winner no matter the reason is for you to buy it.
6. Condor Outdoor MOPC Gear Vest LBE Tactical Molle
At 3.1 lbs, the Condor Outdoor MOPC tactical vest feels so light you'll hardly know it's there. Heavyweight webbing and a padded mesh interior lining make this one of the most comfortable, functional vests on the market. Designed to accommodate AR500 level 3 plates, shoulder straps are adjustable and side release buckles make getting out of it a matter of seconds. Equipped with an emergency drag handle and removable anti-slip shoulder pads, people who have purchased this vest have all found it to be more than they expected and recommended it to their friends.
7. CVLIFE Adjustable Hunting Military Molle Style Tactical Vest with 9 Pouches and Pistol Holster
With a weight of only 1.4 lbs CVLIFE is one of the lightest tactical vests on the market, and yet its top-quality nylon construction also makes it one of the toughest. Multiple pockets give you all the room you need for safe storage and padded shoulders make the load more bearable, especially when you have to wear it for long periods. The featured foamed mesh body also adds nothing but comfort to this vest and its attachable modular pouch for triple-mag is interchangeable with the holster. Anyone serious about quality and comfort will find this one a truly good deal.
8. Rothco Tactical Cross Draw Vest
The Rothco tactical vest is quality tested and built to last no matter what you put it through. Constructed of heavy duty polyester mesh, the designers of this vest put comfort and functionality first. Featured are 3 ammo pouches, 3 pistol mag pouches, molle attachment fields, adjustable pistol belt, 2 D-rings, a removable holster and padded shoulders to ease the load.
9. Modern Warrior Tactical Vest with Holster and Pouches
Here is exactly what you need for a tactical vest. Multiple pockets provide all the storage space you'll need plus the adjustable torso allows for a more comfortable, personal fit. Right shoulder is padded for recoil and its mesh construction helps you avoid dangerous over-heating. The Modern Warrior is built to be used, not worn as a fashion statement (although it is an attractive vest) and will last its lucky owner through many years of use.
10. GZ XINXING Black Tactical Airsoft Paintball Combat Military Swat Assault Army Shooting Hunting Outdoor Molle Vest
Using military grade materials and stitching, this is a very well constructed tactical vest. EPE foam padding adds comfort to functionality, and a quick release buckle on the shoulder is handy for obvious reasons. Fully adjustable with velcro attachments, this vest features 3 mag pouches, 1 map/flashlight pouch, two for communication devices and another for medic supplies. You never know what you'll need in the field, owning this vest helps you be prepared for anything.
Shopping for something as important as a tactical vest can be overwhelming with so many crowding the market. Hopefully, the list above has made your choice easier. If your unsure which one fits your needs best following are two most often chosen by the toughest critics there are, consumers just like you who need function and value for their money.
# 7, the CVLIFE, at less than 2 lbs is so light to begin with that fully loaded, especially with its foamed mesh, it's less of a burden to wear for long periods. # 10, GZ XINXING, doesn't feature foamed mesh but it does use military grade materials and craftsmanship which many feel they can trust for those two reasons alone.
Best Small & Strong Lightweight Bike Locks Reviews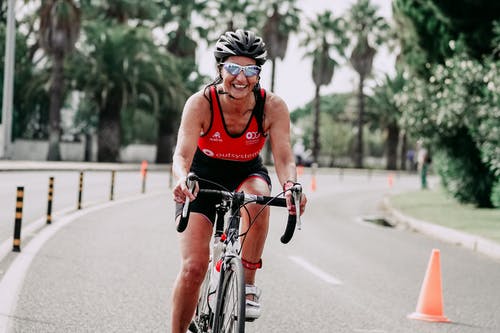 Having the proper lock for your bike can make a huge difference in your overall security. It's important that if you own a bike and use your bike often that you take the time to research all of the bike locks that could keep your bike safe and secure. There are several different types of locks on the market, but one size never fits all. We will talk about the top reliable bike locks and there features so you have a better idea of what your options are.
Top 10 Best Small & Strong Lightweight Bike Locks Reviews
1. SANREN Self Coiling Resettable Combination Cable Bike Lock
The Sanren Self Coiling Re settable Combination Cable Bike Lock is a 4 digit combination locking system that is keyless with a free mounting bracket for simple transportation. Users can easily set their own personalized number combination to make it unique. This bike lock is ideal for skateboards, bikes, grills lawnmowers, gates and fences, tool boxes, sports equipment and ladders. All of the steel cables are created to be strong and cut resistant. And it is built with vinyl coating to help prevent scratching.
2. SafeBest® Bike Lock, Combination Cable Bicycle Lock
This easy to set combination lock is extremely easy to use and has a lightweight design. When not using this bike lock, users will also have access to a holder for easy storage while riding.The cables are coated to help prevent unnecessary scratching. And the SafeBest bike lock has been rated as an excellent tool to help prevent the theft of your bike.
3. Xtreme Bright Illumilock Bike Lock with LED Light
The Xtreme Bright Illumilock Bike Lock with LED Light is a very popular bike lock that offers a few more features than many other locks on the market. This secure and easy to use bike lock comes with a combination cable lock. It is made from military grade braided steel, making it extremely secure. It also has a bright LED light to help users see if using it in the dark. This lock helps you keep your bike safe in all conditions. It is shock and waterproof, pick and drill resistant, and you can easily insert your combination in the dark with the LED feature. It fits all bike sizes and doesn't need any type of key to operate. With the bike mount and setting, users can change their combination within a few minutes.
4. WordLock CL-598-BK Cable Lock MatchKey
Although this bike lock comes with keys, it is still a heavy duty lock that provides great security. With it's amazing style and strength, it has a 10mm wide and 6 foot long heady duty steel cable. The vinyl coating was added to help minimize scratches and damages. One of the things that makes this bike lock a popular item for your bike is the match key color to lock color system. It also offers a unique word on the bike lock head and the same word on the matching key so that users will always be able to know which key to use to unlock their bike.
5. Kryptonite Evolution Series 4 Standard Bicycle U-Lock

The Kryptonite Evolution is a higher security disc-style cylinder, it comes with a double deadbolt locking system for extensive holding power. If you are into keys, then this lock comes with 3 keys -with one lighted high intensity bulb. It also comes with 14mm hardened steel shackle that is resistant to cutting and attacks. Transit flexframe bracket allows for easy mounting to frame tubing 25mm to 80mm oval, triangular, square or whether round.
6. OnGuard 8021 Mastiff 6′ x 3/8″ Quad Chain Lock
Who knew a bike lock could be so fashionable. The OnGuard Mastiff is a titanuim enforced, square steel chain link that provides maximum cut resistance. With it's unique OnGaurd cylinder, users will be able to take advantage of the optimum resistance against picking and attacks. Water and heat resistant so you can leave you bike safely outside. With the reinforced sleeve over the crossbar, users will be able to feel even more secure. And the X2 double bolt locking mechanism make this bike lock one of the most securest bike locks on the market.
7. Etronic ® Security Lock M4 Self Coiling Cable Lock
Not all locks are created equal. The Etronic Security Lock M4 Self Coiling Cable Lock comes with a combination locking system that offers a keyless feature. This lock is ideal for people who own sports equipment, skateboards, tool boxes, bikes and gates. If you are looking for a flexible bike lock that offers flexible steel cables for strong cutting resistance, then this lock might be for you. With the protective vinyl coating, users don't have to worry about scratches or damages due to usage.
8. Etronic ® Security Lock M6 Self Coiling Resettable Combination Cable Lock
This lock might be bright in appearance, but it can still lure away theives. The Etronic Security Lock M6 Self Coiling Resettable Combination Cable Lock allows users to set their own password combination cable lock. The resettable locking system comes with a keyless option, and it is extremely easy to reset. It's high cable performance comes with braided steel cables that makes it cut resistant. This lock is ideal for people who tool boxes, ladders, lawnmowers, gills, fences, sports equipment, bikes and skateboard.
9. Bike Lock from Lock Advantage, Best Steel Cable for Protection & Security
This strong reliable bike lock is a heavy duty steel cable that provides users protection and security. It's reliable with high quality key lock that is drill resistant, easy to use and highly effective. With it's versatile 6 foot cable that can be locked tools, gates, ladders and fences.
10. Etronic ® Security Lock M8 Self Coiling Resettable Combination Cable Lock
If you want to have a bike lock that allows you to set your own password, the Etronic Security Lock M8 Self Coiling Resettable Combination Cable Lock just might be the right lock. With it's protective vinyl coating, users don't have to worry about scratches or unexpected damages. The ultra high cable performance was designed to be cut resistant so that users can take advantage of the extra security it offers.
Conclusion
There are a vast array of bike locks that offer a different level of protection and security. Whether you want a simple lock that offers easy access through combination numbers, or you are more of an advocate for key based locks, a bike lock should be chosen based on your overall security needs, and lifestyle.
Best Bird Watching Binoculars Reviews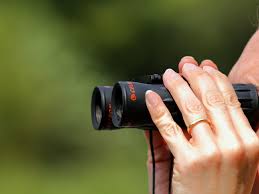 Bird watching is a common hobby of bird enthusiasts. As all good bird watchers know, it can be difficult to get close to all different species of birds. You need to get a good pair of binoculars to spot some birds who may be shier or in flight. The following is a list of the top ten bird watching binoculars available at Amazon online retailer.
1. Polaris Optic Spectator 8X32 Compact Bird Watching Binoculars
Polaris Optic Spectator binoculars are lightweight, so it is easy to take them along on hikes and bird watching expeditions. They are compact to fit in luggage or a backpack if you are traveling far for your bird watching. The Polaris Optic Spectator is a great pair of binoculars for not only birdwatching, but also for outdoor events and sporting occasions. They can easily fit into a small backpack or purse for an event.
2. Olympus 118760 Trooper 10X50 DPS I Binoculars in Black
These Olympus Trooper binoculars have ten times the magnification power. There is a large knob that may be used to magnify. This knob adjusts easily and quickly, which makes it convenient for bird watching enthusiasts. The Olympus binoculars are made with lens that have glare resistance, so as not to have the sight of the them become hampered by sun light. The lens are also protected from UV rays. This keeps your eyes safe while they are looking through the Olympus binoculars.
3. Carson 3D Series High Definition Waterproof Binoculars with ED Glass
\Carson 3D Series High Definition binoculars are an excellent choice for those who are looking for a pair of durable binoculars. They come in rubber armor to protect from falls. The binoculars also are water proof and fog proof for the all-terrain bird watcher. They come with a case, neck strap, lens cloth, and a shoulder strap. The binoculars are recommended for hunting, bird watching, traveling, concerts, backpacking, and other outdoors activities. Outdoors types will love these binoculars for their undertakings.
4. Bushnell 133450 Falcon 10X50 Wide Angle Binoculars
The black colored Bushnell 133450 falcon binoculars have wide angle lenses. They have ten times the magnification. The binoculars have a nine millimeter eye relief and five millimeter eye pupil.
5. Nikon 8252 ACULON A211 10-22X50 Zoom Binoculars
This pair of Nikon binoculars are perfect for those who want a sturdy pair for their bird watching. These binoculars have rubber coated armor. The coating helps to keep them from slipping from your hands. The binoculars also have an easy to use zoom control knob. It makes it that much more convenient to zoom in and out of focus while looking for a bird.
6. Celestron SkyMaster Giant 15X70 Binoculars with Tripod Adapter
The optics of the Celestron SkyMaster binoculars are coated. This allows people who are glasses to easily look through them. It also helps from glare of lights. It comes with a tripod adapter. The tripod adapter can be used to set up a tripod look out for birds. This tripod adapter is also helpful if you are stargazing.
7. Sminiker 30X60 Folding Binoculars Telescope for Travel and Sports Bird Watching
The Sminiker binoculars are convenient for anyone who travels, bird watches, and loves nature. The binoculars may be easily fold tighter together to make them more narrow. This makes it easy to pop them into a bag or pack while traveling. They are built strongly to resist damage. They have a field view of 126 meters to 1000 meters.
8. Tasco Essentials Binocular
Tasco Essentials Binocular are made to withstand damage. It has a strong build and armor. This is ideal if you are going on long bird watching adventures. Most likely you won't damage these binoculars in your pack or on the ground because of the armor. The lenses have eight times magnification. They have a 383 foot field view when at 1000 yards.
9. Merytes Binoculars with 10X25 Portable High Definition with Blue Film
Merytes binoculars have a blue coating over the lenses. This helps to make things more defined. Even if you are bird watching in the dark, you should be able to see because of the blue film on the lenses. The binoculars are made to be durable. The strong build allows you to confidently bring them along with you anywhere. They come with a protective bag, a strap, and a gentle cleaning cloth.
10. Bushnell Legacy WP Porro Prism Binocular
Bushnell Legacy WP Porro Prism Binoculars has an eight times magnification for bird watchers to utilize. The porro prism offers fully coated lenses that make for a clearer view. The definition is improved with the porro prism lenses paired up with the handy adjustment knob. The Bushnell Legacy binoculars are built sturdily. The rubber armor protects the binoculars from damage during falls. The exterior is mostly water and fog proof.
Any of these ten binoculars will meet the needs of bird watchers. You should look through the list and pick the one that most closely has the features you need for your bird watching hobby. All of them are available from the convenient and helpful Amazon online retailer.
Best Christmas Wedding Party Fairy String Lights Reviews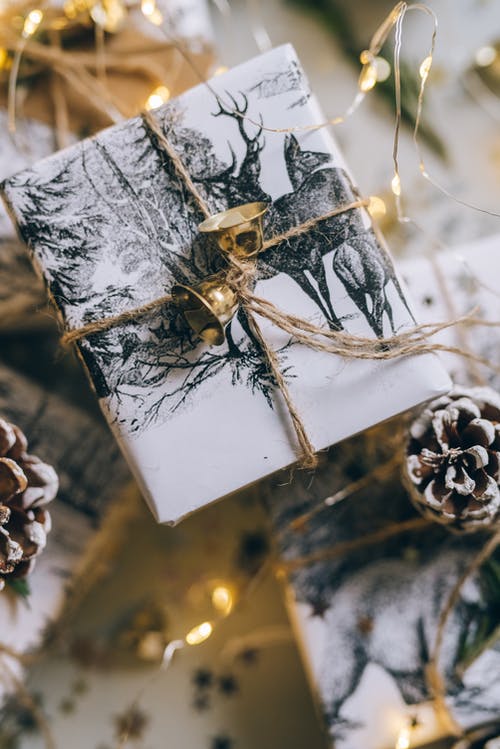 As the seasons of spring and summer approach, the sounds of "I do" in outdoor courtyards do as well. While there is so much mayhem and commotion going on planning an outdoor wedding, one of the vital elements are the string of battery powered lights that pull a wedding together. This article will suggest several string options for you to make your warm rendezvous easier.
1. Solar Christmas String Lights,easyDecor 30 LED Water Drop 21ft Multi-color 8Mode Waterproof Decorative Icicle Light,Outdoor,Indoor,Party,Wedding,Patio,Garden,Holiday Decoration
The first product introduced is hang-down Moroccan lights included with a remote control. The remote includes eight different modes that stay in tact until an individual switches modes on their own. Also, these lights are completely solar powered. Perfect for weddings or outdoor events—perhaps even pre-wedding events.
2. Litom Solar Outdoor 200 LED String Lights Solar Multi-color Decorative Light with 8 Working Modes
The next lights introduced are a string of solar powered lights also. However, these seem more appropriate for Christmas-time. This includes an on and off switch plus eight different modes as well. These lights are also waterproof, so any weather conditions are a cinch with these bright voluminous lights.
3. Dephen Solar LED String Lights, 39ft 100 LEDs 8 Modes Solar Waterproof Outdoor Fairy String Lights Christmas Lights for Garden Lawn Patio Party Christmas Tree Home Decoration
Next, this product is quite similar to the previous product reviewed. Although there are slight differences. These lights have a mere seven different modes, but still include an on and off switch. Additionally these colorful lights are solar powered as well, again like the last product mentioned. These are sure to brighten up a home to alert Mr. Saint Nick that you are ready for his presence this upcoming season.
4. ZOIC 500 LEDs Christmas Xmas Wedding Party Fairy String Light Lamp 100M(328feet) 8 Modes 31V Memory Function
Moreover, the title of this product suggests it is openly acceptable to use at Christmas time or at a wedding event. They also suggest a plethora of options to use these lights, such as a party, wedding, home, window, bathroom, festival, oliday, shows, restaurant, hotel, commercial building, shopping center, pub, club, concert, hall, cabaret, fashion show, dance, stage use, and so on. These include five-hundred LED long lasting lights, which are sure to be a crowd pleaser.
5. Deneve Globe String Lights with G40 Bulbs (25ft.) – Connectable Outdoor Garden Party Patio Bistro Market Cafe Hanging Umbrella Lamp Backyard Lights 100% Guarantee on Light String
These next lights are a bit more standard, but bold. They display as bulbs lights that can be hung up outdoors in a gazebo or as decor for a special marriage ceremony. They are measure at an astounding 25 feet per string of lights, as well as a foot of spacing between each bulb. It is suggested that these can be used for a garden party, or even indoors inside a bedroom or an office space. The possibilities are quite endless with these bulbs. They also come in a variety of colors, as well.
6. String Lights, Kohree 40ft 120LEDs Copper Wire Lights Seasonal Decor Rope Lights With Remote Control & UL Certified 3.5V Power Adapter For Christmas Holiday Wedding Parties
Furthermore, the next product is in high quality and in a moldable shape. It includes a power adapter and a remote too. There are roughly 120 tiny bulbs on each string. It is perfect for any occasion, as it has a neutral white warm shade to each bulb. It sure to not disappoint.
7. Fairy Lights Battery Operated YIHONG 8 Modes String Lights 39FT Copper Wire 120 LED Starry Lights Firefly Lights Remote Control with Timer for Wedding Halloween Christmas Party Decor
This whimsical decor is sure to be an eye pleaser. This colorful copper light string is fully equipped with a remote with a self timer to leave the worry if you forget to manually switch them off. Also waterproof, both the lights and remote are completely sealed, so an option of adding these lights into a handmade fountain, or anywhere really, won't be an issue whatsoever.
8. Brightech – Ambience Pro – Outdoor Weatherproof Commercial Grade Lights with Hanging Sockets – WeatherTite Technology
Much like a previous product mentioned, these lights are bulb-like and have a unique jet black casing. They give any outdoor place a cafe bistro feel, measuring three and a half inches apart. Also, an extra bulb is included to have a spare. It is built rubbery and flexible, much like an iPhone charger would be, proving its durability during any rain showers or snow snow storm that may ensue. Up to eight strands can be connected together from end to end, meaning you can easily hang these lights in a chandelier style or on a Christmas tree during the holiday season.
9. Solar String Lights Outdoor\Garden Lighting, 8 Mode (Steady, Flash), Waterproof, Fairy Lamp Decoration for Halloween, Yard, Fence, Patio, Tree, Party, Holiday, Home
Never go out of style with these luminescent lights! The lights on these are again solar powered, included with a solar panel that is meant to face the sun during the day to illuminate for a full eight hours at night. It includes a remote with on and off switch modes as well as eight modes possible for you to enjoy.
10. Solar String Lights 200LED 65ft Outdoor Waterproof Fairy Lights Landscape Flashing Lighting for Garden Patio Lawn Path Xmas Wedding Party Holiday Seasonal Decoration
Lastly, this white LED light is appropriate for both indoor and outdoor use. These lights can either flash or stay steady, made perfect for holiday season or a surprise proposal, this best seller item will be sure to light up any space as well as being light to a satisfied buyer.
All in all, these bright lights can potentially brighten any space, but also anyone's future. A well desired piece, being the bulb lights mentioned in paragraph six, is most definitely best, as it is a full bulb hanging light that could be hung virtually anywhere. Juxtapose with the lights mentioned near the end, these lights are colorful, stand a foot-length apart and are for use in an assorted amount of space.