Benchtop Vs. Floor Drill Press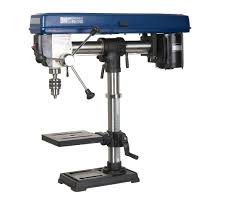 Do you find it hard to choose the best tool to perform your drilling, sanding, and mortising projects? A floor drill press will do tougher jobs, but it comes at a higher cost, which may not be worth it for home-based workshops. You can buy a benchtop drill press if you concentrate on drilling standard Stock and light metal. Whichever workhorse you choose, ensure you get a solid cast iron construction and a powerful motor.
The benchtop drill press has a smaller motor usually 3-7 amps and a horsepower rating of 1/3 to 2/3, which is enough for woodwork. In this review, we chose WEN 4214, a top-rated 5-Amp drill press with a budget-friendly price that gives you value for the money. It has a 5/8-inch chuck, 3-1/8-Inch drill depth and 12-Inch swing capacity. It is suitable for both DIYers and commercial woodworkers with heavy-duty woodwork projects.
If you intend to drill large Stock, over 13-Inches, as well as heavier metallic applications, then you are better off with a great floor drill press. Shop Fox W1848 is a powerful 9-Amp drill press that you can also convert into a quick sander or a mortising tool depending on your needs. It is more expensive compared to the WEN 4214 but worth the investment considering its solid construction and broader application.
1. WEN 4214 12-Inch Variable speed drill pres
WEN bench tools are designed for professional woodwork, but they have a friendly design making them easy to operate. This drill press is specially designed to handle heavy-duty drilling, sanding, or mortising projects in a workshop. Most people go for it because of its friendly price, but we loved it for its solid cast-Iron construction and a powerful 5-Amp four-pole motor. It has five-speed modes ranging from 580RPM to 3200RPM, allowing you to customize the speed for different material densities.
It is operated using a rack and pinion system that is both durable and easy to operate. It has a 5/8-inch keyed chuck, which can be connected to a variety of bits and sanding drums up to a 1/64-inch diameter. The spindle travels 3-I/8 inches, which allows you to drill deeper than the 2.5 inches offered by most drill presses. You can also set accurate depths for each project with the depth adjustment stop for uniform depths.
It stands 37 inches top to bottom, which makes it easy to operate on a table or directly from the floor. It also weighs 85lbs, which makes it stable when running and easy to move around when necessary. This drill press is also easy to use thanks to an LED display that tells the exact speed of the motor. It also has a laser guide light, which increases accuracy. Moreover, it has a work light that brightens up your workspace.
The table is also suitable for loading large Stock measuring 9 inches on both sides, meaning it can carry a load over 20 inches wide. The table adjustable and removable for convenience. It also bevels 45 degrees to both sides, allowing you to drill curved pieces, joints, and angled holes. It also has a roller extension to carry bigger loads.
Key Features
Chuck: 5/8-Inches
Power: 5-Amps, 110V
horsepower: 2/3hp
Quill: 2- inches
Spindle: 3-1/8 inches
Speed: 580-3200RPM
Table: 9.5 inches
Pros
The table is large and has a roller extension
It has a laser guide light for accuracy
Five-speed modes for handling different densities
LED display for easy speed reading
A bright work light for dark spaces
The chuck has three jaws with a sturdy bit grip
Cool silent operation
Cons
It has many parts which make it hard to set up
It doesn`t have a reverse drill function
Top FAQs
Q: Can I use this to drill through 2-Inch steel?
A: Yes.
Q: Can the speed go lower than 580RPM?
A: Sure. It can go down to 500RPM.
Q: Can I sue this drill press for sanding?
A: Yes.
Q: Does it have an oscillating belt?
A: No
Q: Is this drill press suitable for drilling steel?
A: Yes and No. It can drill steel, but the finish is rather rugged due to its high speed
2. Shop Fox W1848 Oscillating Floor Drill Press 
If you need to handle many commercial projects with lots of sanding mortising and drilling both metal and wood on one tool, then you need Shop Fox W1848. It has a large swing capacity of 13-1/4 inches with a cast iron body weighing 122lbs. This drill press remains stable while running. Its most significant feature is the simple change over design that allows you to switch between drilling to sanding without tools. It also has a broad 24×15 inch base for more stability.
The motor on this floor drill is also suitable for demanding projects. It is a 9-amp induction motor with a horsepower rating of 3/4hp. It also has 12 speeds from 250RPM for steel to 3050RPM for softwood, cardboards, and plastic. It is operated by a rack and pinion system, which allows the spindle to move smoothly even at high speed. It is fitted with a durable replaceable oscillating belt for long-lasting service.
Its spindle travels 3-1/4 Inches so you can use it to drill thick material. The chuck is 5/8 inches and fitted with three jaws to clamp down on a wide range of bits and sanding drums. It also comes with three different sanding drums ranging from 2 inches to 1 inch for both small and large workpieces. The package also includes grit sanding papers for each sanding drum.
The table is 12-3/6 inches in diameter and can hold wide planks up to 24-Inches in width. It is also fitted with 2-Inch wide holes that allow the chaff to go through preventing clogging. It can also be tilted at 90 degrees on both sides, making it easy to work with joints, curved pieces, and angular drilling.
Key Features
Chuck: 5/8-Inches
Power: 9-Amps, 110V
horsepower: 3/4hp
Spindle depth: 3-1/8 inches
Speed: 250-3050RPM
Table: 13-1/4 inches
Pros
It is easy to switch from drilling to sanding
12-speed settings allow you to adjust for different material
Large table (13 inches) which can tilt up to 90 degrees
Solid cast iron construction
Quick heat dispersion keeps it cool when working
Cons
It doesn't have a laser pointing system
It is too heavy to carry around
Top FAQs
Can I remove the table?
A: Yes. The table is both adjustable and removable
Q: What is the warranty?
A: Two years
Q: Is this suitable for drilling through ceramic?
A: Yes
Q: What is the voltage?
A: 110V 
Direct Comparison
Power
The floor drill press has more power than a table drill press because it is built to work more regularly and on tougher material. Shop FoxW1848 has a 9-Amp motor with a 3/4hp, which delivers a higher torque in every stroke than WEN 4124`s 2/3HP. The floor drill press delivers the high torque needed for drilling smoothly through steel and tough fiber. The benchtop drill press motor is strained by thick steel and fiber leading to a rather rugged finish.
Speed
With drill presses, you need lower speed for higher torque, especially when dealing with metal and tough lumber. The floor drill press has a minimum speed of 250RPM, which cuts smoothly through steel better than the 580RPM of the WEN 4214 drill press. Shop Fox W1848 also has 12 distinct speed settings that make it easy to customize your drilling depending on the density of the material in question.
The floor drill press has a top speed of 3050RPM, which is suitable for woodwork and plastic, although it doesn`t cut as fast as the 3200RPM delivered by the benchtop drill. WEN 4214 has only five distinct speed settings suitable for light material, including steel less than 2-Inches thick.
Sanding
Shop Fox W1848 has an oscillating belt specifically meant to make contour sanding easy. It also includes sanding drums, which reduce the extra costs needed to convert a benchtop drill press to a sander. WEN 4214 can also be used for quick sanding thanks to its high speed, although you have to invest in sanding drums and paper. It can`t do it efficiently as you have to hold and direct the workpiece yourself.
Table
These drill presses have iron cast tables designed to last for a long time under frequent heavy-duty use. Shop Fox W1848 also comes in at the top because the table is 13-1/4-inch, which allows you to access extra-large Stock. The table also bevels at 90 degrees, which enables you to drill curved pieces and tight angles comfortably. WEN 4214 has a 9.5 Inch table and a beveling angle of 45 degrees, which limits you to smaller workpieces.
Spindle Depth 
These two have equal spindle travels of 3-1/8 inches. It allows them to handle similar thicknesses of Stock. Shop Fox, however, works better through the Stock compared to the WEN benchtop drill press.
Precision
WEN 4214 has a laser-guided X-rays that pinpoint the exact point of drilling, reducing the chances of error. Shop Fox W1848 does not have a laser guide system, which reduces its accuracy.
Final Note
Choosing between a floor drill press and a benchtop drill press is a decision that affects the type and quality of your woodwork for a long time. Tight budgets and limitations of space and experience force many people to go for low-quality benchtop drill presses. This review is a comparison of the best drill press and floor drill press you can get on a tight budget and get the value of any high-end drill press.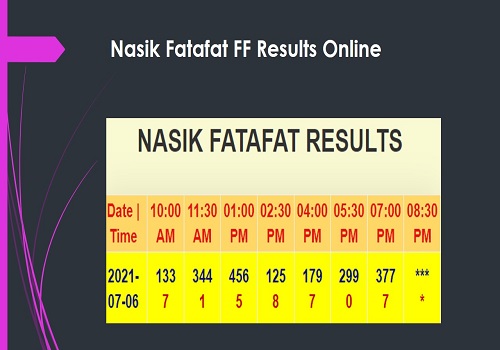 Are you looking for information on nasik fatafat? You have come to the right place! In this blog post, we will provide a step-by-step guide on nasik fatafat
NASIK FATAFAT RESULTS
nasikfatafatresults.com
NASIK FATAFAT RESULTS. Date | Time, 10:00 AM, 11:30 AM, 01:00 PM, 02:30 PM …
Nasik Fatafat Result 16.12.2021 Today Nashik Ff – Lottery Sambad
lottery-sambad.co.in › nasik-fatafat-result-today-nashik-ff
[Live] NASIK Fatafat Results Today 2021 – Pinterest
www.pinterest.com › Finance › Banking › Money
Aug 8, 2021 – Do you want to know today's NASIK Fatafat Results? If yes, then you're in the right place. The draw takes place at various times from 10 AM to …
Top 74 Similar websites like nasikfatafatresults.com and alternatives
www.sitelike.org › similar › nasikfatafatresults
Similar sites like nasikfatafatresults.com. nasikfatafatresults.com · nasikfatafatresults.com. Edit. nasik fatafat results nasik fatafat results.
Nasikfatafatresults : NASIK FATAFAT RESULTS
nasikfatafatresults.com.cutestat.com
nasikfatafatresults.com is 2 years 1 week old. It has a global traffic rank of #6,656,673 in the world. It is a domain having com extension.
08/03/2022 /kolkataff fatafat Kolkata fatafat ff TIPS 1st baji … – YouTube
www.youtube.com › watch
nasikfatafatresults.com login safely, analysis & comments
login.page › nasikfatafatresults
Fatafat Nashik – Videos – Facebook
www.facebook.com › Places › Nashik › Fatafat Nashik
Watch the latest videos from Fatafat Nashik. … Fatafat wishes you all Happy Independence day . a year ago. ·. 21 views. 0:34.
nasikfatafatresults.com login safely, analysis & comments
login.page › nasikfatafatresults
fatafat.nashik – Instagram
www.instagram.com › fatafat.nashik
FATAFAT NASHIK. Food delivery service. Want Anything? Food,Groceries,Medicines,Flowers,Gifts, Pet supplies etc. with superfast delivery service "Fatafat"
NRCiR.Org –
nrcir.org
NASIK Fatafat Result 12 June 2022, NASIK Fatafat Old Result … Kolkata FF Fatafat Live Result 12 June 2022, Dada Free Tips, Sabse Pahle Patti Chart List …
Kolkata FF Fatafat Result Today Live – India Network News
indianetworknews.com › Sarkari Result
2021 Kolkata Fatafat Result, Kolkata FF Result, FF Kolkata Result, Fatafat Kolkata Result Today, Nasik Fatafat Result, Kolkata …
How much is www.nasikfatafatresults.com worth? – SitePrice
www.siteprice.org › website-worth › nasikfatafatresults
Domain Name: www.nasikfatafatresults.com. Title: nasik fatafat results. Description: nasik fatafat results. Keywords: Domain Age: 2 years, 0 months, 20 days.
Fatafat Nashik (@FatafatNashik) / Twitter
twitter.com › fatafatnashik
Fatafat Nashik. @FatafatNashik. We aim to make your everyday hassle-free. Be it Food, Fresh Fruits, Vegetables or Groceries, we get them all delivered to …
Fatafat Nashik, Maharashtra (7887899288) – VYMaps.com
vymaps.com › Fatafat-Nashik-101360681645340
Fatafat Nashik is located at: S3, Suyojit Trade Center, Above Lokmat Office, Sharanpur Road,, Nashik, India 422001. What is the phone number of Fatafat …
Best Dirty Water Sump Submersible Pump Reviews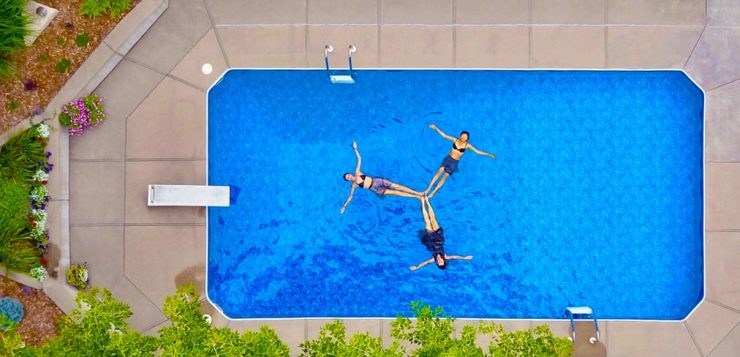 Who should have a sump pump on hand? The answer is every home should have a sump pump where it can be accessed to handle any emergency. Most people have thought that they don't need a sump pump if they don't own a pool or fountain; others think that if they don't live near a body of water they are not at risk for flooding. Ok, for those who have a fountain or pool, a sump pump is a must. Every home, no matter how far from water, is at risk for flooding. Flooding happens from ground water as well as burst or broken pipes. Every home should have a submersible sump pump handy; this will help you decide which one is perfect for you.
10 Best Dirty Water Sump Submersible Pump Reviews
1. Superior Pump 91250 1/4 HP Thermoplastic Submersible Utility Pump
This submersible sump pump is ideal for any home or business. It comes equipped with a 1/4-horsepower motor that offers enough power to release 30 gallons of water per minute. This pump is capable of lifting the water 25 feel in the air, vertically. It will also remove water to where you will only have 1/8 inch of water remaining. It is extremely compact where it can fit in an opening that is just 6 inches wide. The one year limited warranty offers you worry free purchasing power.
2. Superior Pump 92341 1/3 HP Cast Iron Sump Pump Side Discharge with Vertical Float Switch
This is another submersible sump pump that not only takes water up 25 feet vertically, but it can also suck up solids under 3/8 inch in diameter. The 92341 has a 1/3 horsepower motor that has the ability to suck out up to 46 gallons of water and solids per minute, or 2760 gallons per hour. This beast is sure to get even your biggest job done in no time. It also has a vertical float switch that will offer peak performance when working in narrow areas.
3. Liberty Pumps 257 1/3-Horse Power 1-1/2-Inch Discharge 250-Series Cast Iron Automatic Submersible Sump
This cast iron submersible sump pump can handle just about any job both effectively and efficiently. This pump comes standard with a 1/3 horsepower motor that is capable of pumping out 50 gallons of water per minute as well as solids that are up to 10-Inch inch diameter. It can pump straight up 20 feet while using the efficient design of the motor to reduce energy costs by 40%. The small design lets the pump be in areas with only a 10-inch diameter so it can pump water out of the smallest spaces. The 3-year manufacturers warranty is one of the best on the market.
4. Liberty Pumps 287 1/2-Horse Power 1-1/2-Inch Discharge 280-Series Automatic Submersible Sump Pump
This is the pump of all sump pumps. It has a high-powered 1/2-horse motor that can handle even the toughest job. Rated at being able to pump out 67 gallons per minute with a maximum head of 37 feet, it can go anywhere and do anything. Like most other submersible sump pumps, this has the 10 foot water resistant cord, but the Liberty also has a quick disconnect so if the cord does become damaged, it is easily replaceable.
5. Zoeller 98-0001 115-Volt 1/2 Horse Power Model M98 Flow-Mate Automatic Cast Iron Single Phase Submersible Sump
The Zoeller Flow Mate with 1/2 horsepower motor is made entirely of cast iron; making it extremely durable even when submersed in water. This sump pump can evacuate 72 gallons of water per minute or spherical solids up to 1/2-inch. Where most manufacturers offer a 10-foot cord, Zoeller offers a 3-prong, 15 foot water resistant cord.
6. Zoeller 57-0001 M57 Basement High Capacity Sump Pump
The M57 offers hope to those who are suffering from a flooded basement. It has a 1/3-horse motor and can pass solids that are under 1/2-inch. It is made from stainless steel and is coated with a corrosion resistant, powder coated epoxy finish that reduces the chance of damage to the pump due to the extremities of the flood and toxins that may be in the water. The square ring between the motor and the pump housing is made of a watertight neoprene so the delicate parts in the motor will never be touched by water.
7. Wayne 57729-WYNP Automatic ON/OFF Water Removal Pool Cover Pump
The Wayne is specially designed for those who are at higher risk for flooding. The iSwitch technology senses when there is water and automatically turns the pump on. When the water is gone, it turns it off. Additionally, when the temperature hits freezing, the iSwitch will also turn it off to prevent the pump from freezing. It also comes standard with a base that filters out solids and debris so they won't get stuck in the pump or motor.
8. Wayne EE980 Energy Efficient 3/4 HP Submersible Stainless Steel/Cast Iron Sump Pump
This pump offers a 3/4 horsepower motor that is capable of pumping 4600 gallons of water per hour. Between the cast iron pump housing and the long lasting ceramic seals, the durability of this pump surpasses the competition. The automatic float switch is ideal when you need it to shut off automatically when it is done doing its job.
9. Wayne Water Systems VIP50 1/2 HP 2,500 GPH Submersible Utility Water Pump
The Wayne Utility Water pump provides a 
1/2-
 horsepower motor that will remove water down to 1/8 inch. It is durable with the glass reinforced housing on the motor to prevent rust and corrosion. It is also very easy to use and connects to the standard 
3/4-
inch garden hose, no crazy adapters needed, just a garden hose that is in almost every home.
10. Wayne 58321-WYN3 Submersible Cast Iron and Stainless Steel Sump Pump with Vertical Float Switch
This sump pump is made entirely of cast iron and stainless steel, making it extremely durable and resistant to any corrosion or rust. The suction design in this pump completely eliminates air locks and clogging while the 3/4  horsepower motor offers a flow rate of 3500 gallons per minute with 10 feet of vertical discharge.
Everybody should have a sump pump at the ready for any emergency that may arise. These pumps are durable, efficient and effective and will remove your standing water whether you need to get all of your water out of your pool or your basement.
Milwaukee 2804-20 VS. 2704-20 Hammer Drill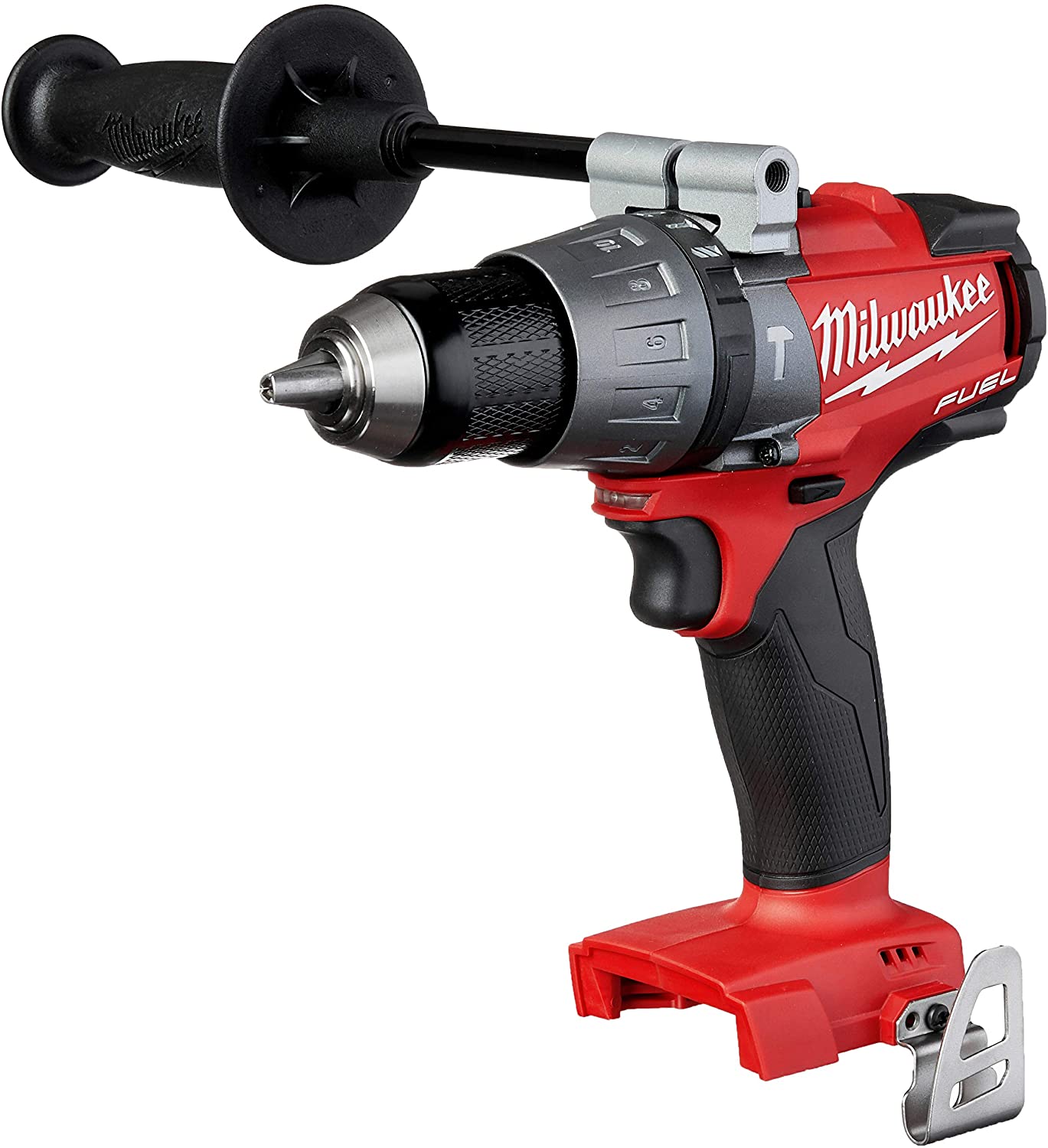 Milwaukee has been making huge changes to their M18 series with the hammer drills being their most improved tools so far. Gen 2 and Gen 3 hammer drills have powerful upgrades including increased transmission speed and higher load-torque delivery becoming some of the market`s most preferred hammer drills. The original Milwaukee M18 hammer drills were over 8 inches long weighing up to 5lbs with a torque rating of just 725lbs. These were quite heavy and not suitable for tough projects especially treated concrete.
The company introduced the second generation which included the Milwaukee 2704-20 Hammer drill reviewed here, famous for its strong bit grip and rapid performance with 1/2 by 3-inch screws and drill bits. This hammer drill features an electric clutch, a metallic mode collar separate from the clutch and a side handle that made it easy to control. It is just 7.7 inches front to back and weighs 3.2 lbs., way lighter than the first generation.
The second generation has a torque rating of 1200in-lbs and speeds of 0-550/0-2000RPM and a hammering function speed of 0-32,000BPM. This made their hammer drills the most powerful drill in the market at the time. Professionals and DIYers still love it for its ease of use even on the toughest applications but Milwaukee went ahead to make further upgrades bringing their latest 3rd generation hammer drill.
Milwaukee 2804-20 is the most famous M18 3rd gen hammer drill in the market at the moment measuring just 6.9 inches front to back and weighing 3.2 lbs. It is more compact than the 2nd generation with a more powerful side handle. It also retains the electric clutch but the independent mode collar is removed as its function is integrated into the chuck. It is also rated at 1200in-lbs in torque with 0-2000RPM and 32000BPM speed ratings as the 2nd generation.
While some people prefer the power and sturdiness of the 2nd generation, some feel that the 3rd generation, compact and still powerful is way better. 2804-20 and 2704-20 are the best sellers of the M18 series but many DIYers and Professionals can`t really agree on the one best of the two. This is why we created a performance-based review to analyze the features and how each hammer drill performs on-site to help you make a choice.
Comparing Milwaukee 2804-20 to 2704-20 Hammer Drills
1. Milwaukee M18 Fuel 2804-20 Hammer Drill
This is one of Milwaukee`s latest introductions in the market, smaller, lighter but more powerful than the earlier generations of M18 hammer drills. It measures 6.9 inches front to back and weighs just 3.2lbs which make it easy to lift and operate just like a regular cordless drill. It also includes a strong side handle standing at 90 degrees to help control the torque at the bit especially at the beginning of driving.
This hammer drill is more compact thanks to the electric clutch which combines the functions for mode control as well as torque settings formerly handled by the independent mode collar in generation two. Some people complain about control problems with the electric clutch because it needs some time to get used to. This hammer drill, however, has better communication between the clutch, battery, and motor delivering a better finish than standard manual models.
It features an all-metal single-sleeve ratcheting chuck which still clamps sturdily on the bits. Its Powerstate motor plus Redlink intelligence also prevent overdrive and stripping of screws. The chuck has 14 settings plus the hammer function for accurate torque settings. It also features variable speed settings with a high torque setting of 0-550RPM and 0-2000RPM for fast driving and drilling applications. Its 1200lb Torque combined with high impact speed of 0-32000BPM allow it to drill through mortar and treated concrete better than earlier models.
The hammer drill has a slim rubberized handle that allows one-handed bit exchange and control. Its LED light is also located at the base of the hammer drill for better illumination of your workspace. It is also protected by a tough external casing that protects the hammer drill from the elements. The impact driver has 5-year warranty protection. It also uses the M18 battery system with higher productivity per charge than earlier battery models.
What you get with this hammer drill
1 Fuel M18 2804-20 Hammer Drill
1 side handle
1 belt clip
Pros
Redlink tapping intelligence
It is light and compact
Metallic chuck with one-handed bit exchange
Strong all metallic chuck
90-degree auxiliary handle
Cons
The electric clutch is hard to set
It is harder to balance with large batteries
2. Milwaukee M18 Fuel 2704-20 Hammer Drill
This is also a professional user-design hammer drill with a high torque and speed rating for the most demanding projects. It is part of Milwaukee`s second generationM18 Hammer Drills measuring 7.7 inches front to back and weighs 4.1lbs. It is also compact featuring a strong metallic chuck with one-handed bit exchange for easy operation. Its Chuck clamps have a strong grip on the bits and resistant to corrosion.
It has a brushless motor with Milwaukee`s screw tapping intelligence which helps prevent overload and overdrive. The motor technology has a higher transmission on load than the first-generation models and also lasts longer than brushed motor impact drivers. It is also made of premium metallic and silicon parts including the external casing to protect from the elements especially in an outdoor work environment.
This hammer drill has an independent mode collar with an electric clutch that makes speed and torque setting easy. It has three functional modes at 0-550RPM for high torque applications, 0-2000RPM for high-speed drill/drive applications and o-32000BPM hammering function speed for masonry applications. Its high torque of 1200in-lbs allows it to drill through brick and concrete with ease making it the right tool for your toughest projects.
It comes with an auxiliary handle to help you manage the vibrations that come with the giant torque. Its handle is also slim and rubberized to improve your grip when handling high speed and torque operations. Its LED light is located behind the chuck, bright enough although it lights with shadowy visibility, especially where lots of dirt is emitted.
What you get with this hammer drill
1 Auxiliary handle
1 M18 Milwaukee Fuel 2704-20 Hammer Drill
1 belt clip
Pros
It has Redlink plus tapping intelligence
Four-pole brushless motor
Tough external casing
Separate mode collar
all metallic chuck with a strong bit grip
Cons
It weighs over 4.5lbs with batteries included
only 2 drive speed settings
Top FAQs
Q: Can this hammer drill drive 3-inch-long screws?
A:  Absolutely.
Q: Does it come with a case and batteries?
A:  No. This is a tool only purchase
Q: Is it compatible with Milwaukee M18 2AH batteries?
A:  Sure, but xc5.0 will give you the best results
Direct Comparison Between 2804-20 and 2704-20 Hammer drills
Torque
The no-load torque rating on both tools is 1200In lbs. Milwaukee 2804-20 has more improvements that give it an upper hand when handling tougher loads. It peaks in at a higher torque able to handle tough surfaces especially treated concrete better than 2704-20.
Speed
Both hammer drills are fitted with a variable speed trigger and three separate speed modes. You can set at 0-550RPM for high torque, 0-2000RPM, and 32000BPM hammering speed. At high speed, the bit grip is weaker on 2804-20 than 2704-20. Overload protection kicks in earlier on 2804-20 than 2704-20 when handling high load projects. Both tools have a high impact at the handle at top speed which makes the auxiliary handle a necessary addition on most demanding projects.
Clutch and Chuck
Both hammer drills have an electric chuck which has better communication with the motor than the regular manual clutch. The chucks have 14 settings plus the hammering function for accurate torque setting depending on the project you are handling. In 2704-20, the mode collar is separate from the clutch which makes setting and operating easier although it makes the hammer drill bulkier. The clutch for 2804 is smaller because it also acts as the mode setting collar. It is easier to handle once you understand it but it may be more stubborn for first-time users.
Size and weight
Milwaukee 2804-20 is probably the most compact hammer drill you will find measuring just 6.9 inches and weighing 3lbs. Its reduced size is because of the Milwaukee`s remodeling which reduced both the handle size and the head. The smaller head has poor balance when large batteries are used but it is easier to handle and also reduces fatigue to the user.
Milwaukee 2704-20 Is more similar to other hammer drills in the market measuring 7.7 inches front to back and weighing 4lbs without the batteries. Its balance with xc5.0 batteries is good making it easier to handle. Its weight with the batteries included is however higher reaching 4.5lbs which causes more fatigue to the user.
Final Note
Most professionals disagree on whether the earlier Milwaukee 2704-20 or the more recent 2804-20 hammer drill is the better tool for the job. The difference between the two is quite small and comes down to whether you love more convenience of setting or better control. 2804-20 is a great upgrade but it doesn't necessarily root out the advantages enjoyed by those used to 2704-20. This review explains this difference and how each will affect your productivity when working on site.