Dewalt DWM120 Vs. DWM120K Vs. WEN 94396 Vs. Makita XBP02Z Portable Band Saw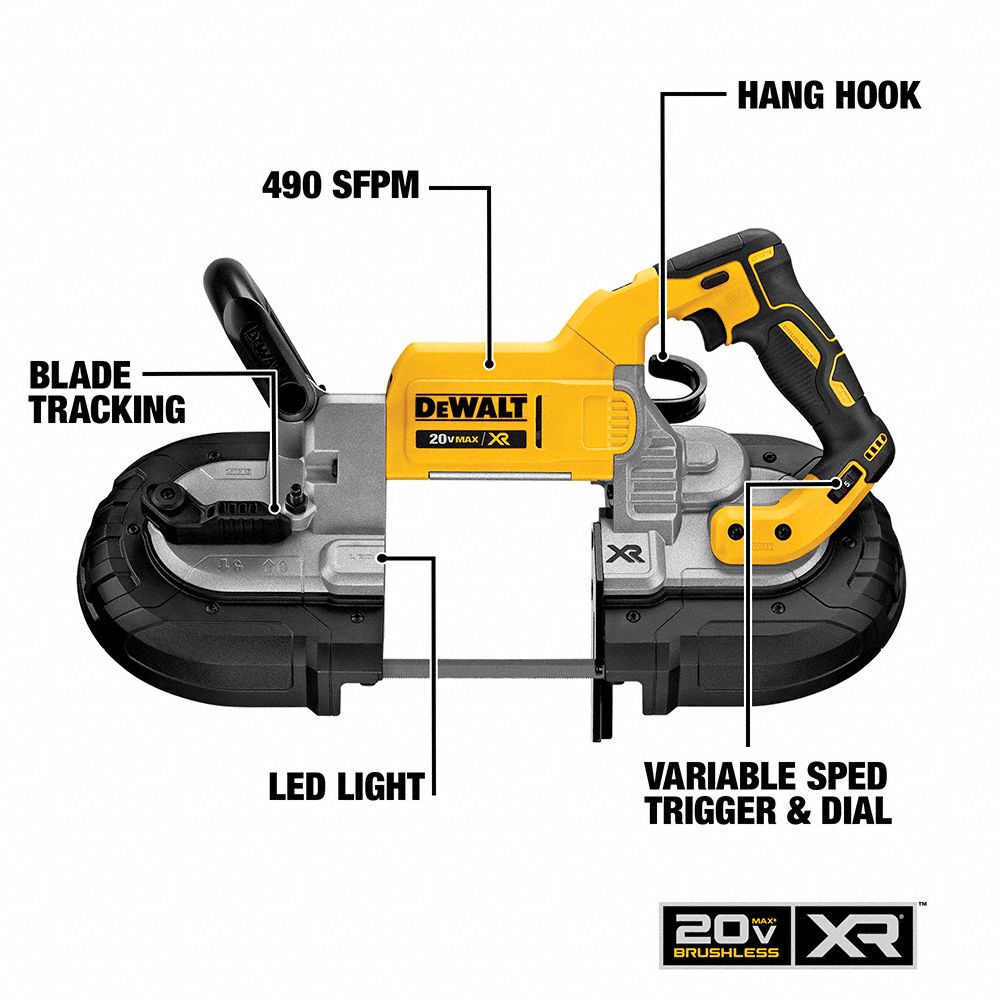 Are you looking for a durable band saw with deep cut capacity? Finding the best portable band saw with this ability can be a daunting task if you don`t know what features to look for. This is why we recommend going for the best motor and blades the market can offer.
You also need to check the amperage to ensure that the motor is powerful enough to handle the stock cutting capacity named by the manufacturer. These were the main areas of concern we identified with experts that had trouble buying the best portable band saw.
The best band saws to handle any workpiece on site should have a cutting depth higher than 4 inches. Having a band saw with a high cutting capacity improves your productivity while on site. However, the best blade guiding systems and metallic construction is essential for heavy-duty tasks and harsh working conditions. That is why we tested WEN, Makita, and Dewalt to compare their price, performance, and durability.
Dewalt DWM120K with a 10 Amp motor and 5-inch cutting depth is our top pick. It makes exceptionally smooth cuts thanks to its heavy-duty blade. It is the best choice of a first band saw for heavy-duty metal cutting n workshops for Plumbers and electricians. Wen came is as our top pick for a budget band saw featuring premium parts at a pocket-friendly price. It is also simple and straightforward; you can buy it as your entry-level band saw.
Makita XBP02Z, on the other hand, is a powerful cordless band saw with a wide range of variable speeds. It is suitable for any outdoor worksite and has powerful features that can last a lifetime in your workshop. Makita is also the best choice for heavy-duty metal cutting on the go.
Here is a detailed review of each of the power tools
1. DeWalt DMW120K Deep Cut Portable Band SawOverview
Dewalt is famous for itsits premium parts on their power tools, and this one is well equipped to serve you in the toughest of environments. It also comes with a hard case to withstand jobsite abuse. It is a 10-Amp band saw with enough power to make smooth deep cuts through steel and hardwood. It also has an effective debris removal system that comes in handy for cutting both wood and metal. Its price is also friendly, suitable if you need a deep cut band saw on a budget.
Power
DeWalt uses a 10-Amp 120V motor on this blade with enough power to sustain the deep cut capacity of the blade. It has a thickened heavy-duty power cord extended up to 6ft for location convenience. Its two-step trigger also prevents accidental engagement for security. Moreover, it is fitted with power overload protection to protect the motor.
Construction
It is built with a professional user in mind, light to prevent fatigue and also give you full control for high precision cutting. Its entire body is robust and strengthened with steel to withstand the falls and knocks on the Jobsite. Its handles are also ergonomic and balanced for user comfort. The front handle can also be adjusted to gain a better balance.
It has a powerful LED light to illuminate dark working spaces. It also features a blade guiding system with effective debris removal at each wheel, which extends blade life and prevents frequent blockage. The trigger and speed control are also located at the handle allowing quick access for one-handed operation. It is also fitted with a hook for hanging.
Blade
Carpenters and electricians love DeWalt blades for their durability and high precision cutting. It uses the regular 44-7/8 by ½-Inch Width blade, which can be swapped with a regular third party blade. The blade replacement is also toolless, allowing you to change and use any blade on site. Its most significant boost is the blade tacking system that helps extend blade life.
Performance
This band saw is primarily built for construction sites, which s why it can be used by woodworkers, electricians, and metal workers. It has five distinct speeds from 100 to 350 FPM for matching blade speed to the material. It has a brushed motor with externally replaceable brushes to extend the life of your band saw.
It cuts up to 5 inches deep, making it appropriate to work with thick lumber, as well as round and square metal bars. It also has thick rubber bumpers to absorb pressure and protect the blade. Its blade tracking system ensures that the blade remains potent through prolonged tasks increasing your productivity.
Pros
Deep cutting capacity up to 5-Inches
It has an extendable front handle
Thick rubber bumper protects the blade and body
Dual edge blade guiding system for accuracy
Toolless blade replacement
It comes with a hard case for storage
Cons
It doesn`t allow locking for continuous cutting
Weighs 15lbs which can cause fatigue if used continuously for long
Top FAQs
Q: Is this band saw cordless?
A: No, it uses a power cord.
Q: Can I convert it to a benchtop band saw?
A: Sure. You have to buy the table separately though
Q: Does it have a blade guard?
A: Yes
Q: Can it cut a 2.5-Inch steel pipe?
A: Yes
2. WEN 94396 Variable Speed Portable Band Saw
Overview
If you are looking for a powerful band saw with high depth capacity on a tight budget, then WEN is your companion. Wen has a history of creating powerful benchtop and portable band saws, and electricians and DIYers especially favor this one. It has a 10-Amp motor with a deep cutting capacity of 5-inches. It also offers the advantage of a wide speed range from 60 to 420FPM, which covers any material you may encounter on site.
Power
Despite the compact design, this band saw has a 10-Amp motor. It runs at 120V so you can use it on a regular home plug or extension cable. Its motor housing is effectively fused into the frame to reduce bulkiness. It is also fitted with power overload protection.
Construction
Wen uses tough plastic and fiber in their band saw frame construction. WEN94396 is made for construction projects so it can withstand the abuse of construction sites. It has two rubberized handles with an adjustable auxiliary handle to reduce user fatigue. The entire tool is compact and weighs only 14.5lbs making it easy to use continuously without fatigue.
It is also easy to use and control with the power and the speed adjustment buttons easily accessible at the handle. The body is compact with all vital parts fused into the frame to give you a clear view of the cutting piece for high precision cutting.
Blade
The band saw comes with a regular 44 7/8 inch 10/14TPI cut blade. The universal blade compatibility makes it easy to replace the blade. It also comes with a blade guard that helps extend the life of the blade under harsh conditions.
Performance
The band saw is very versatile on the worksite thanks to its wide speed range from 60 to 420FPM. It cuts smoothly through steel, ceramic, plastic, or wood. Its heavy-duty blade guiding system also maintains a clean, smooth cut through long projects. It has a cutting capacity of 5-Inches allowing you to cut through the thickest workpieces on site.
You can also mount it onto a table and use it as a benchtop band saw if you need to make more complicated cuts. Its overload protection ensures a cool and quiet operation even for prolonged projects.
Pros
Pocket-friendly price
Wide speed range (60-420FPM)
Tough, compact frame
Quick and simple blade replacement
Easy-grip tension adjustment lever
Cons
The frame is mostly plastic
It cannot lock for continuous cutting.
Top FAQs
Q: Is it a cordless band saw?
A: No. It uses a power cord.
Q: Is the motor brushless?
A: No
Q: What is the warranty?
A: 2 Years
3. Makita XBP02Z 18V Lithium-Ion Cordless Band Saw
Overview
If you want to enjoy the same power of a corded band saw from a cordless unit, it is best to buy the strongest Makita LiOn band saw in the market. This band saw is a compact 14.3-lb battery-powered workhorse with six different speed settings. It can eat through plastic, aluminum, conduit, and corrugated iron smoothly, giving you a clean cut. Its deal-breaker is the Makita tough LXT construction that protects the blade and motor from breaking with the falls and bumps of a busy worksite.
Power
It is a cordless band saw compatible with all Makita 18V batteries, which saves you the cost of buying new ones if you have Makita tools. For longer runtimes, we recommend purchasing 3-Amp batteries or higher. Its motor a 6.5-Amp brushed motor with externally accessible brushes for easy replacement.
Construction
The Makita LXT technology has released the toughest tools meant to withstand harsh treatment, which is why XBP02Z has an all-metal body. It can withstand the knocks and bumps of a busy construction site. Its frame is especially compact, designed to deliver maneuverability on site, especially when working with bulky pieces. The entire frame is then protected by a rubber bumper that acts as a shock absorber.
It has two rubberized handles designed to fit like a glove in your arms for balance and user comfort. Its blade guard is also adjustable to protect the blade at different angles of cutting. It is fitted with a large bumper to protect your hands and the blade if you are working too close to the wall.
Blade
Instead of the regular 10/14TPI blades, you get from other manufacturers, Makita delivers 18TPI blades with this band saw. It cuts fast and efficiently and also lasts longer than the 14TPI blades. It uses a standard 44 7/8 by ½ inch blades. It also allows toolless blade adjustment and replacement, simply turn the lever to adjust the tension then pluck it out.
Performance
It is a workhorse designed to run continuously without overheating. It has a cutting depth of 4-3/4 inches, which allows you to cut 4×4 lumber and metal pipes as well as round workpieces, iron sheets, and boards. It is also a variable speed band saw allowing you to set 275 to 530 fpm depending on the density of the workpiece. It also has a blade tracking system with rapid debris ejection to allow for smooth operation, especially when cutting wood.
Pros
Tough metallic body
Easy blade adjustment and replacement
Rapid debris removal prevents blockages
It has a lock-off for user safety
Two-step switch prevents accidental triggering
Cons
The batteries increase weight
The brushed motor requires regular brush replacement.
Top FAQs
Q: Can this band saw cut through 2-Inch thick steel? 
A: Yes
Q: Does it come with batteries?
A: No. It is a tool only package
Q: Does it have A variable speed trigger?
A: YES
Direct Comparison
Power
The power of a band saw depends on the motor, which is why we recommend getting a high-amp motor for the hardest projects. That is why we recommend DWM120K and WEN94396 for long, tough projects. They have 10-Amp motors and also rely on AC power, which delivers a stable unlimited current for projects. Makita XBP02Z, despite its mobility convenience, only has a 6.5-Amp motor and relies on batteries for power. It works best for a DIYer who needs free movement while working on projects.
Blades
The blades determine the performance capacity of your band saw, which is why you need the best blades for any saw. Most of the blades supplied by manufacturers are not sufficient for tough project needs, and you may need a replacement after a short time. In this review, Makita XBP02Z and DeWalt have the best blades, a 44-7/8-inch 18TPI cut blade, which works better at cutting metal and wood.
Makita and DeWalt also have blade tracking technology that optimizes the use of each section of your blade, preventing the strain on specific sections for more extended service. Wen blades are also 44-7/8 inches, but they are 10-14TPI blades, which wear out faster when used in prolonged cutting.
Performance
Variable speed settings are essential for effective cuts on different types of material. All the band saws in this review are primarily meant to cut metal. WEN and Dewalt have the highest cutting capacity at 5×5 inches. They can handle the largest workpieces on-site, delivering smooth cuts in both angular and straight cutting. Wen 94396 and Dewalt DWM120K are corded band saws with a lot of power, which is why you can also install them on a stand if you need a benchtop band saw.
Wen`s variable speeds start as low as 60fpm, which comes in handy for making the most complicated round cuts accurately. It is the best fit for cutting the heaviest metal workpieces. Dewalt, however, has the best blade guiding system with speeds of 100 to 350FPM. It delivers the best finish with bump-free cuts, so there is no need for smoothening.
If you deal with lots of woodwork in your workshop, then Makita`s 275-530FPM variable speeds are the best for you. High speeds deliver the best finish o ceramic, conduit, plastic, and wood. Makita s also cordless so you can carry it around the workshop more comfortably.
Final Word
Every workshop needs a deep cut band saw, although the different project needs mean that everyone has to choose different features. You can still get the best band saw for your workshop, even if you have a tight budget as long as you know the features you need. This review has three top band saws. We recommend Dewalt for any heavy-duty commercial projects in the workshop.
Wen is suitable as an entry-level band saw because it doesn't have premium parts, although it delivers a classy finish and comes at nearly half the price of the other band saws in its category. Makita is the best band saw for location convenience. It has no location limits and still delivers the power needed for making deep cuts.
Best Outdoor Inflatable Projector Screens Reviews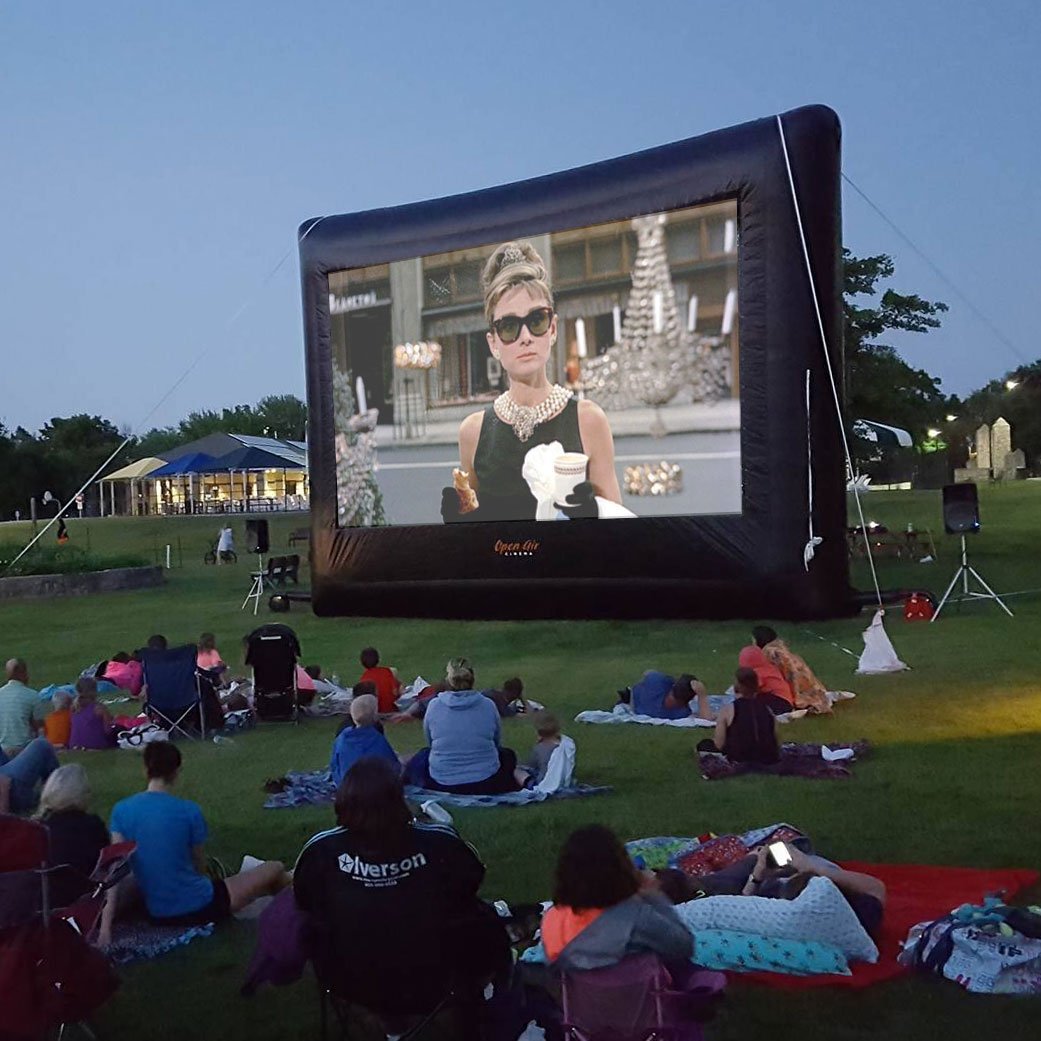 Inflatable movie screens are the best way to bring the theater home and maximize the fun when hosting large groups in your backyard, at the beach or in a park. They are also portable allowing you to carry your entertainment with you wherever you go which is why the discussion is no longer whether you need an inflatable screen but rather, which inflatable screen should you buy.
Movie nights are only as fun as the screen in the room, or the yard in this case which is why every little aspect of your inflatable screen matters. The best inflatable screen has to give you all the convenience needed for setting up and give clear images to everyone present.
Getting the best inflatable screen for all your viewing needs without breaking the bank involves matching the screen size to your projector then narrowing that down to your budget. That way you get the best pictures at a great price. Once you have a budget and a screen size, you can then look at blowers, tethers, stakes and other accessories that will make your work easier. We have done exactly that and selected these five top screens plus a guide on everything you need to know when getting a screen.
Our top pick is Holiday Styling compatible with any projector supporting both rear and front projection, very stable and highly classy for any type of outdoor viewing. You can continue below to see more bestseller inflatable screens and more information from our professionals on how to land and use the best inflatable screen.
Top 5 Best Inflatable Movie Projector Screen Reviews
1. Holiday Styling 16ft Inflatable Outdoor Movie Screen
This is a classy inflatable movie night screen that comes accompanied by customized movie ticket templates that set the mood for a great night. It is also made of premium features especially the thick 600DD material that is very durable, firm and completely smooth on full inflation. It has a very sturdy frame highly resistant to scratch and tear with a Velcro screen, smooth and stable for high image quality. Moreover, the package comes with strong tethers and sturdy loops at the corners allowing you to utilize every inch of your screen for viewing. The clear white screen also has no seams in the middle allowing clear image projection even when there is light.
Customers largely appreciate it`s stability that allows it to withstand strong winds which makes it such a great outdoor screen. The thick scratch resistant material also makes it a one-time purchase that gives you value for your money. Setting up is quite easy as well because the screen self inflates in under 2 minutes with the silent electric blowers that allow everyone to concentrate on watching.
The only disappointment by most customers is the huge Holiday Styling logo on the inflatable screen, it doesn`t really affect your image quality but it can be a little irritating. The screen is accompanied by 10 popcorn cups that allow you to treat your first row of guests.
Pros:
It supports rear projection
It has a strong frame
It comes with powerful tethers
The package includes popcorn cups
Cons:
The rear projection is not very clear
It is too big for indoor viewing
2. EasyGo 14ft Inflatable Mega Screen
This is one of the best entertainment on the go packages in the market, light and easy to move around with and also a very home-friendly package. It weighs just 8lbs and also comes with a large drawstring storage bag that can carry all the gear you need for your movie night. It also comes with stakes and D rings for extra stability at the top holding the screen firmly for undisturbed viewing. Moreover, its detachable white screen canvas display is 98×58 inches suitable for large crowds, durable and also easy to clean.
Its greatest deal breaker according to most customers is the sturdy frame and fans. It also has strong wind resistance allowing you to enjoy movies even on a windy night. It is actually smaller than regular 16ft models which is why you can still use it indoors or an outside shelter. It comes with a silent blower for uninterrupted movie session as well as a tent and rope to set up in any location of your choice.
It doesn't support rear projection which is a put off to some customers but its crease-free canvas screen projects very clear images on the front view which still works for everyone present. Its frame is also made of light fabric which is why you have to keep it free from any sharp objects.
Pros:
It comes with stakes with D rings for attachment
It has a removable canvas screen, easy to clean
Easy set up with under 2-minute inflation
It is light, weighs just 8.5lbs
Cons:
It doesn`t support rear projection
3. Nozzco 14ft Outdoor Movie screen
Nozzco has one of the closest packages to our top pick including support for rear projection, just a little bit smaller. This is a great package if you need to bring the theater home on a budget. It has a strong frame with premium fabric, highly durable, firm and totally smooth when inflated. It comes as a complete package of set up and securing accessories including 6 12ft ropes and 6 aluminum stakes for securing everything firmly and a large drawstring bag.  These stakes combined with the wide base allow it to withstand up to 20mph of wind for comfortable outdoor entertainment.
The Velcro canvas screen fits perfectly on the 10ft view area allowing you to enjoy every inch of the projection. Customers go for the quiet electric blower that firms up the frame in 2 minutes and fans that work silently, you can hardly hear them when you set up external speakers. All the parts are also washable with water making it easy to maintain the screen for durability.
This Nozzco screen also includes a package that helps you customize your watching experience with the 10 additional movie templates. It weighs 20lbs, heavier than the other options in the review because of the high-density frame material. However, once you put it in the heavy-duty storage bag, transportation won't be a problem.
Pros:
It supports rear projection
A removable Velcro screen easy to clean
It has a firm smooth frame
Wide base with strong tethers for wind resistance
Cons:
It is quite heavy, over 20lbs
4. Laika 15ft Inflatable Outdoor Projector Movie Screen
This is actually a 14ft inflatable frame with the extra foot allowance for raising it above the ground allowing a better view for a larger audience especially the backbenchers. It is a great option for large gatherings especially weddings and parties. It is a high contrast screen rated at 16:9 because of the white front and black rear coloring of the canvas. It is also strong and very smooth delivering bright edge to edge images that can be seen clearly from a further distance than most regular screens.
Apart from the extra clear screen, customers loved the stability of this screen provided by the strong stakes and tethers included in the package plus its wide base. The other attraction to this screen is the strong firm frame that inflates easily allowing a clear view of the full screen for the whole audience. It takes about to minutes to inflate this screen with the silent electric blower included in the package.
This is a rather heavy screen compared to its counterparts which is why many customers complained about the hardship in moving around with it. It doesn't support rear projection either and since it is 1ft above ground, you will have to make an extra adjustment on your projector. It is however easy to clean and maintain because of the smooth canvas screen.
Pros:
It is raised for a full view by backbenchers
It has a wide base and stakes for extra stability
Powerful but silent electric blower for a quick inflation
It has an extra clear screen with high contrast
Cons:
It doesn't support rear projection
It is heavy, weighs over 20lbs
5. Tusy 14ft Mega Inflatable Outdoor Movie screen
This is a light 12ft package containing another complete set of features you may need in your entertainment on the go. It actually comes with a built-in blower, powerful enough to inflate the whole frame 2 minutes or less. This screen is specially designed with the slight lift needed to give everyone a clear view in any setting of your movie, TV or gaming session. Its high contrast Velcro screen also reproduces very high-quality images and it is compatible with almost any projector you may have.
It is a budget-friendly inflatable screen as well popular among homeowners because it has the premium features of any inflatable screen. It has a strong frame made of oxford fabric highly resistant to scratch and chipping. It also comes with a complete set of accessories including aluminum stakes, 12ft ropes, and a carrying bag.
The only issue our customers had with this screen is the disturbing hum of the blower which can be irritating if you don't have powerful external speakers. It also has a very narrow base leaving it highly susceptible to the wind. It is still light and easy to set up, making, it the right screen to bring along on any trip.
Pros:
It is light and easy to carry around weighing just 12lbs
It has a detachable screen easy to clean
A smooth high contrast screen with clear images
Inbuilt blower inflates in 2 minutes
Cons:
It has little wind resistance
Inflatable projector screen buying guide
An inflatable screen purchase is an important decision that affects the happiness of many people which is why we insist on getting everything right. Before buying an inflatable screen, you have to ensure the image quality meets your needs. If you tick all these features on your final screen purchase, then you have the best inflatable screen for the money.
Stability
The primary focus of any homeowner is getting the best inflatable screen for outdoor movie watching which is why their tolerance to winds is an important consideration. It is always advisable to go for a wider base and a little more weight to prevent your screen from swaying with the slightest wind. However, tethers and powerful stakes in the package will still give you the stability needed. This is why every recommended screen in this guide includes tethering ropes and enough tie downs to give you the experience of a large static screen in on any setting.
Inflation and maintenance
There are manual inflation options in the market although they take longer to set up and lots of energy which is why we highly recommend the smart options. Self-inflating screens come with an electric blower, quick and silent allowing you to set up in less than 5 minutes with little interference on the entertainment. The powerful electric blowers also bring out the full extent of your frame for a better viewing experience. Detachable parts make cleaning and drying easier, especially the canvas screen which is why all our top picks are Velcro screens giving full access of your viewing area, also, easy to remove and clean.
Size
The basic options in the market are 12ft, 14ft, 16ft and 18ft inflatable screens. While the 16ft comes out as the best option giving you at least a 14ft wide screen area, it may be more expensive and impossible to set up indoors. 16ft screens are still the most preferable outdoor entertainment inflatable screens. 14ft screens, on the other hand, are lighter and easier to set up even indoors if you have a hall, large enough to accommodate them.
Rear projection compatibility
This has become a major concern among customers which is why manufacturers have made it a priority on most modern screens. Rear projections make location choice easier and allow more room for people closest to the screen without interfering with the direct view that may be caused by the projector set up. Most customers, however, won`t leave a good inflatable screen because of this which is why our top picks still appeal to most buyers even without rear projection. Most customers and professionals also argue that rear projection doesn't give as clear images as the usual front projection.
Screen
This is the main determinant of your image quality which is why it has to give high contrast and be smooth and clean. Canvas is the most famous material for the screen and our recommended inflation movie screens have Velcro attached screens because they give full and clear viewing. They attach firmly to the frame utilizing every inch of your inflatable giving you the experience of a static screen. They are also easy to remove for cleaning and they need very little effort to set up. Their full stretch also eliminates all creases on your screen for clear cut images.
FAQs
What is the best size of the screen for outdoor viewing?
Anything above 10ft is good enough to brighten up your movie night but the rule of the thumb is the bigger the better. When dealing with large crowds over 200 people, it is always advisable to go for a 16ft screen, even better if slightly raised for a clear view to backbenchers as well. 14ft screens are generally enough for most functions including pool parties, beaches, weddings, and camps.
Are Inflatable screens better than static screens?
Inflatable screens have a wide range of advantages over static screens. The answer may not be a clear yes for some people but here is a look at the top advantages of inflatable screens over static ones.
They are highly portable
They can be set up on any location because they don`t need a wall for anchoring
They have highly customized screens for clear cut images on wide screens
They are available in large sizes up to 18ft able to entertain larger crowds compared to static screens
Cost is generally lower than their static counterparts if you consider image quality and time of service.
Can an inflatable projector screen be used indoors?
Absolutely! Inflatable screens are the best option for entertaining large gatherings in halls and tents especially when you have many backbenchers that also need a clear view of the entertainment. They are however not the best screen choice for small rooms because they take up a lot of space.
Final Note
Inflatable projector screens bring home the best theater experience of any screen you can find. They are the best entertainment addition for any family or organization that wants to keep everyone happy which is why we took the initiative to pick out the best options to analyze them. This guide is the product of a thorough analysis of customer views and professional recommendation. We selected these 5 best sellers with an option for any budget range and audience size. With this review, you have all the information you need to choose a great inflatable screen and make your purchase with confidence.
SKILSAW SPT70WT-01 Vs. DEWALT DWE7480 Vs. Bosch GTS1031
Many consumers' particularly professional woodworkers know that table saws are likely the priciest and most crucial tool purchase a woodworker can make.
Table saw are one woodworking tool around which many woodshops are in need of, and due to that, making a wrong purchase can hurt your wallet. It won't only do harm on your finances but also on your output.
It's a fact that we're all beginners at some point, and as newbies know, the most difficult part is starting. The second most difficult part is most likely knowing how to start Now, with that said, we hope you can enjoy this review that you're about to read since we're always trying to make our reviews informative and helpful at the same time.
Anyways, our objective is to make your life easier by choosing the right tools for your budget and needs. That said, let's dive in!
SKILSAW SPT70WT-01 vs. DEWALT DWE7480 vs. Bosch GTS1031 Review
1. SKILSAW SPT70WT-01 10 In. Portable Worm Drive Table Saw
What You Will Get With This Product?
In the event that you haven't known about SKILSAW, at that point you're passing up a ton of goodness. This is an unmistakable brand that has thought of a great deal of stunning quality fueled saws throughout the years. Because of the improved quality that they bring to the market, this brand has picked up the trust of a ton of clients over the globe in this way increasing the demand for their items.
Versatility
The SKILSAW SPT70WT-01 is extraordinarily intended for tearing purposes. Its particular worm-driven rigging empowers it slice quickly through materials without separating. And thus, its 15-amp engine keeps the catalyst and running all through different persistent tearing procedures additional time.  Likewise, asides this component, this saw is additionally planned in light of a dependable use. This infers it can stand against the unfavorable place of work working conditions because of its steel/aluminum parts. These incorporate the raising instrument that is additionally ready to oppose without dividing, cruel temperatures.
Security System
Furthermore, its security system covers both the device and the client. On account of the device, a compartment is made accessible for putting away imperatively significant parts of the instrument, for example, the tear fence and the miter gauge permitting them an extraordinary level of security and superior at the same time.
With respect to the client of this saw, its enemy of kickback instrument ensures you structure the conceivable coming about mishaps that could emerge out of sudden kickbacks during utilization of the saw. This isn't an element that is regular in many fueled table saws which makes it extremely extraordinary.
Weight
With a load of 49lbs, you can tell how lightweight and portable this saw has been developed to be.  Dominant part of controlled table saws is made as a rule of cast iron which makes them very overwhelming and hard to move about however not for this situation. Its lightweight and elastic cushioned bearer makes it amazingly simple for you to move starting with one place of work then onto the next with the utilization of one hand. This empowers you a free additional hand that empowers you convey other important things you could requirement for your work.
Pros:
Comes with a miter gauge and quiet motor
No vibrations when cutting
Highest no-load speed in its class
Operates continuously without slowing down or getting hot
Rubber bumpers included so you can place the saw on multiple surfaces 
Cons:
Lining up the riving knife can be a bit cumbersome
The compatible stand accessories doesn't come with wheels 
Top FAQs on This Product:
Q: Is there a dado insert for this unit?
A: Yes and its part number is SPTA70WT-DD.
Q: Is the riving knife removable?
A: You can drop it down and out of the way and keep it there with no issue at all.
Q: Will this saw fit the Bosch gravity rise stand?
A: You will probably need to check directly with the stand's manufacturer to confirm compatibility. 
What Take on This Product:
Basically, the SKILSAW SPT70WT-01 10″ portable worm drive table saw is near being the ideal arrangement supplier to all place of work or workshop needs as it mix into all expert and DIY needs.  It brings a close to consummate version which isn't a thing you get the opportunity to involvement with various other table saws.
It conveys a final knockout when contrasted with other table saws as far as its tearing capacity and effectiveness. There could be minimal minor difficulties worth placing into thought yet these can be dealt with legitimate plan when obtained.
2. DEWALT DWE7480 10 in. Compact Job Site Table Saw with Site-Pro Modular Guarding System
What You Will Get With This Product?
DEWALT presumably has the best scope of table saws among every one of the makers today. Their broad range enables pretty much anybody to locate the correct blend of influence, compactness, wellbeing, and cost, and while the DEWALT DWE7480 table saw with 10-inch blade is one of the their littler models, it gives you tremendous incentive to cash.
Manual Blade
The manual blade liable for doing all the sawing is 10 crawls in measurement, and is made out of carbide which is an amazingly hard substance. The saw likewise accompanies a push stick, miter gauge, blade gatekeeper, and equipment pack. Staying aware of the base problem theory is the installed stockpiling which houses the guarding parts and every fundamental instrument.
Rack and Pinion Framework
Above all else, it's furnished with a rack and pinion fence framework which is quite proficient at giving adaptability just as precision when cutting pieces. In spite of its littler size, it has a respectable 24.5-inch tear limit so even enormous bits of wood and wood-based material can be sawed through easily and exactness.
Pros:
Table coating significantly minimizes friction for smoother cutting
Dust port permits for 2 to ½ inch vacuum hook up and reduces clean up
Can be easily be moved on and off the worksite
Metal roll cage base offers greater durability than plastic
Blades can be adjusted 0 to 45 degrees for bevel applications 
Cons:
The 7480 comes with a flat-track for the miter gauge rather than a typical T-track
The in-feed length is only about 4.5 inch 
Top FAQs on This Product:
Q: Can this be utilized in 220V?
A: Unfortunately, no it cannot.
Q: What is the frequency rating of it?
A: It is 60 Hertz.
Q: Does this tool come with a miter?
A: Yup it comes with one.
What Take on This Product:
This specific unit likewise accompanies a Site-Professional Measured Guarding Framework. This implies you can alter the guarding segments of the saw without the requirement for any apparatuses, which accelerates the work process colossally. The discretionary scissor stand can be set up or separated rapidly too, and despite the fact that it doesn't accompany wheels the DWE7480 is reduced enough to move it starting with one area then onto the next with no issue.
3. Bosch 10-Inch Portable Jobsite Table Saw GTS1031 with One-Handed Carry Handle
What You Will Get With This Product?
This specific model is incredible both for experts and tenderfoots. It offers all that could possibly be needed highlights for smooth and speedy activities. The best part about the GTS1031 is its transportability. At the end of the day, you can convey and introduce it any place you need with no problem by any means.
Capacity
Capacity is additionally really helpful. There isn't a lot of free space; however it's all that could possibly be needed for keeping couple of most significant devices inside reach. It spares a ton of time and nerves.
Construction
The base is flawlessly structured, and it has an advantageous convey handle with the goal that you can move the unit around utilizing just one hand. One other notable component of the plan is the helpful stockpiling. It may not be a great deal of free space, yet it's all that could possibly be needed for a lot of some essential devices, for example, screwdrivers, sandpaper, and so on.
Pros:
It is very convenient because it keeps your worksite clear with complete with many utilities
Provides optimized 18 inch rip capacity and 5,000 no load RPM motor
Features Smart Guard with anti-kickback pawls and riving knife system giving users full control
Durable and unique all steel base for heavy-duty tasks
Very portable and compact design 
Cons:
Seems subpar quality considering it is manufactured by Bosch
Needs adjusting most of the time 
Top FAQs on This Product:
Q: Can this be utilized for granite or tile cutting?
A: Yup, it can do the task but not really advisable.
Q: Can you use a dado blade on this unit?
A: Yup, but you'll need a different insert for the blade opening.
Q: What is the table width, edge to edge, with the extension fully extended?
A: It is 30 by 24. 
What Take on This Product:
There are a ton of amiable things when GTS1031 is being referred to, yet we'll bring up the most significant ones. The primary things everybody notification are its usability and compactness. In case you're chipping away at a building site, there is a high possibility that you'll need to move around frequently. On account of the light weight of this item, you can bear it without contemplating exhaustion and back torment. Indeed, the helpful handle mitigates the entire moving procedure very well.
What is the Difference between SKILSAW SPT70WT-01 vs. DEWALT DWE7480 vs. Bosch GTS1031?
Performance
Compared to DEWALT DWE7480 and Bosch GTS1031, the SKILSAW SPT70WT-01 portable worm drive table saw with 25″ tear limit is a top notch table saw that brings to you a mix of eminent innovation application and huge tearing capacity across the board. This is in spite of its intriguing sturdiness and conservative versatility as these are the particular wanted highlights a table saw is relied upon to convey. 
Positioning
With regards to tear limit and unlike the SKILSAW SPT70WT-01 and Bosch GTS1031, the DEWALT DWE7480 sits on the lower end of the range when contrasted with some different models; however at a little under 24.5 inches it ought to demonstrate all that could possibly be needed for generally applications.  To the extent accuracy is concerned the rack and pinion adaptive fence takes into consideration simple bolting and opening with no devices, and utilizing just one hand. The less time you go through tinkering with modifications, the better. 
Motor Output
Compared to SKILSAW SPT70WT-01 and DEWALT DWE7480, Bosch GTS1031's motor is entirely amazing significance you will have the option to slice through any wood without agonizing over kickback, the sharpness of the blade, or the measure of RPM. You can have confidence that it will carry out the responsibility well, paying little respect to your necessities. It's likewise very tough, stable, and exact. Obviously, those are the three most significant components you should search for in some other table saw. 
Final Thoughts
We are hoping that this article can significantly help you in picking the right table saw. But we're pretty sure that the 3 units we mentioned above will suffice your expectations, so you don't really need to think about it because all of them are perfect. You shouldn't get pulled in by features that you don't really need. Make sure to stick to the fundamentals and only select table saws that provide the necessary.
If you do this, chances are you'll keep your focus and probably save you some significant amount of bucks. Also, the unit you'll pick must have all the desired features you want while considering your hard-earned budget.
See, you don't want simply buy a table saw, but you invest in one. By treating such item, you'll be more careful about doing your work and being productive at the same time. That said, if you found this review helpful, please leave a feedback down below. Thanks!
Remington RM1425 Vs. BLACK+DECKER LCS1240 Vs WEN 4017 Chainsaw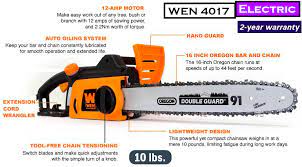 A lot of professionals and do-it-yourself enthusiasts are aware that chainsaws are powerful tools that can become incredibly helpful for many homeowners that normally do post-storm cleanup, need firewood, cut trees, and various other yard works. But, it's always crucial to remember that these tools might pose some danger because of the blades. So, it's crucial to have some certain knowledge to make sure that you won't end up wasting your hard-earned money.
In terms of different needs and budgets, a chainsaw may come in different types or sizes. As for your needs, you can either go for a gas or electric chainsaw, corded or cordless one. Although the price of gas chainsaws mostly depends on engine size, it is the voltage of electric chainsaws that define their price.
You see, a convenient power source is also a deciding factor whether you'll go for an electric or a gas chainsaw. You see, electric chainsaws are eco-friendly compared to gas chainsaws. On the other hand, gas chainsaw is a good pick if you're looking to do some large job applications.
With that said, we will be sharing you the top 3 chainsaw in the market today that you can buy. Without further ado, make sure to read this review thoroughly so you can make a good purchase.
Remington RM1425 vs. BLACK+DECKER LCS1240 vs. WEN 4017 Chainsaw Review
1. Remington RM1425 Limb N Trim 8 Amp 14-Inch Lightweight Corded Electric Chainsaw, Black
What You Will Get With This Product?
Completely assembled right out of the case, simply add the chain oil, plugin, oil the chain, and you are ready! This compact saw is ready to pack a punch to your venture. At just 6.2 pounds, it weighs not exactly your lazy cat—yet is probably a great deal meaner, powering through your trees like cutting margarine, unhesitatingly and unapologetic. The lightweight plan makes it easy to cut those high branches without straining muscles or encountering fatigue. A power-packed apparatus that is ideal for fledglings and the individuals who really would prefer not to break a sweat.
Performance
This chainsaw gives you a great deal of power over your sawing experience and performance. The chain pressure can be controlled with an external adjustment, keeping your chain at an ideal strain on all occasions. The push-button oiler produces lubrication on demand, giving you a chance to add the perfect amount of oil to your chain. This is amazing by a company that goes the extra mile to really show the amount they care about their shoppers' safety and satisfaction. Because it is electric and not gas-powered, the Remington RM1425 Appendage N Trim Electric Chainsaw is eco-accommodating, meaning there are no bad emanations and no chaotic oil and gas blending.
Convenience
This little saw looks so honest; however, it reveals its actual power once you start working with it. The external chain pressure adjuster and the push-button oiler gave us full control and more trust in finishing our sawing ventures, and the more we utilized it, the more adaptable the saw became to the way we handled it. The lightweight made it a breeze to drive through appendages and branches.
For all those smaller pruning and cutting needs, this saw is a durable little powerhouse that won't disappoint. With reliable command over the chain's pressure and oiler, you can say with complete certainty. The lightweight and the easy handle make this chainsaw ideal for amateurs or experienced clients alike. Evaluated right, this saw merits all of its value in performance.
PROS:
Quiet operation
Simple to operate
Comes with a very reasonable price
External chain tension adjustment
Lightweight and compact 
CONS:
Need to check chain tension regularly
Sawdust and chips tend to accumulate in the machine
Top FAQs on This Product:
Q: Do you need to assemble it?
A: Nope, you don't need to.
Q: How much does this weight?
A: It weighs just around 5 lbs.
Q: Does the item come with the lube oil or any components?
A: Unfortunately, it doesn't come with any accessories or lube oil. 
What Take on This Product:
Remington proceeds with its stellar reputation to give great help and a relative value-to-cost item that stands up to its reputation on conveying a great device that remains well-gotten and appreciated by purchasers all over the world. It also incorporates a rundown of the most widely recognized replacement parts and their part numbers, which will inevitably save a ton of time and stress when it comes time to locate the correct parts. Remington is a leading manufacturer of power instruments and is known for its reliability and durability in its items. 
2. BLACK+DECKER 40V MAX Cordless Chainsaw, 12-Inch (LCS1240)
What You Will Get With This Product?
The LCS1240 has been explicitly intended for pruning branches and cutting fallen appendages. Just as this the producer expresses that it is reasonable for slicing logs up to 12″ in distance across.
How Good Is This Unit?
So exactly how is this saw to handle and precisely what are its capacities? First off, this a lightweight saw and extremely simple to control. On the off chance that you have never claimed a chainsaw and are searching for something to handle every one of those little occupations around your property, 1240 is perfect. Client input recommends that it is especially prominent with ladies and seniors. In the event that you have ever experienced damage, maybe to the back, which makes it hard to lift substantial articles this saw ticks the greater part of the containers.
Utility
As the maker expresses, the saw is especially fit for pruning and light cutting. On the off chance that you have to clean any little congested trees and bushes, clear brush from the yard or fell little trees and cut light kindling, this saw is an incredible decision. On the off chance that you need something to bring down a 16″ tree, 1240 will essentially come up short on the battery control.
As far as the log size, the general agreement is that the saw works at its best-cutting wood with a distance across up to 8 inches. Numerous clients have demonstrated that they have utilized it for cutting logs and felling trees with breadths up to 12″ and that the saw has performed well – with the main drawback being that it utilizes battery rapidly. For bigger occupations, it might consequently be judicious to have an extra battery with you.
Construction
It has a similar lightweight plastic and metal development and in spite of the fact that it is sufficiently strong, it isn't as hearty as a gas-fueled saw. In case you're utilized to huge gas controlled saws this may feel like somewhat of a toy however 1240 has not been intended to take on rock solid assignments. The back handle has a rubber treated grasp for comfort and a guard to ensure the correct hand. The trigger switch is on the underside of the handle and the lock-off catch on top.
PROS:
Quiet operation
Portable
Impressive cutting performance
Easy to assemble
Easy to handle and lightweight
CONS:
May require extra batteries for large jobs
Oil reservoir requires to be checked and refilled on a frequent basis 
Top FAQs on This Product:
Q: How powerful is this chainsaw really when cutting through logs?
A: This unit is more powerful that you can expect. Actually, it is probably one of the best battery-powered chainsaws out there.
Q: How long does the battery on this unit can last?
A: At full charge, this unit can be expected to last for around 45 minutes.
Q: What's the difference between 20 volts and 40 volts units?
A: A lot of consumers says 40V model is a significant improvement above the 20V, and it is certainly worth getting if you want that extra bit of speed and power. 
What Take on This Product:
The battery itself is situated on the saw on the left-hand side of the unit. This just openings in an out and doesn't require the utilization of any apparatuses. This saw has various wellbeing highlights equivalent to its measure and reason. On account of the lock-out catch, 1240 can't be begun unintentionally by crushing the throttle switch. It is fitted with a diminished kickback direct bar and low kickback chain. The chain ought to consistently be appropriately kept up and kept sharp to guarantee that t
3. WEN 4017 Electric Chainsaw, 16″
What You Will Get With This Product?
The WEN 4017 Electric Chainsaw may not win any prizes for being the best observed on the planet yet it does all that it guarantees and accompanies a sticker price that won't void your wallet. Tranquil, light and simple to handle, this would make a great saw just because the client needs to do some light cutting or cleaning up around their property. This, yet it is entirely low support and has some incredible highlights which make it a handy instrument to keep in your carport.
Performance
With regards to handling, the 4017's plastic construction makes it a lightweight saw which ought to be inside the abilities of most clients. It is all around adjusted and clients will surely think that its less scary and simpler to control than a gas saw. One negative may be that with its 16-inch bar, cutting in bound spaces may be somewhat trickier than with a little model.
Design and Construction
The WEN 4017 is built predominantly from hard plastic. This implies it isn't as hearty as certain saws accessible however guarantee that the item is light and simple to utilize. Regarding design, the correct side of the saw is demonstrated as follows. It has a customary back handle with an enormous trigger switch for a simple activity. The handle has a hand guard just as link strain alleviation indent which forestalls the augmentation and power cords isolating during use.
PROS:
Tool-less chain tensioning system
Lightweight
Cuts well
Easy to use and start
Requires no gasoline for emission-free operation 
CONS:
Chain can come off if not kept appropriately tensioned
Construction is not really solid 
Top FAQs on This Product:
Q: What diameter of sharpener is required for its chain?
A: You don't want to sharpen the chain. Just replace it to be safe.
Q: What kind of extension cord is required?
A: Any outdoor extension cord is rated for standard yard tools will be able to do the task.
Q: Does this unit come with a plastic or metal drive gear?
A: It comes with a metal one.
What Take on This Product:
The 4017 is driven by a 12 Amp motor which is fit for conveying just shy of 2hp and 2.2Nm torque. In case you don't know what torque is, it is basically a proportion of how a lot of power is put on an article making it pivot. The more noteworthy the torque by and large means the better the cutting force and performance. As this is an electric model, you will obviously require an additional cord to oblige it. The expansion ought to be reasonable for outside utilize and be the right check. Utilizing an inappropriate measure can either bring about insufficient power being conveyed to the saw or far more terrible reason harm. The maker suggests that the greatest length cord ought to be 100 feet and this ought to be at least 14 measures. 
What is the Difference between Remington RM1425 vs. BLACK+DECKER LCS1240 vs. WEN 4017 Chainsaw?
Performance
Compare to Black and Decker LCS1240 and WEN 4017, the Remington RM1425 is a compact model ideal for all your small tasks or cutting. It has considered every contingency with a compact, lightweight structure, a smart, push-button oiling framework, and external chain strain adjusting, and made up of tough development with many different features that are easy to understand for pretty much anyone. This 14-inch lightweight chainsaw is viewed as small, yet don't let the size trick you—this model packs a forceful punch and has earned our regard as one of our best ten favorite electric chainsaws for its durability and reliability with those smaller undertakings.
Versatility
Unlike Remington RM1425 and WEN 4017, the Black and Decker LCS1240 come outfitted with a 12″ low kickback Oregon bar and chain. As you would anticipate from this quality bar and chain producer the saw has fantastic cutting proficiency. Keeping up an appropriately fixed chain is significant for cutting execution and with the LCS1240 this is basic gratitude to the enormous chain tensioning handle on the saw. No apparatuses are required. Simply recall that chain pressure ought to be kept an eye all the time with the engine halted. The chain itself runs at 5 meters for each second, giving enough speed to guarantee good eliminating execution for little positions.
Utility
The WEN 4017 is a straightforward, uncomplicated chainsaw designed for light and medium cutting obligations around the home on which both Remington 1425 and Black and Decker LCS1240 can't really provide. Similar to the case with electric saws you will see it as a solid starter. Simply press the wellbeing button, crush the trigger and it will begin right away. Discharging the trigger will stop the saw. This accommodation implies that you don't need to stress over taking brief breaks during your work and then agonizing over whether the saw will fire up once more, which is now and again the case with gas models. 
Final Thoughts
Remember that there are myriad of impressive chainsaws ranging from thousands of bucks to a few hundred bucks. Moreover, there are particular features such as tool-free tensioning that are available in all units while there are features such as centrifugal air cleaning system that are mostly available only on high-end units.
To put it simply, you must choose a chainsaw for yourself according on your usage pattern. One of the most crucial things you can remember while finalizing your purchase is knowing your body strength. Make sure not to go for a large and heavy chainsaw if you're not confident about handling it safely because you could lose control of the tool.
Now, if you found this review helpful, please leave any thoughts below. Have a nice day!