Choosing the Best Mattress for Lower Back Pain
For those who have sitting work or feel discomfort in the back, it is recommended to approach the arrangement of their sleeping place in a very responsible way. Do not choose a mattress based on rumors and recommendations of non-professionals.
They often say that for a problematic back you need to buy a mattress with a high level of rigidity, but this is not entirely true. A hard mattress does not adjust to the natural curves of the spine, and this can cause additional problems.
Based on information from Rest FAQ, if you have osteochondrosis or intervertebral hernia, it is recommended to refuse from very hard mattresses, as they can have a negative effect on your health.
There are several key features that you should pay attention to when choosing a mattress, if you have problems with your spine. Below we will look at important points related to this topic. Which mattress is suitable for a bad back? Why is a stiffened sleeping place a bad choice for everyone?
The negative sides of hard mattresses
You will not feel any relief when using hard mattresses, as they prevent the relaxation of the muscle corset, respectively, the muscles do not relax and can't rest during sleep.
Body-surface interaction points
The maximum load on the mattress is formed in the hips, pelvis and shoulders areas. A hard mattress is not able to respond smoothly to pressure and the reverse effect will bring you a high level of discomfort. At the points of maximum pressure, blood vessels and nerve endings are clamped, which leads to numbness. In any position, you will feel discomfort and a desire to roll over to the other side. Comfortable poses do not exist at all, when using too hard mattresses, which leads to sleepless nights.
Low orthopedic rates
The lack of flexibility and elasticity in a hard mattress significantly reduces the possibility of proper support of all parts of the spine in the anatomically correct position. The rigidity on the entire surface of the product is the same, while the neck requires a completely different level of support than, for example, hips or shoulders. It is a high level of rigidity that creates a feeling of discomfort and can lead to an aggravation of existing diseases or the emergence of new ones.
You can feel a significant increase in backache, as the body on its own adapts to a hard bed by tensioning the muscles in the key parts of the spine – hips, shoulders, etc. as a result, tiredness and poor health will accompany you all day long.
Poor adaptability
As mentioned above, an increased level of rigidity is not able to adapt to different levels of load. As a result, some parts of the body will lack support, while others, on the contrary, will in be excess of it. A good, correctly selected orthopedic mattress is able to adapt to your body, gently repeating its shape.
The right level of rigidity for a bad back
A sleeping place that does not suit you will not help to improve your well-being with back diseases, and may even worsen your condition. Using a too soft mattress additionally loads the muscles, since it is not able to withstand the load. The muscles and spine will be tensed in the same way as when you are awake, and this prevents you from rest and recovery. Such a choice can provoke an exacerbation of certain diseases.
According to studies, the best mattress for a bad back is not too soft and not too hard. The rigidity of the mattress must be selected so that your spine is in a natural level position.
Pain relief can only be achieved if your muscles can  relax completely, the blood circulates well and you do not wake up during sleep. The ideal level of rigidity for a bad back is medium, which provides the right support and comfort.
Too hard. A lot of pressure is allocated on the shoulders and hips, while the lower back remains without support.
The spine is in an unnatural position.
Too soft. An excessively soft or old crushed mattress creates a hammock effect.
The spine bends and is in the wrong position.
The correct position of the spine. The whole body is maintained evenly, the mattress repeats all the shapes of the body.
The anatomically natural position of the spine is provided.
Unfortunately, there is no single standard for manufacturers regarding rigidity. But experts all over the world are inclined to believe that for people with diseases of the musculoskeletal system it's best to choose medium rigidity indicators, focusing on the recommendations of doctors and their personal feelings. It's the approach that will help you feel better and  recover fully after sleep.
What does the word "orthopedic" mean
Orthopedic mattresses guarantee the correct support of the spine,  adjust smoothly to the shapes of the human body, allowing it to relax completely during rest. Exactly such features can reduce pain and discomfort when you have osteochondrosis and other diseases.
Beware of unverified manufacturers who only attribute "orthopedics" to their products, but are actually trying to sell you ordinary low-quality mattresses. This trick is used by marketers to increase the value of the goods. Unfortunately, it is often very difficult to distinguish an orthopedic mattress with good characteristics from a typical fake, which will not help you improve your well-being when having some diseases.
Spend enough time to study and choose the perfect option. Each person has his own anatomical features that must be considered when buying such an important household item. Only testing will help you navigate among the very wide range that is offered on the market.
Findings
For back diseases or even with minor pain in this area, it's best to focus on the medium level of rigidity, since it is the most universal. An inappropriate mattress can only aggravate your condition, and choosing the right one will alleviate pain and relieve discomfort. Among fillers, pay your attention to those that improve comfort, for example, latex, memory foam with memory effect and others.
Choose a harmonious combination of body support and coziness for yourself to feel how your health is improving day by day!
Which mattress is recommended for back diseases by doctors
We recommend that you follow the doctors' advice!
Scoliosis
For prevention: orthopedic mattresses with medium or high degree of rigidity.
When having the disease: a springless mattress from artificial latex, natural latex or orthopedic foam, as well as mattresses with alternating layers of latex and coconut coir.
For children and teenagers: springless orthopedic mattresses.
Osteochondrosis
Middle-aged people – medium rigidity, older people – soft.
Important: both very hard and very soft mattresses are contraindicated.
Osteoarthrosis (osteoarthritis)
Soft models are contraindicated. An ideal sleeping place would be a Memory foam mattress on a rigid base made of polyurethane foam. It is recommended to fall asleep on your side, in a " fetal position." It is advisable to buy a bed with an adjustable mechanism for lifting the head and legs.
Intervertebral disc herniation
Doctors often recommend soft or medium-hard mattresses. You can consider products with different rigidity of the sides, so that you can sleep softly when the condition worsens, and on a more rigid side when you are fine. It's best to buy a mattress made of natural latex or with blocks of independent springs.
Sciatica
Sleeping is recommended on a medium rigidity mattress and a low pillow. Tension on tissues and organs can be relieved by such materials  as natural latex or memory foam.
Radiculitis
Hard mattresses are absolutely not suitable. Choose medium rigidity with independent spring units, preferably with merino wool for warming up the affected areas. The mattress should repeat the shapes of the body and adapt to the load in different points.
Best Garage Garden Tool Organizers Reviews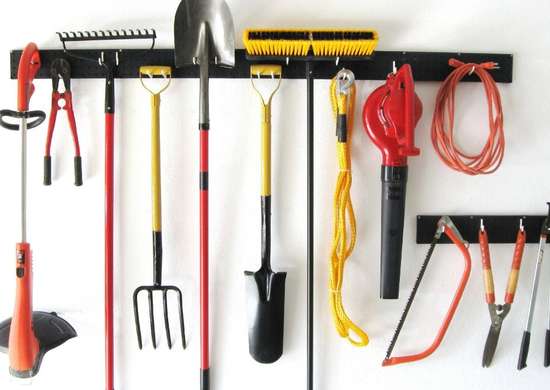 If you have been around gardens for any amount of time, then you know what a pain it can be to organize your tools. Rakes, Shovels, Hoes, and other tools can turn to rust if left outside for a long period of time. Unfortunately, these tools can be big, causing a problem when finding a place to store them. A garden tool garage organizer is the answer to your problem. Not only do they save space when storing tools, but they keep them away from the harsh outdoor environment. Another thing I love about garden tool garage organizers is the amount of convenience that comes with it. One of the things I hate most is when you misplace your gardening tools. Not only does a garden tool garage organizer keep all of your tools in a single place, but taking your tools off the rack is almost effortless. However, not a garden tool garage organizers are the same. Some have their disadvantages as well as advantages.
Rough Rack 4×4 Tool Rack
A great thing about the Rough Rack 4×4 Tool Rack is that it gives you plenty of space for multiple gardening tools. (48 inches in length with over 40 inches for hanging your tools). A lot of gardening organizers may have too little or too much space, I believe that this rack works well for the average gardening purposes. Another incredible feature this rack has is its ability to hold over 30 standard size shovels. While you probably do not have 30 shovels lying around, it shows the massive amount of items it can hold at once. Finally, the Rough Rack 4×4 Tool Rack is made in America.
Suncast RTC1000 Rolling Tool Cart
The Suncast RTC1000 Rolling Tool Cart is unique for a few reasons. First of all, it features 4 high-quality casters. This allows for easy transportation of your tools in and outside of your garage. The Suncast RTC1000 Rolling Tool Cart is made in America. Along with this, up to 30 tools are able to be held by the cart at once. The cart is 43 inches by 20 inches by 37 inches overall. Lastly, a steel core adds strength and durability.
Berry Ave Broom Holder and Garden Tool Organizer
A great option for storing and organizing all of your garden tools. This product works indoors and outdoors with a no-slide guarantee. Install is simple and has the ability to hold up to 50 pounds. The best thing about this product is the fact it is compact. A lot of garden organizers today require a lot of space, or be hanged in a specific place. The Berry Ave Broom Holder and Garden Tool Organizer takes care of this problem with it's genius, small design.
Anybest Wall Mounted Garden Tool Rack Storage & Organization Hanger
Holds up to 11 tools, and is able to hold up to 7 pounds of weight per slot. This garden tool organizer comes with 5 slots, along with multiple hooks to hold other tools. Also, the garden organizer features a compact design. One amazing feature of this product is the fact is can be placed in just about any area you could imagine, inside or outside. This is due to the products simple design, making organizing your tools simple.
Lehigh TH96-6 8-Feet Tool Storage System
This garden tool organizer is rather large with a length of over 8 feet. Highly durable product and manufactured in China. Steel rail can be held on walls and other surfaces. Can hold up to 24 garden tools and is available in the color silver. As long as there is plenty of space, this tool storage system works incredibly. 8 feet is huge, not something you find in the everyday organizer. A lot of people may think that 8 feet is going to take up a lot of space. Well, this is not exactly true. Remember, this is just a rail, not something boxy that has to be in a precise location.
Holeyrail, Garage Organizer, Garage Organizer
Incredibly strong garden tool organizer, being able to hold up to 600 pounds worth of tools. Works in both indoor and outdoor settings, and installs in minutes. A claim has been made that says this organizer outperforms all others "dollar for dollar." Making this claim gives the buyer reassurance that they are going to get a good deal. A product being able to hold 600 pounds is definitely going to perform better than most other tool organizers.
Rubbermaid FastTrack Garage Storage System Tool Hanging Kit
Multiple hooks are used to allow for maximum storage capacity. All installation hardware is included along with accessory hooks for reinforced security when attaching hooks to the rail. The Rubbermaid FastTrack Garage Organization System is quick and easy to install. The heavy steel construction provides extra durability. The FastTrack rail and accessory system stores 10x more by using the space between studs. The rail holds up 1,750 lbs. 1″ spacing between holes for easy installation. Rail covers provide a clean, finished look. Need a Hardware Kit (sold separately) to mount to the wall. Each accessory features "Soft grip" coating protects from nicks and scratches. Powder-coated steel for durability – resists rusting, chipping and cracking. Cast aluminum gripper for durable "locking" fit. Quickly snaps into place onto FastTrack mounting rails. Easy to attach and adjust on the rail. Can be mounted directly to a existing wall (hardware not included).
Monkey Bars Yard Tool Rack
A lifetime warranty comes with this garden tool organizer. 3-inch hooks can be placed on the back for organizing items that are not used often. Hooks slide on the rail for easy placement of tools. A problem many of today's tool organizers have is that they do not conform to specific tools. If you have 1 shovel and 3 rakes, a rack with hooks for only shovels is not going to do you much good, as there would be no place for your rakes.
Coolreall™ Broom Hanger Garage Organizer
This hanger can not only hold garden tools but tools in general as well. Up to 60 pounds of tools can be held by the Coolreall Garage Organizer, and multiple friction grips are used to make sure your tools do not slide out of place. This feature is great because your tools are not likely to drop and break. In comparison, some organizers have hooks/hangers than can easily fall out of place.
Home- It Mop and Broom Holder
This rail is high quality and has the ability to hold over 7 pounds of weight on each hook, perfect for the everyday home and or gardening tools. Compact design allows the rail to be placed in just about any location, in or outdoors. While most people are going to store their tools indoors for the long term, storing them outdoors for a little bit is great when you are working outside.
Overall, all of these organizers are of high quality. If there was a product I like most, it would have to be the Suncast RTC1000 Rolling Tool Cart. Not only is it made with high-quality materials, but it has the ability for easy transport. Something a lot of garden tool organizers do not have. I advise you check out all of these great options, and decide which one meets your needs.
Best Indoor & Outdoor Propane Heaters Reviews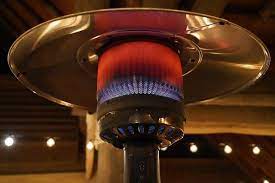 Every year storms seem to get worse world wide and losing power is almost expected in some parts of the country. If your only source of heat is electric or your gas furnace has electric ignition you could be in for a very cold time if utilities are interrupted.
Following is a list of some of the best Indoor & Outdoor propane heaters Amazon offers and all were chosen on the basis of durability, functionality and customer satisfaction.
1. Fire Sense Hammer Tone Bronze Commercial Patio Heater
If you need durability and reliable function in a propane heater, this indoor & outdoor model is worth taking a look at. Featuring a Piezo ignition and 46,000 btu's it will certainly take the chill off any outside activities. Burners are solid stainless steel and the heating grid is double mantled. It comes with wheels, so moving it around is no problem and there is a sensible auto safety shut-off valve that kicks in when or if the heater is tilted.
2. Mr. Heater F232000 MH9BX Buddy 4,000-9,000-BTU Indoor-Safe Portable Radiant Heater
Mr. Heater is designed for indoor or outdoor use and it's 4,000 to 9,000 btu capability will heat up 225 square feet. Features is an Oxygen Depletion System as well as auto safety shut-off. This clean burning propane heater can be used with complete confidence. It operates on liquid propane 1 lb cylinders or can be hooked to a more permanent gas supply. Considered to be one of the most popular on the market, it's easy to see why.
3. Camping Emergency Butane Heater Coherent Heat Source Survival Tools
This Camping Emergency butane heater only uses about 100gm gas per hours and is very economical to run. Designed for use with standard butane gas cartridges it's portable and no trouble at all to pack up with the rest of your camping gear. Featured is a quality ceramic burner and a pressure sensing auto safety shut-off valve. It comes with a CE certificate and will work when you need it to.
4. Fire Sense 46,000 BTUXL-Series Matte-Mocha Patio Heater w/Drink Table & Wheels
Fire Sense has been upgraded and is now one of the most powerful outdoor propane heaters on the market with 46,000 btu's. Rapid Spark ignition is easy on your thumb and a new "pilotless" burner means the wind won't be blowing out your flame. Its bottom is filled with sand for stability and stainless steel construction makes it durable. The powder coat finish will keep this heater looking good no matter how foul the weather gets.
5. Mr. Heater 38,000 BTU Forced Air Propane Heater F271350
Mr. Heater with its 38,000 btu's is capable of heating up to 950 sq ft and is the perfect liquid propane forced air heater for any jobsite. The heavy duty handle won't snap off in your hand and its split barrel design makes maintenance a simple thing. Featured is "quiet burner technology" that reduces noise by 50% and there is also a high-temperature limit switch. There's no reason to freeze on the job, buy this one today and stay warm.
6. Dyna-Glo RMC-FA60DGD 30,000 – 60,000 BTU Liquid Propane Forced Air Heater
If you're looking for a way to stay warm on the job, this Dyna-Glo with its adjustable heat angle and strong blower will heat up to 1,350 sq ft with its 30,000 to 60,000 btu's. A full 20 lb tank will run for 14 hours and there are no worries with a tip-over shut-off valve as well as a back pressure switch for safety. This liquid propane heater is CSA approved and comes with a 1 year limited warranty.
7. 
Mr. Heater 30,000 BTU Propane Blue Flame Vent-Free Heater
The Mr. Heater Vent Free Blue Flame Propane Heater. Quick, quiet convection heat! Convenient, easy and safe! Not to mention economical and efficient. It's just the ticket when you need to kill the chill in your ice house, cabin, enclosed porch or that drafty room in your house. No venting or chimney required. Features a thermostat for easy temp control. Oxygen depletion sensors, a battery-operated electronic ignition for a quick start. 30,000 BTU model: Heats up to 1,000 sq. ft..
8. Texsport Deluxe Bulk Tank Infared Propane Heater
Designed for outdoor use this propane heater is connectable to a large tank and features an on/off control knob for adjusting the burner as much as 10,000 btu's. The burner is durable ceramic which provides a more even heat and there is an auto safety shut-off valve if the flame ever goes out. Created by a company with 40 years in the industry, that alone is reason enough to trust it. No one stays in business that long without being very good at what they do.
9. Mr. Heater, Corporation Mr. Heater, 30,000 BTU Vent Free Blue Flame Propane Heater, MHVFB30LPT
This Mr. Heater is designed for indoor use and can either be used as a floor unit or mounted to a wall. The blue flame burner provides even convection heat, and there is an automatic low oxygen shut-off system. Vent free, this liquid propane heater is 30,000 btu and with battery powered ignition, starting it is hassle free. A durable unit, it easily heats up to 750 sq ft. and will keep you warm no matter how cold it gets outside.
Now that you know where to find the best indoor or outdoor heaters today's market has to offer, there's no reason to suffer from the cold. Any of the above heaters will do the job but to help make your decision on which one to buy a little easier following are two of the best according to their new owners.
Texsport Deluxe, # 8, has a knob which people find convenient for adjustments and a durable ceramic burner for more even heat. It doesn't have a warranty like the Dyna-Glo but the company that produces it has been doing so for 40 years and for some people that's even better than a guarantee.
Bosch DDB181-02 Vs. DeWalt DCD771C2 Vs. DeWalt DCD777C2 Drill Driver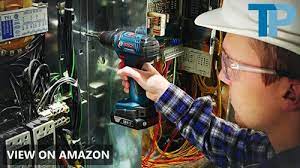 If you're not particularly acquainted with power tools and you just accidentally stumbled upon this post in one of your researches, then at this point we must point straightforwardly that these three tools we'll discuss here are drill driver kits – one from Bosch and two from DeWalt.
You see, drill drivers are particularly versatile type of tools. They are not only useful for drilling holes; rather, they can also drive or loosen fasteners. That is why they are commonly designed with a two or three-speed transmission. For those two-speed ones, the low gear is typically used for driving tasks as it delivers high torque; while the high-gear is used for drilling tasks as it produces high speed.
For more accuracy, precision and versatility, they are also built with mode switch so that allows you to set the motor's rotation direction for driving or loosening screws. Another feature is the clutch settings so you can adjust the amount of torque that the tool delivers to your screw.
Pretty interesting, right? So now, let's proceed with examining these three drill driver kits.
Let's Compare Bosch DDB181-02 vs DeWalt DCD771C2 vs DeWalt DCD777C2 
1. Bosch Power Tools Drill Kit DDB181-02 – 18V Cordless Drill/Driver Tool Set with 2 Lithium Ion Batteries, 18 Volt Charger, & Soft Carry Contractor Bag
What will you get?
Bosch DDB181-02 Drill Kit includes an 18V cordless drill driver, two 1.5Ah Slimpack batteries, a charger, a screwdriving bit, and a contractor bag.
The drill driver in particular is a 3-pounder and measures 7.1 inches in length. It is equipped with a trigger-activated LED light and a keyless chuck.
Bosch DDB182-02 drill driver produces 350 in/lbs of max torque. Its two-speed transmission delivers 0-400 RPM and 0-1300 RPM, respectively.
Pros:
Comes as a kit – with batteries, charger, bag, and even a screwdriver bit
Compact and lightweight
Equipped with LED work lights
Designed with two-speed transmission
Engineered with Electronic Cell Protection (ECP)
Cons:
Chuck needs to be tightened further
Not intended for heavy-duty tasks
Top FAQs
Q: Do the batteries have fuel gauge?
A: No, they don't.
Q: Where is it manufactured?
A: The Bosch DDB181-02, in particular, is made in Malaysia
Q: Is its motor brushed or brushless?
A: This tool comes with a brushed motor.  For a brushless drill, you may opt for DDS182
Our Take on the Bosch DDB181-02 Drill Kit
Bosch DDB181 is a compact and lightweight tool that may be used for general household projects and repairs. It will also function well for overhead drilling and driving.
With two-speed transmission, you can accordingly adjust the tool to for either high-torque or high-speed needs and it can produce the max speed of 400 and 1300 RPM, respectively. More so, it offers 20+1 clutch settings for more versatility.
Its built-in LED light is also bright enough for you to work even in dark spaces. However, it's trigger-activated so you have really illuminate without turning on the motor.
The batteries won't also disappoint and that even have Electronic Cell Protection to lengthen the lifetime of the battery.
2. Dewalt DCD771C2 20V MAX Cordless Lithium-Ion 1/2 inch Compact Drill Driver Kit
What will you get?
DeWalt DCD771C2 is a 20V drill driver kit that includes the batteries, a charger and a contractor bag.
The drill driver weighs 3.6 pounds and is designed with a 1/2-inch single sleeve ratcheting chuck and an ergonomic handle.
DeWalt DCD771C2 can deliver up to 300 unit watts out. With its two-speed transmission, its can produce 0-400 RPM and 0-1500 RPM, for your drilling and driving needs. More so, it is covered by DeWalt's 3-year limited warranty.
Pros:
Compact and lightweight
Ergonomic handle
Keyless chuck that has a tight bit-gripping strength
High performance motor
Covered with 3-year warranty
Cons:
Not designed with a bit holder
Does not have a brushless motor
Top FAQs
Q: Does it also have a built-in LED light?
A: Yes, it also has a trigger-activated LED light located just above the trigger.
Q: Does it have a reverse mode?
A: Yes, it has a switch where you can set the driver/drill in reverse mode.
Q: Does it have a clutch?
A: It sure does! And it has 15 settings.
Our Take on DeWalt DCD771C2 Drill Driver Kit
DeWalt DCD771C2 is a drill driver kit that can surely get the job done! It may not be the lightest or the most compact of its kind, yet it is still considered lightweight, weighing only 3.6 pounds, and it can still reach through tight spaces as it measures 8.7-inches.
Delivering 340 unit watts out of max torque, this drill driver is pretty impressive and useful. It's also designed with a two-speed transmission that can produce the max speeds of 450 and 1500 RPM, respectively.
More so, it is designed with a trigger-activated LED light, an ergonomic handle, and a ½-inch single sleeve ratcheting chuck that has a tight bit-gripping strength. It is also covered with a 3-year limited warranty.
 3. DEWALT DCD777C2 20V Max Lithium-Ion Brushless Compact Drill Driver
What will you get?
Similar with the previous tool kit, the DeWalt DCD777C2 packs a 20V drill driver, two batteries, a charger and a kit bag.
It's compact and lightweight with the head-length of only 7.52-inches and weight of only 2.5-pounds. It is equipped with a brushless motor that can deliver 340 unit watts out. It also has a two-speed transmission that can produce 0-50 RPM and 0-1750 RPM.
It also comes with a ¼-inch hex chuck, an ergonomic comfort grip, and an LED light with 20-second delay after trigger release.
Pros:
Compact and lightweight
Ergonomic and comfortable grip
Brushless motor
LED light with 20-second delay after trigger release
Delivers lot of torque
Cons:
Chuck doesn't have a tight grip on bits
Forward/Reverse switch is not strategically located
Top FAQs
Q: What is the required voltage for the charger?
A: The charger that comes with the kit needs 110 voltage.
Q: What kind of batteries is included in the kit?
A: The batteries are DCB201 1.5Ah.
Q: Does it have a bit holder?
A: Unfortunately, it does not have any provision as bit holder.
Our Take on DeWalt DCD777C2 Drill Driver Kit
DeWalt DCD777C2 is a compact and lightweight drill driver that packs a lot of power. With the max torque of 340 UWO, it can efficiently perform light drilling and driving tasks. With a two-speed transmission, its max speeds are 50 and 1750 RPM.
The drill driver is a 20V tool that is run by a powerful brushless motor, and is designed with a ¼-inch hex chuck. It is also has LED light with 20-second delay after release of the trigger.
Using this tool won't also be a hassle because it is very light. It can also conveniently reach corners and tight spaces as it measures only 7.52-inches. Moreover, it is designed ergonomically and with a comfort grip.
What's the Difference Among Bosch DDB181-02, DeWalt DCD771C2 and DeWalt DCD777C2
Since they are all drill driver kits, it's pretty obvious that they have a lot of things in common. One particularly evident is that they are all compact and lightweight that allows any user to reach even the farthest corners of their house conveniently. All three are also equipped with LED light to help illuminate the work space. And, since they all come as a kit, batteries, charger, and a bag won't cause any concern or problem to the potential buyer.
However, when it comes to performance you might see some significant differences. One particularly contributory to other aspects is the voltage – Bosch DDB181-02 is an 18-volt tool compared to DeWalt DCD771 and DCD777 which are both 20-volt.
Accordingly, among the three, DDB181-02 can deliver the least amount of torque of 350 in/lbs. and the max speed of 1300RPM at high gear. Meanwhile, between the two DeWalt models, DCD777 offers more power of 340 UWO compared to DCD771's 300 UWO. As such, their max speeds are 1750 and 1500 RPM, respectively. So, based on these data, it can easily be said that DCD777 drill driver stands out among the three.
However, its impressive features don't end with that. Among the three, only DCD777 is equipped with a brushless motor; both Bosch DDB181-02 and DeWalt DCD771 have a brushed motor. Even their built-in LED make DCD777 stands out because it has the 20-second delay after trigger release feature while those of other two do not.
Lastly, DCD777 is the lightest among the three, weighing only 2.5-pounds. Bosch DDB181-02 is a 3-pounder while the DeWalt DCD771 weighs 3.6-pounds.
Final Thoughts
Based on the comparison discussed in the previous section, it is easy to say that among Bosch DDB181-02, DeWalt DCD771C2, and DeWalt DCD777C2, the last one – DCD777C2 strikingly stands out not just because of the tool's performance but even in its features as well.
However, it does not mean that the other two are not worth considering. You must know that all these three can actually get the job done. These are all great drill driver kits that will not disappoint you.
They are all compact and lightweight. They deliver a great amount of torque and run a good speed. They are designed with consideration to the users ease and comfort.