California Air Tools 5510SE Vs. 8010 Air Compressor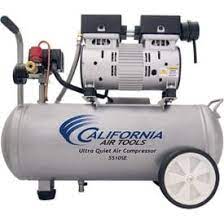 Do you need a stable supply of airpower for a long time without breaking the bank and blasting your ears off in the workshop? The best idea would be getting an air compressor with a large tank and a powerful induction pump. Regular pancake and hot dog air compressors don't have enough air power to run multiple tools as required by most professionals. It is smart to pay the extra cost for better service and all the mobility convenience that comes with buying the best wheelbarrow air compressor.
The large tanks offer an added advantage with the cooling process, which enables the moisture to condense out of the air preventing corrosion in the outlet. Getting the best quiet air compressor is, however, challenging because most large air tanks require large motors, which tend to be noisy in most cases. That is why we created this review with the quietest air compressors from California air tools with enough tank capacity to sustain prolonged projects.
CAT5510se and CAT8010 are 1hp air compressors that fit a wide variety of needs. The quietest air compressors you can get in the market today will have to be one of these two from California Air Tools. Their air compressors are oil-less with optimized pumps that don`t emit any more than 60db. The other advantage of these two air compressors is that they are oil-free, delivering clean air into the pump, and you don't have to worry about maintenance.
Here is a review of each of these two air compressors
1. California Air Tools CAT5510SE Oil-Less Air Compressor
Overview
CAT5510SE is a revolutionary air compressor built to fit the economic needs of any workshop. It runs on a power-efficient 1hp motor but stores a large 5.5 gallons of air at 120 PSI. It delivers a stable airflow that can run demanding projects such as spraying, painting, and blowing. It is also powerful enough to sustain most tools on-site, including nail guns, brad guns, small drills, and grinders. Its greatest advantage is the price range, which is the friendliest of any wheelbarrow compressor in its range.
Power
The pump and motor on this air compressor are oil-free, so you don't have to worry about maintenance. It is fitted with a powerful pump with dual pistons that compress air effectively in two strokes, reducing the load on the motor and each pump. It works rapidly, building pressure of 120PSI for the tank within 120 seconds, which allows you to work more. Its recovery time from 90 PSI to 120 PSI, which is the basic standard, is just 40 seconds. The pump and the pistons are also steel cast for durability and lubricated by ball bearings to reduce wear.
It also has a 1hp induction motor, which is also oil-less and delivers prolonged service of over 3000hrs, which is more economical than universal motors. It is also slow on the power taking just 8.5-Amps, which allows you to use a regular 15-Amp socket to work. This motor runs at a low speed of 1680RPM increasing its durability and also reducing the noise levels to 60db.
Output
The greatest advantage of this air compressor is its sustained airflow that keeps your tools running on and on. It delivers 3.1CFM at 40 PSI and 2.2 CFM at 90 PSI. Compared to other models of its size, this may sound like low performance, but considering its price and motor durability, this is sufficient power for any shop owner or contractor.
It is powerful enough to run nail guns driving home large nails up to 3 inches without stopping. You can also use it for prolonged painting, spraying, and trimming. It has a ¼-Inch coupler that connects to universal 3/8-inch hoses for convenience. It has a 70% duty cycle with a short recovery time of just 40 seconds, which allows you to work more and wait for a shorter time for recovery.
Tank
The steel cast cylinder is another outstanding feature on this air compressor. It holds up to 5.5 gallons of air at 120 PSI, which allows you to run any tools from 40 PSI to 100 PSI. Its steel tank is also fitted with a butterfly drain valve at the bottom, ensuring quick and complete removal of water from the tank. Despite being made of steel, this tank is light and doesn`t add unnecessary weight to the compressor. The entire unit weighs only 47lbs.
Handling
The air compressor weighs 47lbs, and it is mounted on large wheels plus a sturdy handle that makes it easy to move it from place to place. It also works quietly, producing a sound rating of 60db, which doesn`t interrupt a normal conversation. It is suitable for both indoor and outdoor use. It also has one main stand at the front fitted with rubber padding to prevent the gouging of surfaces when stored.
Pros 
The low sound rating makes it comfortable to use indoors
It is easy to move around from place to place
Dual pistons compress more air in a short time
The steel cast tank is durable
It is power efficient drawing only 8.5-Amps
Cons
It doesn`t have a 100% duty cycle
Its power cord is short in relation to the size of the tank
Top FAQs
Q: Is this air compressor made in America?
A: No.
Q: Can it power an impact wrench?
A: Yes. A mall one around 1.2CFM.
Q: Can I use it to spray my garden?
A: Yes
Q: What is the Voltage of this air compressor?
A: 110V
2. California Air Tools CAT8010 1HP Oil-Free Wheeled Air Compressor
Overview
CAT8010 is simply an upgrade of 5510SE featuring a larger cylinder with 8 gallons capacity, which means you have more air power. It is also a compact unit fitted with the same mobility features, including a stable handle and big flat-free wheels. This air compressor is built for contractors but loved by everyone that needs continuous airflow on a budget. It is also suitable for finish tools such as brad guns and nail guns. It can also power small drills and sanders, making it a versatile choice for any work site.
Power
It is also an oil-free unit fitted with a two-stage pump for quick and efficient compression of air. It has enlarged air filters like those found on large trucks that deliver sufficient clean air to the pump for compression. Its dual-stage compression enables it to build a high pressure of 125 PSI in the 8-gallon tank in just 165 seconds. Its recovery time is 60 seconds, which is longer than 5510SE but still short considering the large tank capacity.
It also has a 1hp motor, which rotates at a low speed of 1700RPM to prevent rapid wearing on the motor. It runs on a low amperage of 8.5, allowing you to use a regular power plug or extension cable. It is also quite despite being an oil-less unit releasing only 60db of sound, which makes it comfortable to use indoors.
Output
It is suitable for standard and light-duty tools such as nailers, small drills, and blowguns that don't need a CFM higher than 1.7. This air compressor delivers 3.3CFM at 40 PSI and 2.2 CFM at 90 PSI, providing a prolonged flow of air to sustain multiple users comfortably. It has a 70% duty cycle, and it is also fitted with a rapid cooling system to prevent overheating with prolonged use. It also has thermal overload protection to shut down the pump if it overheats for safety.
Tank
The tank is steel cast finished with a stainless powder coating. It can sustain prolonged pressure and is also resistant to corrosion, improving its durability even in a harsh climate. It is an 8-Gallon tank that fills up within 160 minutes and maintains a prolonged flow of air throughout the performance period. It is also equipped with a quick drain valve for removing accumulated water.
Handling
This air compressor is also light weighing just 48lbs, which makes it easy to move around. It also has a sturdy steel handle for gripping while riding it around. It is also fitted with large wheels for rolling through any surface. It is comfortable to use indoors and outdoors without ear protection, releasing only 60db of sound.
Pros
It has butterfly drain valve for effective removal of water
It has large wheels and a sturdy steel handle for mobility
Durable steel cast cylinder
It is power efficient
Large tank capacity ensures a stable flow for long projects
Cons
Prolonged recovery time of 60 seconds
The drain valve is hard to access
Top FAQs
Q: Does it accept a standard 3/8-inch hose?
A: Yes
Q: Can it run a grinder?
A: A small one with a CFM rating of two or less.
Q: How long does the tank take to fill up?
A: 165 seconds.
Direct Comparison
Motor and pump
These two air compressors are equally matched in terms of motor power. They both use 8.5-Amp motors that can run on a regular 110/120V plug. They are also oil-less, reducing the need for maintenance. The 1hp motor is, however, overworked on CAT8010, which has an 8-gallon capacity because it has a longer recovery time. 
Performance
Although they have similar pump and motors, these air compressors are not built for the same tasks. 8010 has more air capacity meaning it runs more tools for longer before the pump kicks in. It has more productivity that 5510SE, which kicks in now and then when multiple tools are loaded, and you have to stop for recovery.
Tank
Both air compressors have steel cylinders that are adequately matched to holding high pressure. They are, however, heavy, although the wheels and easy-grip handle overcome this hurdle. 8010, with its 8-gallon tank, stands out as the best option for regular all-day projects.
Final Note
Having more air power and mobility is an admirable feature in air compressors, which is why these compressors from CAT are very popular. 5510SE had its glory days shortly after Its introduction, and some contractors who only need to run one tool at a time still love it. 8010 is, however, an upgraded model well-matched to a modern busy workshop or construction site. Any of these two will deliver great service that will give you value for your money, whether you are a first-time buyer or simply upgrading.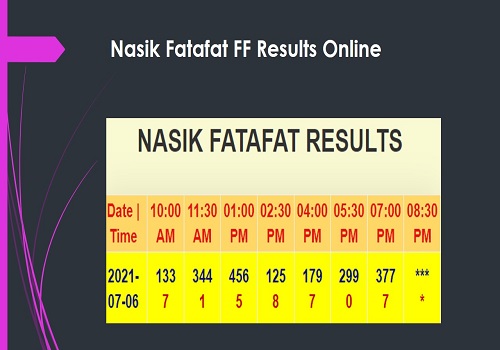 Are you looking for information on nasik fatafat? You have come to the right place! In this blog post, we will provide a step-by-step guide on nasik fatafat
NASIK FATAFAT RESULTS
nasikfatafatresults.com
NASIK FATAFAT RESULTS. Date | Time, 10:00 AM, 11:30 AM, 01:00 PM, 02:30 PM …
Nasik Fatafat Result 16.12.2021 Today Nashik Ff – Lottery Sambad
lottery-sambad.co.in › nasik-fatafat-result-today-nashik-ff
[Live] NASIK Fatafat Results Today 2021 – Pinterest
www.pinterest.com › Finance › Banking › Money
Aug 8, 2021 – Do you want to know today's NASIK Fatafat Results? If yes, then you're in the right place. The draw takes place at various times from 10 AM to …
Top 74 Similar websites like nasikfatafatresults.com and alternatives
www.sitelike.org › similar › nasikfatafatresults
Similar sites like nasikfatafatresults.com. nasikfatafatresults.com · nasikfatafatresults.com. Edit. nasik fatafat results nasik fatafat results.
Nasikfatafatresults : NASIK FATAFAT RESULTS
nasikfatafatresults.com.cutestat.com
nasikfatafatresults.com is 2 years 1 week old. It has a global traffic rank of #6,656,673 in the world. It is a domain having com extension.
08/03/2022 /kolkataff fatafat Kolkata fatafat ff TIPS 1st baji … – YouTube
www.youtube.com › watch
nasikfatafatresults.com login safely, analysis & comments
login.page › nasikfatafatresults
Fatafat Nashik – Videos – Facebook
www.facebook.com › Places › Nashik › Fatafat Nashik
Watch the latest videos from Fatafat Nashik. … Fatafat wishes you all Happy Independence day . a year ago. ·. 21 views. 0:34.
nasikfatafatresults.com login safely, analysis & comments
login.page › nasikfatafatresults
fatafat.nashik – Instagram
www.instagram.com › fatafat.nashik
FATAFAT NASHIK. Food delivery service. Want Anything? Food,Groceries,Medicines,Flowers,Gifts, Pet supplies etc. with superfast delivery service "Fatafat"
NRCiR.Org –
nrcir.org
NASIK Fatafat Result 12 June 2022, NASIK Fatafat Old Result … Kolkata FF Fatafat Live Result 12 June 2022, Dada Free Tips, Sabse Pahle Patti Chart List …
Kolkata FF Fatafat Result Today Live – India Network News
indianetworknews.com › Sarkari Result
2021 Kolkata Fatafat Result, Kolkata FF Result, FF Kolkata Result, Fatafat Kolkata Result Today, Nasik Fatafat Result, Kolkata …
How much is www.nasikfatafatresults.com worth? – SitePrice
www.siteprice.org › website-worth › nasikfatafatresults
Domain Name: www.nasikfatafatresults.com. Title: nasik fatafat results. Description: nasik fatafat results. Keywords: Domain Age: 2 years, 0 months, 20 days.
Fatafat Nashik (@FatafatNashik) / Twitter
twitter.com › fatafatnashik
Fatafat Nashik. @FatafatNashik. We aim to make your everyday hassle-free. Be it Food, Fresh Fruits, Vegetables or Groceries, we get them all delivered to …
Fatafat Nashik, Maharashtra (7887899288) – VYMaps.com
vymaps.com › Fatafat-Nashik-101360681645340
Fatafat Nashik is located at: S3, Suyojit Trade Center, Above Lokmat Office, Sharanpur Road,, Nashik, India 422001. What is the phone number of Fatafat …
Makita XDT11Z Vs. XDT12Z Vs. XDT13Z Vs. XDT14Z Impact Wrench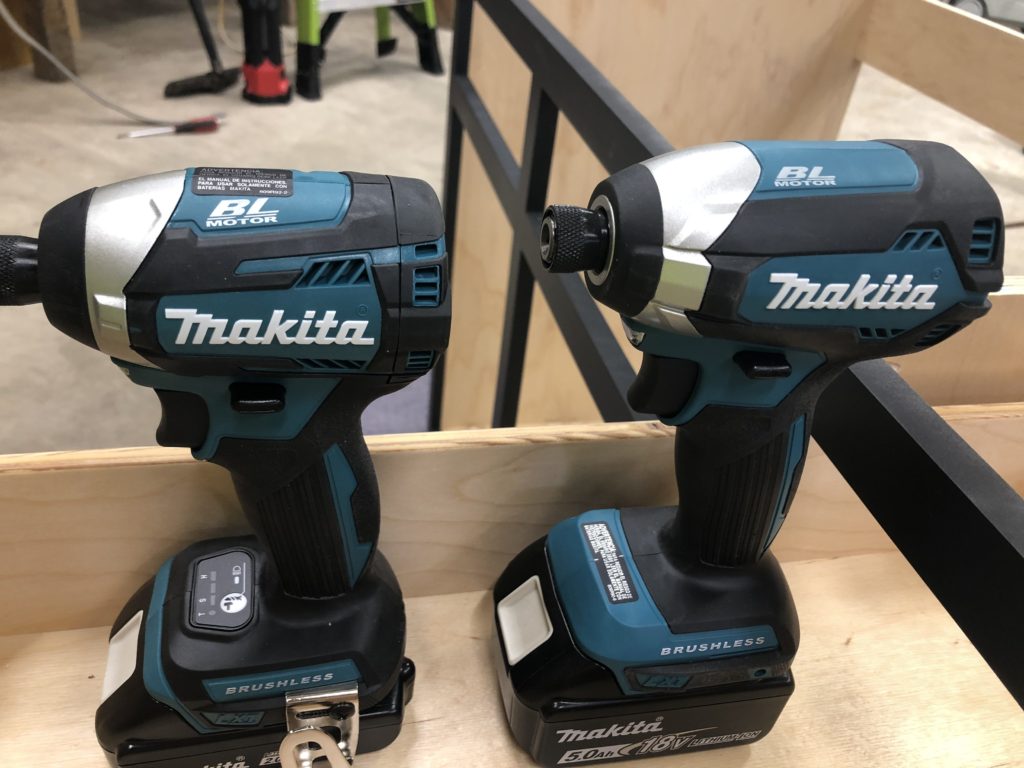 See, impact drivers are valuable tools and asset for both professionals and newbies alike. These particular power tools let you unscrew and screw with a single push of a button without any extra effort.
Impact drivers come in handy in the wide majority of situations, particularly if you are looking to acquire a battery-powered one. Makita is a prominent brand that produces all types of different power tools and accessories such as cordless impact drivers.
Now, in case you are looking to make your experience much better and your job a lot easier to cope with, there are impact drivers that are incorporated with battery and must have.
Whether you're a complete newbie or an avid professional, getting rid of screwdrivers from the equation will surely enhance your overall experience and will make your current project much effortless to conquer.
Makita XDT11Z vs. XDT12Z vs. XDT13Z vs. XDT14Z
1. Makita XDT11Z 18V LXT Lithium-Ion Cordless Impact Driver, Tool Only
What You Will Get With This Product?
The XDT11Z model flaunts enough capacity to drive through different materials including wood and metal. It's genuinely easy to utilize and it doesn't require any past understanding. In this manner, it doesn't make a difference whether you're an enthusiastic professional or a total fledgling, you'll get the essence of it before long.
The strength perspective is likely one of its principle favorable circumstances. The all-metal lodging offers durability just as versatility meaning you don't need to stress over the life expectancy of your new apparatus to an extreme. It's made to keep going for a considerable length of time as long as you keep up it in great condition.
This model uses the notable 18V LXT line of batteries that have been a piece of Makita's lineup for a long time now. This specific line of batteries has the quickest charge time in their classification. For instance, the 3.0Ah ones have a 30-minute charge time before they are full and prepared for operation. 
Pros:
Convenient one-touch ¼ inch hex chuck for faster bit changing
Only weighs 2.8 pounds with battery for minimized operator strain
Compact and ergonomic design at only 5-3/8 inch long
All metal gear housing for improved job site sturdiness
4-pole motor with innovative 4-brush design that improve RPM without decreasing torque
Cons:
Questionable trigger sensitivity
The battery is not included 
Top FAQs on This Product:
Q: Does it come with box?
A: Yes, it does come with one.
Q: Will a Makita BL1815 1.5 Ah battery work with this unit?
A: Yes, it will absolutely work with one.
Q: Is this 2 or 3 amp?
A: This unit is 2 amps. 
What Take on This Product:
The XDT11Z model is furnished with the creative 4-post brush motor that conveys up to 26% more speed than the past models. What's more, it can convey up to 1460 in-lbs. of max torque which is sufficient for an immense range of applications including driving through metal and wood.
It's protected to state that XDT11Z is a practical decision by and large. As we have mentioned, it's presumably not the best option for huge undertakings, yet it's definitely a decent option for home fixes or notwithstanding for structure decks and porches. It's compact, flexible, and strong enough to adapt to outside impacts and it's made to keep going for a considerable length of time as long as you keep up it in great condition. Fortunately, support is a breeze.2. Makita XDT12Z 18V LXT Lithium-Ion Brushless Cordless Quick-Shift Mode 4-Speed Impact Driver, Tool Only
What You Will Get With This Product?
This cordless, 18 V, compact impact driver is quicker than the past cordless model. It is additionally the littlest of Makita's compact impact drivers. Despite the fact that it is the littlest model to date, it is pressed with the most highlights.
It is an all-around adjusted driver that is anything but difficult to utilize. It has four rates, yet the exceptional modes work so well the paces are basically not required. It is the ideal update to the past Makita driver.
Pros:
Incorporated with tightening mode for faster tightening of self-drilling screws
Comes with assist mode that helps get rid of screw cam-out and cross-threading
4-speed power selection switch that gives accurate fastening control
BL brushless motor that gives 3,600 optimal RPM
Quick-shift mode selector has an automatic electronic controller that minimizes rotation and impact speed 
Cons:
Trigger is a little bit sensitive
Battery quality is not that great 
Top FAQs on This Product:
Q: Is the trigger speed sensitive or just 0 speed to full speed type?
A: Yes, the trigger is speed sensitive.
Q: Is there a mode that does straight driving/drilling, turning the impact action off?
A: No. It's an impact driver, and not a drill.
Q: Is the charger in the kit compatible to EU plug with 220V?
A: You will need an adapter.
What Take on This Product:
Make sure that every single moving part is in working request before starting the instrument. Likewise confirm that the bit is straight before working the apparatus. Make sure to utilize the right extras and batteries recorded in the proprietor's manual. Clean all garbage from the impact driver before putting away and in the middle of employments. Make a point to keep the hold free from any oil.
This Makita impact driver is to be utilized with batteries that have 4.0 amps per hour. The battery is made with a 3 arrange pointer telling you how much battery you have left. The batteries that are sold with the pack have a one year guarantee.  
3. Makita XDT13Z 18V LXT Lithium-Ion Brushless Cordless Impact Driver, Tool Only
What You Will Get With This Product?
This unit is a commendable mention because of a few decent highlights, yet one that stands out the most is the way that it uses a brushless motor in lieu of brushed.
Presently, this probably won't be a huge upside for the vast majority who are ignorant of the preferences yet rest guaranteed it's an extraordinary jump forward and an astonishing one in this value class.
Brushless motors last longer on the grounds that there are less contact focuses during operation.
Pros:
The electronically-controlled BL brushless motor efficiently utilizes energy to match torque and RPM
Efficient BL brushless motor is electronically controlled to optimize battery energy use for up to 50% longer operation time per charge
The BL brushless motor eliminates the use of carbon brushes
Variable speed for a wide range of fastening applications
BL brushless motor can give 1,500 inch per pounds of optimal torque 
Cons:
The forward and reverse switch does sometimes hit weird on your hand
Shouldn't be over-tightened for a couple of times
Top FAQs on This Product:
Q: Does it come with a case?
A: Unfortunately, it does not come with one.
Q: How does this differ from their conventional cordless drills?
A: You see, XDT13Z is an impact driver and not anything like a drill.
Q: Will this power tool work with the BL1830 battery?
A: Yes, it is suitable. 
What Take on This Product:
Keep in mind that this is an excessively streamlined explanation of brushless motors; it's an undeniably increasingly confounded subject. Be that as it may, regardless, the brushless motor is definitely an upside. The model is anything but difficult to utilize, spending plan well disposed, and in particular – it should address a large portion of your issues and expectations.
Its trigger is alright, yet it could have been planned somewhat better. There's nothing naturally amiss with the plan in essence, yet the affectability is fairly questionable. Notwithstanding, it offers all that could possibly be needed movability for little to medium sized tasks. You should remember that this unit can be utilized for requesting ventures also; however you ought to expect a specific measure of vacation because of it being battery fueled.
4. Makita XDT14Z 18V LXT Lithium-Ion Brushless Cordless Quick-Shift Mode 3-Speed Impact Driver, Tool Only
What You Will Get With This Product?
The Makita 18V LXT Lithium-Ion Brushless cordless Snappy Move mode 3-speed impact driver (model XDT14Z, instrument just) is a top tier fastening solution for clients who need more torque, longer run-time, and precision fastening highlights. The XDT14Z conveys the majority of the above in a compact size with a better power-than weight proportion. The XDT14Z consolidates an entire 1,550 inch per pounds of fastening torque with class driving precision highlights.
It's a piece of Makita's growing 18V Lithium-Ion arrangement, the world's biggest cordless device line-up controlled by 18V Lithium-Ion slide-style batteries. Makita 18V Lithium-Ion batteries have the quickest charge times in their classes, so they invest more energy working and less time sitting on the charger.
Pros:
Efficient BL brushless motor is electronically controlled to maximize battery energy use for up to 50%
BL brushless motor gives 3,600 optimal RPM
3-speed power selection switch gives accurate fastening control
Tightening mode for faster tightening of self-drilling screws
Quick-shift mode selector has an automatic electronic controller that downshifts and minimizes rotation and speed
Cons:
Expensive high-quality drill bits
Longevity seems not that great 
Top FAQs on This Product:
Q: Does this battery fit the Makita XPH012?
A: Yes, I think so.
Q: Does this one have quick start or a slow start?
A: Yes to both, just have to switch the speeds.
Q: How does this compare to Milwaukee fuel gen2 or other impact drivers?
A: Makita comes with better battery life and is designed to last. 
What Take on This Product:
Brisk move mode is a programmed electronic controller that downshifts and diminishes rotation and impact speed before driving the screw into spot. It is built to minimize screw string stripping, screw breakage and harm to work.
For quicker tightening of Self-Drilling screws, utilize the tightening mode (t-mode) and Keep away from harm to the screw or work piece. These precision settings, joined with 3-speed control settings, give clients more control for a wide scope of fastening errands – from bureau screws and deck screws to slack fasteners, and substantially more. It is just 4-5/8″ long and perfect for work in tight spaces. 
What is the Difference between Makita XDT11Z vs. XDT12Z vs. XDT13Z vs. XDT14Z?
First of all, the Makita XDT11Z is a piece of the world's biggest cordless instrument line-up fueled by the Makita's 18V slide-in battery. To the extent the battery goes, it brags one the quickest charging occasions available consequently investing more energy working and less time charging.
Compactness and solidness are the two principle favorable circumstances of the XDT11Z's plan. This model is the first in its classification with the new Makita's improved ventilating window that offers better cooling execution when under burden. As we have mentioned, the all-metal lodging gives expanded toughness and furthermore guarantees dependability.
On the other hand, the Makita XDT12Z has a brushless motor that has four speed settings. It highlights creative modes like the Brisk Move Mode that finds the correct combination of speed and torque for the most secure fastening, and the Tightening mode that lessens speeds just before completion to diminish stripping.
The intensity of this impact driver matches that of corded models and other similar drivers in the market. It is really a compact model that fits into tight spaces effectively. It isn't the least expensive cordless impact driver; in any case, it is stuffed with highlights that make the venture justifiable. 
As for the Makita XDT13Z, it's normally a well-made plan with an emphasis on ergonomics and solace. The rubber treated handle guarantees a firm grasp and anticipates slipping. What's more, it likewise significantly lessens vibrations hence decreasing administrator weariness and exhaustion. At the end of the day, because of it being lightweight and well-structured, this model isn't an aggravation to convey or to work with.
And lastly, the Makita XDT14Z 18V LXT Lithium-Ion Brushless Cordless Snappy Move Mode 3-Speed Impact Driver (model XDT14Z, apparatus just) is a top tier fastening solution for clients who need more torque, longer run-time, and precision fastening highlights. The XDT14Z conveys the majority of the above in a compact size with a better power-than weight proportion.
Conclusion
Ultimately, everything about these four impact drivers we features here are all great and could be the best impact drivers in the market today.
They are priced reasonably, have all the benefits and features to make working with it more relaxed and at the end of the day will be able to help you out with your tasks effectively and efficiently. Furthermore, they come with bonus features such as belt clips and LED lightings.
These four tools from Makita are impressive power tools to use in and out your house. That's why if you know how to use a drill, or any similar device, make sure you should be acquiring a whole ton of work done using the Makita impact drivers.
Overall, they are worth the money especially in long-term. On a side note, if you want to know which one is the best for us, then our vote goes to Makita XDT11Z.
If you have any comment regarding our topic today, make sure to leave it below. Cheers!
Milwaukee 2407-22 Vs. 2407-20 Cordless Drill Driver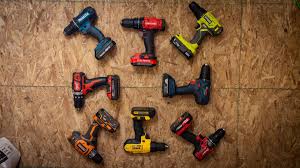 For the most part, both drill driver and impact driver accomplish different jobs, and having them both lets you become more productive on your projects.
Gladly, manufacturers like Milwaukee took note of this and now ship their power tools as combo kits that come with both impact driver and a drill driver. If you're looking for the best drill driver for your money, then we've got you covered.
Our drill-driver combo kits review displays some of the best combo kits your limited money can buy. We're aware that you're short on time, so let's get started.
Milwaukee 2407-22 vs. 2407-20
1. Milwaukee 2407-22 M12 3/8 Drill Driver Kit
What you get with this drill driver kit?
In the event that your decision in a drill driver relies upon its effortlessness, unwavering quality, and all-around functionality, at that point you ought to most likely investigate the Milwaukee 2407-22 M12. This tool is extraordinarily structured in light of the client. It has better than average power and included functions that will enable you to easily get through your undertakings, any place the working environment.
Is it reasonably priced?
At an entirely reasonable cost, you can buy this kit and such accompanies it, explicitly a tough plastic case that contains the uncovered tool itself, two lithium ion batteries, and the charger.
These days where information is effectively open, a great many people would need to do random temp jobs and fixes around the house independent from anyone else and without stressing over the expenses of contracting someone to work for them. The 2407-22 M12 is a tool you can buy to kick off directly into turning into a DIY home aficionado. You will discover that it demonstrates helpful for novices and specialists alike.
Ergonomics Aspect
It has ergonomically planned grasps, which means regardless of whether you go through a long stretch of time holding this tool while you work, you won't feel much strain. It weighs just 2.1 lbs. which is nearly light, particularly with the power it packs. It doesn't make a difference what your identity is. Regardless of whether you are a man or a lady, youthful or old, skilled or not, this drill driver will fit consummately in your grasp.
Battery Efficiency
The 2407-22 keeps running on lithium ion innovation which is fundamentally longer enduring contrasted with NiCad batteries. Additionally, your work won't be stopped by dead batteries as the drill has a locally available fuel measure that demonstrates how much longer the rest of the juice is going to last. In the event that you are as yet stressed over coming up short on charge, it might be ideal to keep saves. Be that as it may even without, energizing just takes 30 minutes.
Keep this in Mind
Milwaukee highly esteems giving quality power tools and unflinching help to their purchasers. They have a site that you can promptly access with various aides, manuals, and instructional exercises you can scrutinize on the off chance that you need additional information in regards to how to function the item.
In any case, be cautious about dealing with the driver drill as the warranty does not cover harm from mishaps, unapproved fixes, or abuse.
Our take on Milwaukee 2407-22
This Milwaukee drill driver is on the less expensive side of the range, which makes it very wallet-accommodating for those simply beginning to grow their capacity tool collection. With respect to best cordless drills, this specific tool is in the same class as it can get. It packs moderateness, usability, power, and comfort into a solitary tool.
There are less helpful zones where work should be finished. With the 2407-22 M12, these regions won't be an issue.
This drill is battery-controlled and cordless, which means it is very portable. Corded drills are a problem to work with. You will continue stressing over tangled lines and accessible electrical plugs. With this tool, you can do your work any place you like, even in difficult to get to regions. It is little with a length of 7 3/8-inches and will probably fit where different drills can't.
In any case, one of the principle drawbacks of this drill driver is that it can't deal with genuinely rock solid work. On the off chance that you lean toward a heavier and quicker model, corded drills might be an option for you.
Pros:
Boasts a maximum of 1,500 RPM
Reaches up to 275 inch per pounds of torque
Runs on lithium-ion technology
Comes with a built-in LED light
Designed with an ergonomic handle
Cons:
Not made for heavy duty work
A little bit noisy
Top FAQs:
Q: What comes in the kit?
A: The kit comes with a rugged plastic case, the drill, two batteries, and charger.
Q: What are the Ah on the included batteries?
A: 1.5 hours of run time.
Q: Does the case have room for an impact driver?
A: It is a portable drill – about 12″ case.
2. Milwaukee M12 12V 3/8-Inch Drill Driver (2407-20) (Bare Tool Only – Battery, Charger, and Accessories Not Included)
What You Will Get With This Product?
Milwaukee is turning out with a few new updated M12 cordless drills and drivers to supplant a considerable lot of their original models.  These new options hope to offer extraordinary specialized specs just as refreshed ergonomics, and the kits accompany Milwaukee's higher limit smaller 2.0Ah Li-ion battery packs.
Is it Worth the Price?
The quest for the best power drill for you is simpler when you have a great deal of room in your financial limit to play around with.
That being stated, it is conceivable to get your hands on an elite drill without dropping genuine money. The individuals who uncertainty that need just to take a gander at the M12 Drill/Driver from Milwaukee to perceive how wrong they have been. 
Our take on Milwaukee 2407-20
With its minimal size and lightweight plan, the Milwaukee M12 Drill/Driver is outstanding amongst other cordless power drills in its price extend for long occupations. At less than 3 pounds, it is similarly as fit to the female body as the Pink Power Cordless 18V NiCad Drill Kit. This drill flaunts an all-metal hurl, an element that is once in a while observed on drills in its price range, and one that for the most part destroys the danger of your drill or driver bit coming free during operation.
Some Milwaukee clients who have requested this drill online have announced accepting it in shoddy bundling – a paper envelope as opposed to a cardboard box – so you might need to purchase the M12 available in the event that you stress over your tools being harmed in transportation.
Pros:
Metal ratcheting chuck for maximum durability
On-board battery fuel gauge displays remaining run time
New ergonomic handle design for improved comfort
New ergonomic handle design for increased comfort
Delivers up to 275 inch per pounds of torque
Cons:
Short battery life
Poorly packaged 
Top FAQs on This Product:
Q: Is this brushless motor?
A: No this is not brushless also not a fuel which is a far stronger drill! But for the price a very good little drill.
Q: Is this the gen 2 model 3/8 chuck?
A: Yes, it is.
Q: What battery does it take?
A: It's Milwaukee 48-11-2411 M12. 
What are the Differences between Milwaukee 2407-22 vs. 2407-20?
Compare to Milwaukee 2407-20, the Milwaukee 2407-22 will most likely spare time, exertion, and vitality. It has a no-heap RPM highlight that makes it simple to drill and affix objects without issue or interruption. The tool is said to be 35% quicker than most power tools in its group and price run. It even has a Metal Tightening Toss that improves the tool's general toughness.
The Milwaukee 2407-22 also does not baffle in the power office either. It has 275 in. lbs. of torque, enough for light obligation fixes and extends. It additionally has a limit of 1,500 RPM with two accessible speed settings: 0-400 and 0-1500. You are given two options to browse contingent upon the idea of the task you are taking a shot at.
Milwaukee 2407-20's fuel brushless drills and drivers are said to be the most dominant and enduring reduced cordless models (in their group) you can purchase. From what we've seen, this could be valid.
In any case, not all clients fundamentally need or need the most dominant, quickest, and durable smaller drills and drivers they can purchase. Be it Milwaukee 2407-20 or the Milwaukee 2407-22, not all clients can or need to pay for highlights and execution they probably won't require.
Final Thoughts
All in all, purchasing a quality combo kit is basically a better pick than purchasing one separate power tool after another. Not only does buying a tool set save money in the long run, but having one also lets one to supply his workplace with power tools and accessories that he might need for certain future projects, be it some professional wood working or some simple tasks around the house.
Fortunately, all of the world's renowned power tool brands have dozens of such tool sets on offer. In most instances, these combo kits come with top-rated power tools of a certain brand, and some well-engineered and durable accessories that can come in very convenient in particular situations.
If you have any feedback or suggestions about the topic, don't forget to comment down below.