Best Video Cameras For Documentary & Filmmaking Under $500 In 2020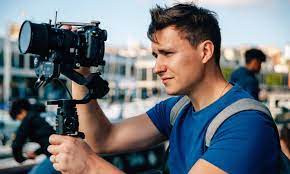 I have always been a fan of paranormal activities. Ghost hunting shows are extremely popular not only on television but especially on the internet. You can even stream most of the best ghost documentaries on YouTube. This fascination over something unexplainable lead me to think, "Are ghosts real?"
But we cannot prove something to be real if we cannot see it, right? And according to what I have watched before, ghosts cannot be easily seen by the naked eyes nor be captured using normal gadgets. So, with that in mind, I decided to purchase an infrared camcorder.
In addition to this, I am also a fan of taking videos of the sceneries that I see. Whenever I travel, I always do my best to record a documentary that I can look back to. For this reason, I searched for the best cameras that I can use even at night time.
However, with the myriad of choices that is available in the market, it became hard for me to find the best camera that fits my budget. Also, I searched for ones that can cater to both my fascination and hobby.
Whether you believe in paranormal activities or not, camcorders are really beneficial.
If you are looking for a camcorder, regardless of your purpose, this article is for you. I have listed down some of the best camcorders that I was able to search for in the market. This is to make sure that you will be able to get the best night time camcorder even when you are on a tight budget.
Things to Consider When Looking for a Video Camera
Based on my journey of finding a camcorder, I can say that buying one can be complicated. The reason is that there are many variations and models that you can choose from. Apart from that, prices also significantly vary based on the model and camcorder specifications that you will choose. The simplest camcorder can cost more or less %150, while the best one can cost over $1,600.
However, you cannot just pick the simplest or the best camcorder and then purchase it. There are some factors that you need to look for when choosing.
To help you in selecting your camcorder, below are some of the factors that you need to consider:
Type of Camcorders
Camcorders have four different types. These are the mainstream, advanced, pocket, and wearable and mountable camcorders.
Mainstream camcorders are excellent for making home videos, sports matches, events, etc. On the other hand, advanced camcorders are often used by professionals and can improve the quality of images and videos taken.
Moreover, pocket camcorders, as the name suggests, fits in the pocket. However, you have to note that this type does not have the best image quality.
Lastly, wearable and mountable cameras are designed for point-of-view shooting. This can be mounted to vehicles, skateboards, and more to capture the action.
Resolution
Resolution is the number of pixels that footage holds. More pixels means that the video will offer greater clarity and detail. Most HD camcorders have a resolution of 1080p, which is the best resolution that you can get. But if you are looking for a less expensive one, look or a camcorder that has a 720p resolution.
Memory
This one is another important factor that you need to consider. I, being a fan of taking footage for documentaries, suggest that if you often take videos, you should look for the one that has a big memory.
There are camcorders that no longer need an SD card as it has a built-in memory. High-quality footages have high resolution, so look for a camcorder that has a large memory.
Three of the Best Camcorders Under $500
1. Yeehao WIFI HD Digital Zoom Camera With Microphone and Wide Lens
Traveling is a wonderful journey. You might want to cherish every detail that you will encounter for every trip. Landscapes, buildings, and nature sceneries are just examples of the wondrous places that you might want to keep with you.
In this modern world of technology that we have today, gadgets are widely used across the globe. Having this Camcorder Video Camera can make your trips memorable. Transitions, filters, and effects possess fluidity. Never miss out on having this amazing item inside your travel bags.
The focal lens of the macro lens of this Camcorder is solely used for close-up shooting of tiny objects such as leaves and flowers. This product also comes with infrared remote control. If you are a travel bod, this Camcorder can be a good asset for vlogging.
Here are the benefits of using this Camcorder Video Camera YEEHAO Wi-Fi HD  that you should consider:
This Camcorder has an External Microphone Adopts X-y Stereo technology. There is also a battery charging interface. Hot Shoe can be used to get connected to other equipment.
It has a professional 0.39X super 2-in-1 wide-angle lens. A lens hood is also present together with the Camcorder.
This camera can be connected to a smartphone. Using this at night can also be possible, maintaining its good quality by its IR Night Vision.
Through the use of remote control buttons, you can take photos and videos as well.
The multi-functionality of the Camcorder maximizes the utilization of the camcorder.
2. Spectrum Camcorder – Paranormal Investigation Camera with Infrared Night Vision
This video camera has an infrared flashlight, 32GB SD card, and a high-definition wide-angle lens. This camcorder has the highest performance full spectrum camcorder, which is specifically made for ghost hunting.
Moreover, it has an IPS touchscreen as well as the ability to switch from infrared to full-spectrum with just a single press on the button. The HD infrared vision quality is undeniably excellent. You no longer need to run the built-in infrared LED for the infrared vision to work.
In addition, this camera can run independently so you can assure the best results. The package includes an extra battery, so you can have a full recording time of 220 minutes. As per the storage, you get to have a 32GB SD card slot, so you do not have to worry about it getting full in the middle of the recording.
However, one disadvantage that you may get from this video camera is the fact that it is difficult to set up its Wi-Fi capability. This is also not water-resistant, so people who love water activities may not find this video camera to be beneficial.
3. Vlogging Video Camera with Digital Zoom Lens and Microphone
Being a travel enthusiast, a quality Camcorder Vlogging Video Camera can be a good thing to invest in. If you want to engage in your social media accounts such as YouTube, you can have it as a good asset. Travel, capture, and create memorable experiences.
This feature-rich Camcorder Video Camera comes with commendable performance when shooting videos. In addition, it makes your recordings with ease and comfort. This 4K Camcorder Vlogging Video Camera is capable of having a wide-angle lens LED light.
Moreover, this Camcorder comes with attractive features like the Wi-Fi for connection and other multi-purpose accessories. You can use a real-time remote to manage your video camcorder. IR Night Vision can make recordings perfectly even in the dark, showing low light.
These are the benefits of using this Camcorder Vlogging Video Camera for YouTube ConfunKool 60FPS 48MP that you should consider:
This vlogging digital camera is built with a CMOS sensor. It makes the output yield to a good recording performance.
Whenever you have something to do, a pause function can be a good help for your recordings. You can download the video and edit it before you upload it online.
You can connect this digital camera to a Wi-Fi connection. You can also take quality recordings even in the darkness of the night.
A low battery charge can be a hassle once you start recording. You can now use two rechargeable batteries to increase your shooting time.
This Camcorder comes with numerous accessories for a video camera.
Final Takeaway
If you are looking for a quality Camcorder product, find the good features that will suit your needs. Camcorders are technology innovations that can make your vlogs more attractive to the viewers. Your preferences matter when it comes to your item choices. Video cameras make the most out of your experiences and make it as long-lasting memories.
Camcorder purchases are in demand in the market nowadays. People prefer to take souvenirs of their trips to look back after quite some time. Good quality performance of Camcorder Video Cameras leads to a better output that can fulfill the expected outcome of the user.
Best 15 Inch Subwoofers Reviews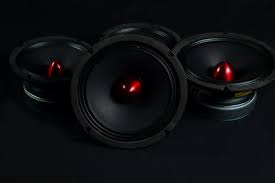 Perhaps you're in this article because you're looking for something cool, like a subwoofer! Well, the best way to have a good music in your car is actually to add a subwoofer.
In regards to that, a bigger subwoofer will make wider boom. And that's why you must decide on the size of the subwoofer you need for your car. Now in this case, we'll be talking about 15 inch subwoofers as we see them very effective in producing quality sound output rather than any other sizes.
Well, let's talk about it more and read on!
Let's Compare 15 Inch Subwoofers
1. Rockville W15K9D2 15″ 5000w Car Audio Subwoofer Dual 2-Ohm Sub CEA Compliant
What You Get With Rockville W15K9D2 15" Subwoofer:
With this 15 inch subwoofer from Rockville you'll get a peak power handling of 5000 Watts, 3" 4-layer black aluminum voice coils wound with OFC wire which is 100% copper and made in Japan. It is one of the most crucial parts to make the subwoofer last longer and high-quality.
Moreover, it comes with a double stacked 190 oz. high quality magnet. With its cast aluminum basket with black sanded finish, it makes it very lightweight and efficient. It also comes with cones which are ultra-stiff. They're stronger and much thicker compared to other subwoofers on the market today, making it to handle more power.
Pros:
Peak power handling of 5000 Watts
Comes with red stitching cone reinforcement that ensures long life
Nomex Spider gives long-term reliability, strength, and tear-resistance reliability over regular cotton and poly cotton spiders
Uses the highest grade black glue that handles extremely high temperatures that allow woofer to handle even more power
High BL magnetic motor gap
Cons:
Has a larger hole size
Pulls a lot of power from the battery
Top FAQS on this unit:
1. Can you put 2 subs with 8000W and run each sub at 3000W and Max the amp out at 6000W?
-Nope.
2. Is the listed Xmax 1 way?
-Yes.
3. Are these the new version with the corrected voice coil issue?
-Yes, and they're very powerful too.
4. How powerful of an amp do you need to run 2 12s?
-Any amp that generates 1200 amps.
5. Are these subs better in a ported or enclosed box?
-They are amazing in a ported box.
What Take On the Rockville W15K9D2 15" Subwoofer?
For what these subs can do the price is definitely worth it. It's awesome to have a company producing competition grade product at very reasonable price ranges which is very refreshing. Rockville is an absolute kick in the industry's balls.
Rockville W15K9D2 15" subwoofer hit incredibly hard. They work great even if you power two of these with a dB 15 6000 Watt Rockville amp. It's crazy how big its magnets are, and the amount of air they can move.
However, it reads 3.2 ohms on a multi-meter and when you try to wire it to 1 ohm; it reads 2.3 so you really can't get full power out of your amp. Overall, it's still an impressive subwoofer.
2. Rockford Fosgate P3D4-15 Punch P3 DVC 4 Ohm 15-Inch 600 Watts RMS 1200 Watts Peak Subwoofer
What You Get With Rockford FOSGATE P3D4-15 Subwoofer:
This 15 inch subwoofer is part of Rockford Fosgate's best performing Punch P3 series that deliver a monster 1200W of peak power handling. The P3 subwoofers now feature anodized aluminum dust caps and cones, along with unique spider venting to keep the motor much cooler compared to recent versions.
Furthermore, they also feature a so-called "VAST" technology that increases surface cone area for up to 25% and a FLEXFIT basket for extreme installations. Moreover, a new hybrid stamp-cast basket delivers the best of both worlds by giving extra strength while significantly reducing resonance and weight.
Pros:
Comes with STAMPCAST basket with integrated spider venting
Soft touch rubber over-mold for convenient grip
Incorporated with protective PVC textured magnet cover
High-temp voice coil with spun-laced NOMEX re-enforcement collar
Anodized aluminum dust cap and cone
Cons:
Warranty offer is not that great
Missing a quite something when it comes to ultra-low frequency bass notes
Top FAQS on this unit:
1. What would be the best amplifier to push just one of these subwoofers?
-Any class D amp 500W to 2000W
2. Are these dual voice coils?
-Yes. Make sure you don't put more than 1500W amp to them in parallel
3. Can you run 3k of power to 4P3 15's?
-Yes. Though you probably need some additional batteries
4. How do you connect this subwoofer with the amp R1200-1D in 2 ohm?
What Take On the Rockford FOSGATE P3D4-15 Subwoofer?
Rockford Fosgate subwoofers utilize anodized aluminum voice coil formers that can give superior heat dissipation of up to 100 degree at full power levels. Compared to conventional plastic substitutions, aluminum acts like a heat-sink to immediately dissipate thermal build-up on the voice coil. This maintains subwoofers cool during high SPL conditions.
In addition, power handling on Rockford Fosgate subwoofers conforms to CEA-2031 industry standards. This implies that your speaker comes with the capacity to handle power under constant demand. Also, its Flex Fit frame uses slots rather than single screw sized holes. This permits slight adjustment of the speaker upon mounting.
And lastly, with its vertical attach surround technique; it significantly improves the speaker's effective radiating cone area without any complex installation issues. The result can give up to 25% more effective radiating cone area for the same unit speaker.
3. CT Sounds Strato 2.0 15″ D1-Set of 1 (Black)
What You Get With CT Sounds Strato 15" Subwoofer:
This subwoofer is the answer if you're seeking for a unit that can manage high power wattages. This 10-inch car subwoofer doesn't really need to be taught its duty as it delivers great.
Also, thanks to its low impedance which is worked in the voice coil, its output sound from this 10 inch subwoofer is really high. Take note that the CT sounds strato design was in agreement with Ohm's Law.
It features a graded magnet that's a form of iron which occurs in steel, and from the best in the world of magnets. This subwoofer is a favorite as it comes with a sturdy and cagey basket from.
Pros:
Offers controlled and nuanced sound
Sounds punchy and detailed even at louder volumes
As powerful as they come
Composite foam made in the use
Incredibly low impedance
Cons:
Make sure that the amp you're using can power them
Quite pricey
Top FAQS on this unit:
1. What size amp is best for 4 STRATO 8 inch subs?
-The T-1000.1 and the AT-900.1 are two good options
2. What type of box do you need for the best sound of this subwoofer?
-Compaxc box layout 8 inches
3. What's the difference between the D1 and the D2?
-Their primary difference is that they offer you different wiring options. If you're looking for a single sub then D2 is normally the better option.

What Take on the CT Sounds Strato 15" Subwoofer?
This subwoofer is excellently constructed and incredibly powerful. It is engineered to not only shake your car, but also to last for years of use.
CT Sounds Strato 15" Subwoofer is capable of handling an impressive 800W of RMS power and 1,600W of peak power. This makes it far powerful subwoofer on many 15" subwoofers out there. Whether you're listing to classical, country, rock, or rap, this subwoofer will surely deliver you a vast, well-rounded sound output.
And lastly, with a double stitched paper cone, it gives some of the most subtle sound output you will ever get from a subwoofer. Constructed out of heavy-duty plastic, it is engineered to withstand a great deal of wear and tear.
4. American Bass XFL1522 15″ SUBWOOFER AMERICAN BASS DUAL 2 OHM VOICE COILS; 200 OZ. MAGNET
What You Get With American Bass XFL1522 15" Subwoofer:
A 12.5 pounds magnet adds to the sound power and clarity of this subwoofer. On the other hand, its 2 Ohm voice coils retain the keep the sound coming while you're listening or playing your music.
Its overall dimensions come in at 18" x 18" x 13". If you're not sure of the mounting depth and cut out, you can check the manufacturer's website. And lastly, you can use this subwoofer using a 1000 to 1500-watt amp. Just make sure to give it the right break in time.
Pros:
Great subs
Beats a lot harder compared to an old Q power
Best quality under budget
Hits hard and sounds really great
Impressive sound output and clarity
Cons:
Voice coil might tend to buzz
Not really great customer service
Top FAQS on this unit:
1. What's the cutout that you'll need to make for a box build?
-According to AB spec sheet, it's 353 mm.
2. Is this better ported or sealed?
-Ported.
3. What Amp would be best to push 2 of the XFL 1522's for max power?
-Apparently, American bass recommends the VFL COMP 2.5k for these. You'll need to do the math on the electrical system in order to see what you'll need.
4. What year model are these subs?
-2014.
What Take On the American Bass XFL1522 15" SubwooferAmerican Bass XFL1522 15" Subwoofer?
The XFL series speakers keep well-constructed for the production of best sound standard audio output and being among the best subwoofers out there. It keeps its built with a rigid construction with a clear evident sound output and power.
The American Bass XFL 1522 speakers have a peak power output of 2000W and an RMS of 1000W with a double 2 Ohms. Furthermore, it comes with a frequency of 31.5Fs, a 3 inch voice core, a paper core that is non-pressed, a roll of foam surround, and an aluminum basket.
With these impressive features, this subwoofer can adapt well to any environment producing great sound outputs which are of ethical standards at low energy consumption rate.
5. SoundQubed HDS3.1 1200W RMS Dual 4 Ohm Subwoofer Series (10″ Dual 2 Ohm)
What You Get With SoundQubed HDS3.1 1200W RMS Subwoofer:
This subwoofer is the new pick for high-performance, affordable car sound systems. Its high-efficiency is built using a strong 3inch voice coil with high-temperature adhesives and coil wire for reliable, long-term performance.
Its double magnet motor is over-sized to give high output levels with control and accuracy. Moreover, its corrosion-resistant epoxy paint protects the plates, while enhancing the outflow of heat from the voice coil.
And lastly, the SoundQubed HDS3.1 1200W RMS subwoofer features back plate venting for better cooling in tight spots, direct leads and cast frame to preclude tensile slap.
Pros:
Power handling of 1200W RMS and 2400W Peak
Comes with high excursion foam surround
Non-pressed cone for optimum rigidity
Incorporated with black electroplated bottom and top plates for extra cooling
Comes with cast, steel frame
Cons:
Not enough warranty offer
A little bit pricey for the quality
Top FAQS on this unit:
1. Can you use an audio pipe 2000W Apmi or the APCL 1800 on 2 of them?
-You can, just make sure that you have all the settings correct on the amp so you can get the clearest power to the woofers.
2. What cubic foot box for sealed?
-0.50-0.75 net for a sealed enclosure is recommended.
What Take On the SoundQubed HDS3.1 1200W RMS Subwoofer?
This subwoofer from SoundQubed offers a lot. These include, non-pressed cone with fiber reinforcement for optimal rigidity, conical back plate for greater voice coil travel.
In addition to that, it also comes with heavy duty push connectors for easy installation – which is up to 10 gauges. And lastly, it has a power handling of 1200W RMS/2400W Peak.
What is the Difference between Rockville W15K9D215 vs. Rockford FOSGATE P3D4-15 vs. CT Sounds STRATO vs. American Bass XFL1522, and vs. SoundQubed HDS3.1 Subwoofer?
All of the subwoofers we discussed above come in their own respective unique traits, which mean they're all best at certain things.
For example, the Rockville W15K9D215 subwoofer comes with an astounding peak power handling of 5000W, while the Rockford FOSGATE features anodized aluminum dust caps and cones. On the other hand, the CT Sounds STRATO is one of the favorite in the market since it comes with a sturdy and cagey basket.
As for the American Bass XFL1522, it offers exceptional sound clarity and power. And there's the SoundQubed HDS3.1 that comes with a double-magnet motor which is over-sized in order to deliver high-output levels with great control and accuracy.
Final Thoughts
For the most part, a 15 inch subwoofer is the representation of performance and power in terms of audio system. We highlighted the top 5 rated subwoofers on the market today. We discussed what types of features you must look out for when acquiring the right subwoofer for you.
What you want to do now is to highly consider your sound system needs in order to pick the right one. Again, each one of the subwoofers we featured above come in their own respective unique trait so it's wise to base things on your needs.
Best Noise Isolating In Ear Earbuds Headphones at Amazon Reviews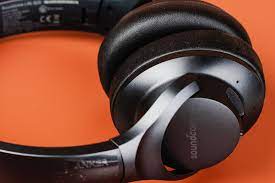 The modern world is noisy and sometimes it is hard to escape all this noise. However, noise cancellation headphones offer the solution. Whether you are listening to music out at home with your high-end stereo or mp3 player, your choice for the headphone is critical. Noise cancelling headphones allow you to enjoy better sound everywhere you go, every day. They reduce surrounding distractions and help you focus on your music.
1. Symphonized XTC Premium
They are crafted by a natural wood housing, which creates better acoustic performance and bass response. In addition, the soft silicone ear buds offer noise reducing fit and comfort. They have gold plated 3.5 mm audio jack, which ensures no loss of sound connection to the latest iPhones, iPods, and I-Pads they work with all Android, mp3 player, and tablets. The headphones are featured by answer and end call button, skip tracks, and active voice control, and tangle-free nylon cord that come in different colors and one-year warranty from the manufacturer.
2. MEE audio M6 PRO
MEE audio M6 PRO is a warm sounding earphone that features a good bass depth and decent impact. They are fitted with universal noise isolating monitors that offer perfect use on and off the stage. Build quality designed is featured such that they feel secure and comfortable in the ear, besides they have detachable cables that increase durability. The package comes along with protective carrying case, six sets of silicone ear tip, comply foam ear tips, an extra cable, and a one-year warranty.
3. RHA-MA750i- noise Isolating-Headphone
The RHA-MA 750i headphones come with a three-year warranty and contain a dynamically handmade driver for crisp, clear sound production. They comprise a stainless steel construction, reinforced with oxygen free cable. In addition, they have contoured over-ear cable supported design, for holding the headphones in position. The cables run behind the ear thereby offering more comfort, secure fit, and provide effective noise isolation.
4. Francois Mimi Elite Headphones
These are uniquely designed headphones carefully handcrafted from genuine wood. They have a built-in microphone for allowing hands-free operation, and they work well with all devices that use 3.5mm Aux input. They produce crisp, clear sound at all times without distortion, and they contain interchangeable ear cushions. In addition, they feature the noise isolation technology.
5. GGMM Cuckoo Noise Isolating Headphones
These are high quality engineered products designed for generating tonally balanced crisps high and low deep sub bass. They contain a flat oxygen-free durable copper tangle and free cable cord with a gold plated jack for ensuring reliable connectivity. They also have a curved metal housing for great positioning in the ear and providing a better seal and fit. Besides, the multiple size ear tips are designed to isolate external noise. They have a built-in metal microphone for eliminating external noise and 3-button in-line metal remote that allows for track and volume controls. They are light hence ideal for listening while exercising, travelling, and everyday wear.
6. Creative Aurvana 3 In-Ear Noise-Isolating Headphones
Imagine shrinking down a set of studio speakers for them to fit into your ears and deliver smoother accurate sound production! Then Aurvana headphones are ideal for you. They have good seals meant to minimize the bass loss that emanates from sound leakages. They have angled sound tubes for providing natural fit into ear canals and have a secure fit over-ear cable loop that offers a sturdier fit when you are in motion. They have oxygen-free copper cabling that minimizes cable-contact noise. They also come with a travel pouch for cable management and portability convenience.
7. Yamaha EPH-20BL In-Ear Headphones
Do you want comfortably fitting headphones that are highly efficient? Then the Yamaha EPH-20BL headphone is the right product for you. They are highly effective for maximizing MP3 player's battery life. The come in a variety of colors and with 3-ear bud sizes for a comfortable fit and have a durable build design.
8. Sound Intone E6 Headphones
These are transparent headphones characterized by ergonomic earpiece design meant to be sweat proof, hence providing long-term comfort during exercise period. They are sports headsets with volume control, microphone, and have a noise isolating design with enhanced bass and energetic sound. The package includes a carrying case, and five sets of ear tips meant for best fit and comfort. They work with a variety of phones including iPhones, Smartphones, and music players and have a three-month limited warranty.
9. AudioMX Premium Headphones
These lightweight and comfortable headphones are appropriate for long periods use and provide a premium listening environment. They have noise isolation technology accompanied by superior audio design for great sound production and best listening experience. They have an audio jack compatible with many smartphones and contain a tangle-free cable with two button controls for convenient use.
10. Audiosharp AS1218 Stereo
If you need headphones that deliver comfortable, high quality and clear listening experience with an ergonomic design, that is meant for comfortable wear and easy to carry around, then Audiosharp headphones are ideal for you. These have been carefully tuned by top engineers for providing real stunning sound and enhanced bass. They also feature superior noise reduction technology and unique in-line microphone.
Noise cancellation is a fundamental element of earphones, and they have many proven benefits ranging from reducing ambient noise, which enable users to enrich their music experience, allow a person to study better, work more effectively, and meditate with focus. It is recommended that while shopping, you try out different types of earphones and balance this with your budget to purchase noise cancellation earphones that suit your preference.
Best Home Theater Powered Subwoofers Reviews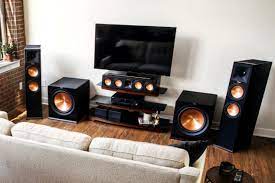 When you're enjoying your favorite movie there is nothing like quality sound that allows you to hear every detail of your movie or video. A quality home theater subwoofer will give you the benefit of never missing a thing. You can customize the sound to meet the demands of each movie. Experience a high definition picture with high end sound. Subwoofers have the ability to boost your sound by 46% and will allow you to get a crisp clear sound. The following is a review of the top 10 home theater powered subwoofers on the market.
Top 10 Hone Theater Powered Subwoofers
1. Yamaha YST-SW012 8-Inch Front-Firing Active Subwoofer
The Yamaha YST-SW012 has an 8 inch front firing subwoofer that guarantees you quality sound. The Yamaha name is household named trusted by thousands of people around the world and now known for their optimum sound functionality. They have high quality magnetic shielding along with 100 W dynamic power for high powered sound each time.
2. Klipsch Reference R-10SW Surround Subwoofer, 300 Watts Peak Power
Do you demand front firing sound from your home theater subwoofers? The Klipsch promises to intensify your sound quality every time. They come equipped with 300 W peak power and surround sound. You get a brushed black vinyl finish with 10 inch speakers. You also get a phase feature control that allows you to adjust the sound.
3. BIC America F12 12-Inch 475-Watt Front Firing Powered Subwoofer
The Bic America is an impressive home theater subwoofer for your movies and videos. They offer a 12 inch speaker with an amazing 475 W sound amplifier. It also has the ability to eliminate port noise to optimize your sound experience. They offer inputs from Dolby Prologic and Dolby Digital with a (5) year limited lifetime guarantee.
4. Polk Audio PSW10 10-Inch Powered Subwoofer
If you're interested in a portable high quality subwoofer for your DJ events, you'll want to try the Polk Audio 10 inch powered subwoofer. More importantly, they are safe for playing at an extremely loud volume. Get the high powered sound when and where you need it. You also gte a built-in high current amplifier to protect your speakers.
5. Pioneer SW-8MK2 Andrew Jones Designed 100-Watt Powered Subwoofer
Experience big bass with the Pioneer SW high powered for sound. In fact, Pioneer is well known for their quality sound speakers. Their 8 inch low throw offers a lower frequency than traditional speakers. Their signature crossover allows you to add their subwoofer to any speaker with ease. They ensure their customers a high end sound experience that will include superior sound detail.
6. Dayton Audio SUB-1000 10-Inch 100 Watt Powered Subwoofer
Enjoy a Dayton Audio SUB that are great for listening rooms and home theaters. They make your home theater bass effects perfect for your favorite movie or video. Their bass reflex reduces the port sound and gives you a professional sound quality that is built to last with obtrusive craftsmanship.
7. Audioengine S8 Black 8-inch Powered Subwoofer
Their 10 inch subwoofer with Audioengine White gives you 100 W housing shaking sound qualities with 12dB electronic low pass filter to optimize your sound frequency. However, their independent volume control gives you complete authority over the sound. Their phase switch is remarkable for giving your a unique way to reduce port noise and get an even sound throughout the room.
8. Polk Audio PSW505 12-Inch Powered Subwoofer
Amazingly, the Polk Audio 12 inch is crafted with a unique veneer finish. Their slot side load venting improves the bass response. You'll get the perfect blending of any main speaker each time. The offer high powered gut-rumble and boom with their subwoofers. The LFE is great for low bypass frequencies.
9. Velodyne Optimum Series 12-Inch Subwoofer Enclosures
Get thunderous bass that delivers quality amplified sound by using the superior Velodyne Optimum 12 inch subwoofer. They have an adjustable low bass crossover to eliminate the threat of port noise and gives their customers even linearity. You won't be disappointed with the high ranking sound that it delivers. They understand the need for high quality sound with your music.
10. Energy ESW-C8 8-Inch Subwoofer
The Energy ESW C8 is an 8 inch subwoofer that will immerse you in sound. They have a 300 W high powered output capabilities that will allow you to extend your sound to 450 W. Their subwoofers are tight, precise, and accurate for a quality sound for your movies, music, and games.
Their are many home theater subwoofers to choose from that will tailor your sound. You never have to worry about missing a thing because you have the option of choosing a unique sound for your specific needs. Each of our reviews are high powered subwoofers for a remarkable surround sound.