Best Scented Jar Candles Reviews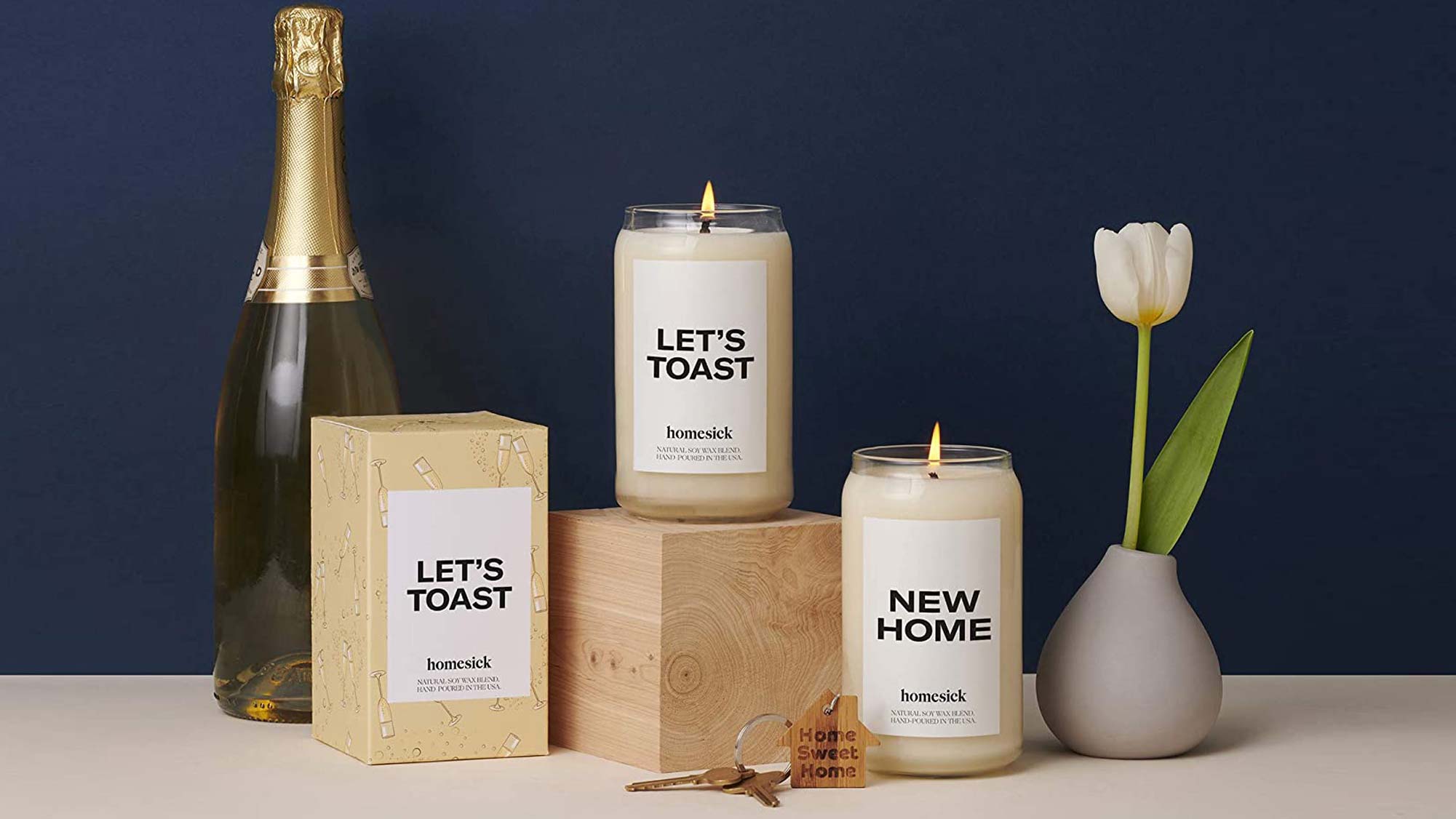 Whether you're an avid decorator or a minimalist, every home needs a pleasant scented candle to liven up the living space. There are so many new brands and scents to choose from these days, that finding the best candle for your home can become a difficult decision. Jar candles are generally large and burn for hours. They also look nice, and often make great decorations, even for people who don't burn candles very often.
1. Legacy by Root, Queen Bee jar candle in Apple Harvest.


Made of beeswax and other premium, natural waxes, the Queen Bee jar candle produces up to 100 hours of fragrance. Root candles contain no petroleum or paraffin waxes and a come with a cotton wick that self-extinguishes for safety. The Apple Harvest scent is fresh and green, with lovely notes of McIntosh apples.
2. Festive Holiday Jar Candle Gift Pack in Sassy Sangria and Spicy Pumpkin


This candle gift pack contains two delightful, fall scents. Sassy Sangria has a cranberry and orange scent, similar to a fruity cocktail. Spicy Pumpkin has notes of cinnamon, nutmeg and clove. You can give one to a friend, or keep them both for yourself. These candles are packaged in adorable, fall-themed jars and come with a handy wick-dipper, that allows for smoke-free extinguishing.
3. Shortie's Candle Company, Bakery Candles Collection jar candle in Chocolate Fudge Brownie


Shortie's Candle Company has an entire line of bakery scented jar candles. These 16 oz. candles are hand-poured and made of a paraffin wax-blend, and both natural and essential oils. They are designed to burn evenly for up to 110 hours, and fill the entire room with delicious bakery scents.
4. Colonial Candle, oval jar candle in Fine Merlot


This two-wick candle has a fruity and spicy scent, just like a glass of merlot wine. The extra wick allows for an even burn and extends the life of the candle. This brand also includes easily removable labels. This is particularly nice if you want to reuse the jar after the candle has finished burning.
5. Glade jar candle in Angel Whispers


Glade is well-known for creating long-lasting home fragrances. This candle has a fruity floral scent that quickly fills the entire room. These candles are smaller than your average jar candle, burning for 28 hours. However, their scent continues to linger even after the flame is extinguished.
6. Paddywax Candles, Apothecary Collection jar candle in Verbena & Eucalyptus.


The apothecary collection from Paddywax Candles is perfect for anyone looking for decorative jar candles. These candles are hand-poured into vintage style apothecary containers. An artisan candle company located in Tennessee, Paddywax is known for creating handmade candles with absolutely no synthetic fragrances. These 8-ounce candles will burn for up to 60 hours.
7. Village Candle, large glass jar candle in Mulled Cider.


Village Candle's large, 26 oz. jars burn for up to 170 hours. They are made of food-grade paraffin wax and include two wicks, which increases burn time. The mulled cider scent is fruity, spicy and reminiscent of fall.
8. Chesapeake Bay, Mind and Body Collection large jar candle in Confidence and Freedom
This natural soy wax blend candle is a spiritual experience for the mind and body. With notes of crystal marine, lavender, sage, cedar and spice, the scent is calm and relaxing. It comes in a large frosted jar with a wooden lid, making an excellent decoration that will burn for up to 70 hours.
9. Our Own Candle Company, Very Berry scented mason jar candle.
This large candle comes in a mason jar, with three layers of delicious berry scents, including strawberry, raspberry and grape. Specifically designed to avoid wasting any wax, the candle will burn for up to 100 hours. It is made from a blend of soy and paraffin waxes and produces a long-lasting scent, that lingers even after the flame is blown out.
10. Candle Impressions, Real wax Flameless LED mason jar candles.
These LED candles have no flame and no scent, but light up and flicker just like real candles. Perfect for homes with small children, or anyone who just wants the decorative feel of a candle without the scent. They run on a timer, which allows you to decide when you want them lit. Candle Impressions has the most realistic flicker and the longest battery life of any LED candle on the market.
So, if you are a decorative candle kind of person, Paddywax Candles trendy apothecary jars are the way to go. However, if you are a real candle-lover, and you're looking for a long-lasting candle with a strong scent, Village Candle's large jar candles are your best option. They are huge, and their two-wick design allows for a smooth and even burn. Also, because they are made of a high-quality paraffin wax, Village Candles throw scent farther than many of the other brands listed. Not to mention, that the Mulled Cider aroma will leave your home smelling like a freshly baked apple pie.
Best Sofa & Couch Throw Blanket Reviews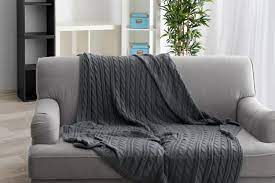 These throws are designed for wherever you want to use them: couch, car, chair, sporting event; take your pick and relax. Increase your enjoyment of an evening with a comfortable, cozy throw.
1. 
Chanasya Super Soft Fuzzy Fur Faux Fur Cozy Warm Fluffy Beautiful Color Variatiion Print Plush Sherpa Dark Gray Fur Throw Blanket -Charcoal Gray Waivy Fur Pattern
Beautifully designed comfort for relaxation. Sit back and reduce the strain on your heating bill with a comfortable, no shedding fur faux throw. Manufacturers offer customers a two-year warranty for a soft easy to use and clean covering. The throw feels snuggly and looks wonderful it is, 65"X 50" from -100% polyester fabrics. Suitable for the couch chair or a toddler's bed the fabric is machine washable and dry. Cozy up and watch television or use as a backup covering for those extra chilly nights. These throws give fuzzy warmth when you want to sit and relax without the cover of a large blanket. Turn the heat down a bit and still feel cozy..
2. 
Bertte Ultra Velvet Plush Super Soft Decorative Stripe Throw Blanket
Made from polyester, this super soft throw is 50"X60" in size. Materials are both imported and made in America. Materials are fade proof, shed proof and do not shrink. The throw is gray and matches many interior designs. Place this throw over your or couch or chair so it is waiting for you when you want to feel luxuriously cozy. Throw this decorative throw into the wash and it will come out looking and feel just as soft. Use this faux fur year round.
3. 
Northpoint Cashmere Velvet Reverse to Cloud Sherpa Throw
This lovely throw is a strikingly fine-looking charcoal gray. Sized at 50"X 60" it is just the thing for a cozy evening. Cashmere is the ultimate material for warmth. The lamb's wool softness is great for the couch but makes a gorgeous and cozy asset at a sporting event. The throws are sold in six vibrant colors. They are designed from high sheen materials that are machine washable remarkably soft to the touch.
4. 
Cozy Land® Luxurious Super Soft and Plush Throws, Hand-Braided Fringe, Popular Neutral Colors, Large Size, Heavy Weight
Cozy Land offers a throw with "Hand-Braided Fringe" in neutral colors for all decorum's. Use a lovely charcoal gray for the living room and another color for your bedroom. They are soft, warm and tough. Use this throw every day. It does not shed, pile and is oversized at 51" X67". It is thick but light and best of all, if you have a pouch dog hair does not stick to the throw. The 100% polyester is machine washable.
5. 
Bedsure Sherpa Blanket Throw Blankets Bed Blankets, Soft Cozy and Warm
This throw cover is reversible with a fuzzy texture, sold in two sizes, 60"X80" and 50"X60". Use this soft flannel faced Sherpa blanket in light blue, purple, brown or navy. The flannel top is made of 220 GMS and the Sherpa reverse a 280 GMS. These materials create a soft lightweight throw. Bedsure offers a five-year warranty and a 30 return policy to customers on this lovely easy to care for throw. It is resistant to wrinkling and shrink resistant. The double material is bound together with knit edging in a lovely design.
6. 
BOON Knitted Tweed Throw Couch Cover Blanket
Change the look of a room with this throw. It is 50″ x 60″ in gorgeous silver. This 100% polyester loose knit throw is soft and yarns are adjustable. The throw is available in multiple colors. When cleaning wash in cold water and do not bleach this material, a wonderful throw for taking a snooze.
7. 
DOZZZ Super Soft Flannel Blanket Warming Throw Blanket for Couch Light Weight Plush Velvet Throw NAVY BLUE Blanket Machine Washable Fur Faux Blanket
This flannel throw is light plush velvet in gorgeous navy blue. It is polyester faux fur sized 78"X 58". Colors shimmer and do not fade. It is multi-seasonal and durable. Use this throw in the dorm, on buses or take it for added warmth on a camping expedition. Use cold water when washing and low heat for drying.
8. 
Brielle Cozy Cable Knit Throw with Sherpa Lining
This throw has a Sherpa Lining designed in a cozy 50″ X 60″ gray color. The face is 100% acrylic and on the reverse panel; it is Sherpa. These materials are imported and done in cable knit. Wash this throw in cold water and dry on low heat. If you decide to wash by hand that would give the bet results.
9. 
Luxurious Yellow and White Oversized Chevron Throw Blankets
Blankets are cut in 60″ x 70″ sizes in easy to clean polyester material. It is thick but weighs nearly nothing, yet, it is extremely warm and comfortable. Blankets are reversible and have a unique mink face visible on each side. Material suffers from no shrinkage, unraveling or fading. Throws are large enough for two, great for travel.
10. 
HS Velvet Plush Throw, Home Fleece Throw Blanket
Skillfully sized at 50 by 60-Inches in rich Ivory, the throw is made of durable 100% polyester microfiber and soft to your skin. The plush throw is warm and threads do not botch when washing. Materials are lightweight and durable for every season. The velvet throw is machine washable with low heat drying, great for casual comfort.
These throws give fuzzy warmth when you want to sit and relax without the cover of a large blanket. Turn the heat down a bit and still feel cozy.
Choosing the Best Mattress for Lower Back Pain
For those who have sitting work or feel discomfort in the back, it is recommended to approach the arrangement of their sleeping place in a very responsible way. Do not choose a mattress based on rumors and recommendations of non-professionals.
They often say that for a problematic back you need to buy a mattress with a high level of rigidity, but this is not entirely true. A hard mattress does not adjust to the natural curves of the spine, and this can cause additional problems.
Based on information from Rest FAQ, if you have osteochondrosis or intervertebral hernia, it is recommended to refuse from very hard mattresses, as they can have a negative effect on your health.
There are several key features that you should pay attention to when choosing a mattress, if you have problems with your spine. Below we will look at important points related to this topic. Which mattress is suitable for a bad back? Why is a stiffened sleeping place a bad choice for everyone?
The negative sides of hard mattresses
You will not feel any relief when using hard mattresses, as they prevent the relaxation of the muscle corset, respectively, the muscles do not relax and can't rest during sleep.
Body-surface interaction points
The maximum load on the mattress is formed in the hips, pelvis and shoulders areas. A hard mattress is not able to respond smoothly to pressure and the reverse effect will bring you a high level of discomfort. At the points of maximum pressure, blood vessels and nerve endings are clamped, which leads to numbness. In any position, you will feel discomfort and a desire to roll over to the other side. Comfortable poses do not exist at all, when using too hard mattresses, which leads to sleepless nights.
Low orthopedic rates
The lack of flexibility and elasticity in a hard mattress significantly reduces the possibility of proper support of all parts of the spine in the anatomically correct position. The rigidity on the entire surface of the product is the same, while the neck requires a completely different level of support than, for example, hips or shoulders. It is a high level of rigidity that creates a feeling of discomfort and can lead to an aggravation of existing diseases or the emergence of new ones.
You can feel a significant increase in backache, as the body on its own adapts to a hard bed by tensioning the muscles in the key parts of the spine – hips, shoulders, etc. as a result, tiredness and poor health will accompany you all day long.
Poor adaptability
As mentioned above, an increased level of rigidity is not able to adapt to different levels of load. As a result, some parts of the body will lack support, while others, on the contrary, will in be excess of it. A good, correctly selected orthopedic mattress is able to adapt to your body, gently repeating its shape.
The right level of rigidity for a bad back
A sleeping place that does not suit you will not help to improve your well-being with back diseases, and may even worsen your condition. Using a too soft mattress additionally loads the muscles, since it is not able to withstand the load. The muscles and spine will be tensed in the same way as when you are awake, and this prevents you from rest and recovery. Such a choice can provoke an exacerbation of certain diseases.
According to studies, the best mattress for a bad back is not too soft and not too hard. The rigidity of the mattress must be selected so that your spine is in a natural level position.
Pain relief can only be achieved if your muscles can  relax completely, the blood circulates well and you do not wake up during sleep. The ideal level of rigidity for a bad back is medium, which provides the right support and comfort.
Too hard. A lot of pressure is allocated on the shoulders and hips, while the lower back remains without support.
The spine is in an unnatural position.
Too soft. An excessively soft or old crushed mattress creates a hammock effect.
The spine bends and is in the wrong position.
The correct position of the spine. The whole body is maintained evenly, the mattress repeats all the shapes of the body.
The anatomically natural position of the spine is provided.
Unfortunately, there is no single standard for manufacturers regarding rigidity. But experts all over the world are inclined to believe that for people with diseases of the musculoskeletal system it's best to choose medium rigidity indicators, focusing on the recommendations of doctors and their personal feelings. It's the approach that will help you feel better and  recover fully after sleep.
What does the word "orthopedic" mean
Orthopedic mattresses guarantee the correct support of the spine,  adjust smoothly to the shapes of the human body, allowing it to relax completely during rest. Exactly such features can reduce pain and discomfort when you have osteochondrosis and other diseases.
Beware of unverified manufacturers who only attribute "orthopedics" to their products, but are actually trying to sell you ordinary low-quality mattresses. This trick is used by marketers to increase the value of the goods. Unfortunately, it is often very difficult to distinguish an orthopedic mattress with good characteristics from a typical fake, which will not help you improve your well-being when having some diseases.
Spend enough time to study and choose the perfect option. Each person has his own anatomical features that must be considered when buying such an important household item. Only testing will help you navigate among the very wide range that is offered on the market.
Findings
For back diseases or even with minor pain in this area, it's best to focus on the medium level of rigidity, since it is the most universal. An inappropriate mattress can only aggravate your condition, and choosing the right one will alleviate pain and relieve discomfort. Among fillers, pay your attention to those that improve comfort, for example, latex, memory foam with memory effect and others.
Choose a harmonious combination of body support and coziness for yourself to feel how your health is improving day by day!
Which mattress is recommended for back diseases by doctors
We recommend that you follow the doctors' advice!
Scoliosis
For prevention: orthopedic mattresses with medium or high degree of rigidity.
When having the disease: a springless mattress from artificial latex, natural latex or orthopedic foam, as well as mattresses with alternating layers of latex and coconut coir.
For children and teenagers: springless orthopedic mattresses.
Osteochondrosis
Middle-aged people – medium rigidity, older people – soft.
Important: both very hard and very soft mattresses are contraindicated.
Osteoarthrosis (osteoarthritis)
Soft models are contraindicated. An ideal sleeping place would be a Memory foam mattress on a rigid base made of polyurethane foam. It is recommended to fall asleep on your side, in a " fetal position." It is advisable to buy a bed with an adjustable mechanism for lifting the head and legs.
Intervertebral disc herniation
Doctors often recommend soft or medium-hard mattresses. You can consider products with different rigidity of the sides, so that you can sleep softly when the condition worsens, and on a more rigid side when you are fine. It's best to buy a mattress made of natural latex or with blocks of independent springs.
Sciatica
Sleeping is recommended on a medium rigidity mattress and a low pillow. Tension on tissues and organs can be relieved by such materials  as natural latex or memory foam.
Radiculitis
Hard mattresses are absolutely not suitable. Choose medium rigidity with independent spring units, preferably with merino wool for warming up the affected areas. The mattress should repeat the shapes of the body and adapt to the load in different points.
Bosch CLPK232-181 Vs. CLPK232A-181 Cordless Drill Driver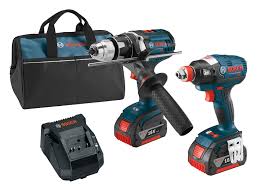 Thinking of buying Bosch power tools? It may be a relief for you to know that Bosch has a great reputation for producing durable tools that deliver exceptional performance. Having a Bosch tool for your tasks would surely be of great help.
But if you are confused whether to buy a drill/driver or an impact driver, we have a practical answer: why not have both!
With Bosch CLPK232-181 or CLPK232A-181 you will have not just two powerful cordless tools but also the needed batteries, charger and even a bag that can fit all thesecomponents. These two are examples of a 2-Tool Combo Kit from Bosch that feature a drill/driver and an impact driver. Having this kind of combo kit allows you to work through different types of tasks around the house or even in a construction site.
Interesting, right? So let's dive on and discuss these two 2-Tool Combo Kits from Bosch.
Let's Compare Bosch CLPK232-181 vs CLPK232A-181 
1. Bosch CLPK232-181 18V 2-Tool Combo Kit (Drill/Driver & Impact Driver) with (2) 2.0 Ah Batteries