Best Distance Measuring Wheels Reviews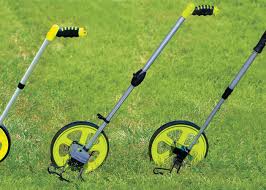 Picking the proper distance measuring wheel for your job, or project comes with its own set of challenges. Distance measuring wheel's come equipped with all sorts of features. From large projects down to small, we've reviewed a list of the best distance measuring wheel's that will perform how you expect them to. From long distances to short we review the best distance measuring wheels that will aid you in accomplishing projects both big and small with great accuracy.
1. TR Industrial 88016 FX Series Collapsible Measuring Wheel
Measuring up to 9,999 feet and has a wheel diameter of 12 inches. Has a heavy duty quality for use on a variety of surfaces(gravel, dirt, grass). It's made of stainless steel and measures in feet and inches. The counter has large clear numbers on it making it very easy to read. When you need to get a measurement or stop using it for a moment the built-in kickstand allows you to leave it standing right where you want it. The measuring wheel collapses down to 1 foot and 4 inches, fitting perfectly in the carrying bag it comes with. The reset button allows you to readjust if you need to.
2. Keson RR418 Road Runner Outdoor/Long-Run Wheels
This is a light weight distance measuring wheel capable of measuring up to 9,999 feet. It has a three section handle, extending out to 38 inches and all the way to 17 inches easily fitting in a tool box for storage. The magnified counter makes reading your measurements easy. The contoured handle gives great maneuverability for all your projects. This is a good Distance Measuring Wheel for small projects.
3. Komelon MK6012 Meter-Man 19-Inch Measuring Wheel
This Distance Measuring Wheel has a gear-driven counter that measures in feet and inches. Capable of measuring up to 9,999 feet for large projects. With its push-button reset, easily adjust yourself when you need to without bending over each time. The pistol-grip handle is nice and allows you to keep your grip. The diameter of the Distance Measuring Wheel is 19 inches, allowing you to cover long distances and rough terrain.
4. Calculated Industries 6435 Wheel Master 4D Dual Measuring Wheel
This is a good Distance Measuring Wheel for indoor use. The handle extends out to 42 inches giving you plenty of room to move. The handle collapses down making this Distance Measuring Wheel ideal for storage in compact spaces. It measures in feet and inches of up to 9,999 feet.
5. Rolatape RT312 12-inch Measuring Wheel
Aluminum design, pistol grip and collapsible for easy storage. The Distance Measuring Wheel has a counter that reads as small as 1 inch increments. The 12 inch diameter wheel allows it to traverse tougher terrain smoothly, and measures up to 9,999 feet. When you need to, the kickstand comes in handy for taking a break or adjusting yourself. Measures in feet and inches.
6. AdirPro 715-05 Digital Measuring Wheel with Large Digital LCD Display and Free Carrying Bag
The large digital back-lit LCD display makes reading measurements easy. Measuring in feet, meters, inches, hundredths, and centimeters get accurate readings up to 9,999 ft. Switch between measurements easily, without having to retrace your steps. The plastic design makes this a very lightweight wheel. This distance measuring wheel comes with waterproof and dust proof buttons so messy areas are not problem. The on-board memory allows you to store up to 5 of your previous measurements. Comes with a carrying bag for storage when not in use.
7. Komelon MK4512 Meter-Man 14-Inch Measuring Wheel
This is a good wheel for light use indoors and outdoors. Measures in feet and inches up to 10,000 feet. The adjustable twist and lock pistol-grip handle extends up to 36″. The counter on this one really shines with a 5 digit display and push to reset button, not necessary to bend over when resetting like other distance measuring wheels. Comes equipped with a kickstand which makes stopping and going a breeze.
8. WALKING WHEEL TAPE MEASURE 1,000′ FOOT Measuring Tape Adjustable Handel
This is a really good indoor distance measuring wheel for personal or indoor use. The 5.5 inch wheel diameter measures up to 1,000 feet. Ideally, this would serve as a good backup. Made of aluminum and with rubber on the wheels it can traverse smooth surfaces fast. Has a built in 4 digit counter as well as a reset button in case you need to readjust.
9. Komelon ML1212 Meter-Man 4-Inch Measuring Wheel
The wheel on this distance measuring wheel have been designed to be corrosion resistant. The 5 digit counter measures up to 10,000 feet with a 4 inch wheel diameter. Comes equipped with a magnified lens reader for improved readability. It's gear-driven counter, making it much more accurate. This is ideal for indoor measuring on smooth, hard surfaces.
10. Calculated Industries 6540 Wheel Master Pro 12 Commercial Grade Feet-Inch Distance Measuring Wheel
The handle on this distance measuring wheel extends out 38 inches, making it the second longest handle in our list of reviews. The push-button reset makes it easy to adjust your measurements. The wheel is 12.5 inches in diameter and can measure up to 9,999 feet. The reader shows feet and inches only. The gears on this wheel are sealed, protecting them from the elements. The handle also has a cool hand brake allowing you to slow down accurately when you need to pop up the kick stand.
Conclusion
Of all the wheels we just covered, I consider the AdirPro 715-05 Digital Measuring Wheel with Large Digital LCD Display and Free Carrying Bag to be the most versatile. From indoor to outdoor use it can measure multiple units of up to 9,999 feet. From feet to meters it can measure both, down to hundredths and centimeters. Flawlessly switching between each unit without having to retrace your steps. Equipped with the on-board memory, it saves up to 5 of your last measurements for you. The buttons are water and dust proof so getting messy is no problem for this wheel.
Best Streamlight Stinger LED Rechargeable Flashlights Reviews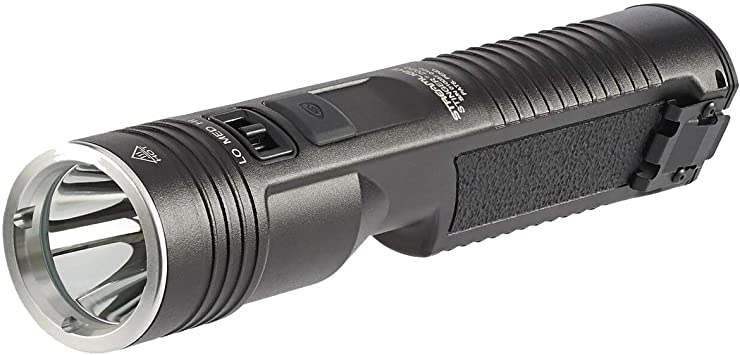 Deciding on which Streamlight Stinger LED Rechargeable Flashlights to get comes with its own set of challenges. Light intensity, battery life, water-resistance and impact resistance are all factors you need to look out for. We've done all the hard work for you and have reviewed what we believe to be the best Streamlight Stinger LED Rechargeable Flashlights available.
1. Streamlight 78014 Ultra Stinger Flashlight with 120V AC/DC Charger and 2-Holders
With up to 1 hour of continuous use able at 295 lumens this is a perfect beginners flashlight. Made from aircraft grade aluminum and comes with a unbreakable and scratch-resistant lense. 3 different lighting modes allow for your ideal amount of light intensity from the xenon-halogen gas-filled bulb.
2. Streamlight 75856 Stinger DS LED High Power Rechargeable Flashlight with 120-Volt AC/12-Volt DC Fast-Charge Piggy-Back Charger

This flashlight comes with up to 473 meters of distance at up to 350 lumens. On low settings its capable of up to 7.25 hours of battery life. If you need more light, it comes with 3 adjustable lens settings and intense DS LED bulb. Rated IPX4 for water resistant capabilities. Fast charging capabilities give it the edge over other LED rechargeable flashlights.
3. Streamlight 76813 PolyStinger DS LED Flashlight with 120-Volt AC/DC Charger
With C4 LED bulb blasting up to 385 lumens this light gets bright. Rated IPX4 durability for water resistance and tested for up to 3 meters of impact resistance. On low this light is capable of up to 7.5 hours of life and features a strobe light function as well.
4. Streamlight 74751 Strion LED High Lumen Rechargeable Professional Flashlight with 120-Volv AC/12-Volt DC Charger and 1 Charger Holder
Fully recharge this flashlight in as little as 3 hours. The lithium ion battery is protected from over charging with built-in overcharging prevention on the charger. Lithium-ion batteries tend to lose effectiveness overtime from over-charging, so this allows you to get more out of your light. Runs up to 3.5 hours and is capable of 500 Lumens of light on 3 different settings and strobe. It's water-resistant and tested for 2 meters of impact resistance.
5. Streamlight 2496838 Strion LED High Lumen Rechargeable Professional Flashlight with 120-Volt AC/12-Volt DC Charger and 2-Holders
This flashlight also prevents over charging and charges fully in just 3 hours. The 500 lumens light can blast out to 200 meters. With the standard 3 different light modes and strobe. The flashlight is protected from water with an IPX4 rate and tested for 2 meters of impact resistance.
6. Streamlight 75712 Stinger C4 LED Rechargeable Flashlight with NiCad Battery and 12V DC Charger
This flashlight is capable of up to 350 lumens of intensity. On low, you can get 6.5 hours of use out of this light. Featuring 3 different modes (low, medium, high) and strobe you'll find that it does a good job of getting light where you need it. The lens is durable and built with scratch resistance and is rated unbreakable by the manufacturer. The flashlight is water-resistant and impact resistant of up to 1 meter.
7. Streamlight 77556 UltraStinger LED Flashlight with 12-Volt DC Fast Charger
The brightest light in our review is this one coming in at 1,100 lumens of intensity. Built with a rubber grip and and aluminum body it's very durable. Offering up to 3 meters of impact resistance and IPX4 shielding it from water as well. Its capable of 3 modes and strobe.
8. Streamlight 75763 Stinger LED HPL Flashlight with 120V AC/12V DC Chargers
Coming in at the second brightest in our series, is this flashlight. Up to 740 lumens and capable of up to 7.25 hours of use. It's water resistant with an IPX4 rating and can take up to 3 meters of impact. The lens is unbreakable, made with Poly-carbonate and a Scratch-Resistant Coating, sealing it off with an O-Ring for added protection.
9. Streamlight 75434 Stinger LED High Lumen Rechargeable Flashlight with 120-Volt AC/12-Volt DC Piggyback Charger
Featuring NiMH batteries but also compatible with NiCd batteries as well. This flashlight comes in with an expected life of around 4 hours. At 640 lumens of intensity capable of hitting up to 297 meters of distance. Has 3 light modes with strobe giving you the choice between low, medium, and high settings. The lens is scratch resistant and rated unbreakable. Comes standard with an IPX4 rating for water-resistance and up to 1 meter of impact resistance.
10. Streamlight 75458 Stinger DS LED High Lumen Rechargeable Flashlight with 120-Volt AC/12-Volt DC Piggyback Charger
The last in our series of reviews is a flashlight with up to 640 lumens of instensity. IPX4 provides water resistance and also designed to prevent damage from impacts of up to 1 meter. Light capabilities of up to 640 lumens and 3 different settings to choose. Comes standard with strobe light capabilities as well. This flashlight is also compatible with NiCd batteries.
Conclusion
Of all the reviews we just did the best has to be Streamlight 74751 Strion LED High Lumen Rechargeable Professional Flashlight with 120-Volv AC/12-Volt DC Charger and 1 Charger Holder. Simply put, the over-charging feature is really impressive and will allow you to extend the life of your flashlight. Lithium batteries have a tendency to lose effectiveness over time when they're overcharged, so this overcharging feature is very important.
It packs up to 500 lumens of intensity giving you a perfect amount of brightness for anything. It comes with the standard 3 modes and strobe as well. It's water-resistant and impact resistant of up to 2 meters and can run for as much as 3.5 hours. It's designed for durability from both the elements and your own use making it the clear winner.
Best Baitcasting Fishing Reels Reviews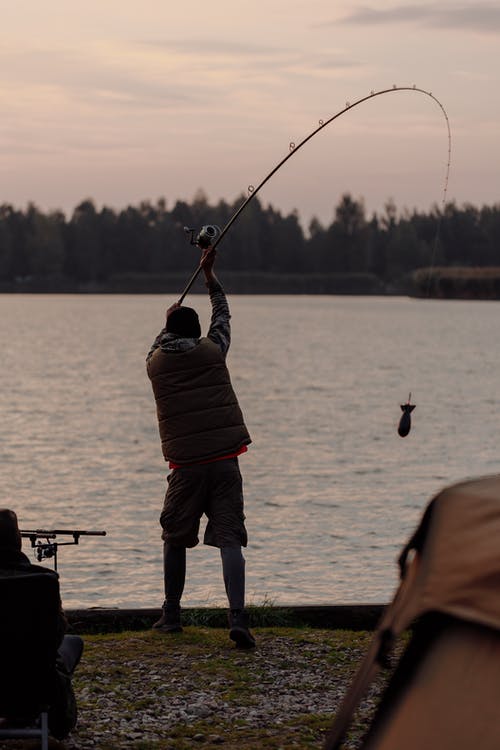 Fishing is a favorite hobby for many. However, many don't understand the time and effort it takes to pick the right equipment. From the right fishing gear, rods, and bait-casting reels, choosing the right fishing equipment is essential when trying to catch that big trout. A good bait-casting reel is ideal when trying to catch larger fish. The only thing needed to maintain the life of your bait-casting reel is keeping it clean. So now lets get into the best baitcasting fishing reels for your fishing experience.
1. Lew's Fishing Tournament MB Baitcast Reel
Featuring the innovative dual-braking MSB (Multi-setting brake) system, featuring both a magnetic cast control and a centrifugal braking system The Lew's Fishing Tournament MB baitcasting reel is among one of the people's favorites. For many the MSB makes tuning effortless and easier for all conditions. This rod is highly recommended as casting is smooth as silk and the drag is incredibly strong.
2. KastKing Stealth Baitcasting Reel – All Carbon Baitcaster Fishing Reel
Beating the quality and price for this baitcasting reel is unmatched. The KastKing Stealth all carbon 6oz super light weight reel is faster, stronger, and lighter than many of the other baitcasting reels. The design, sheek cool look sets itself apart from the rest. Being 20% lighter it is more powerful, smoother and gives a sure grip EVA knobs to give the highest performance.
3. Penn Fathom Star Drag Conventional Baitcast Reel
Strength and endurance is what is needed for this baitcasting reel. The cracking power and free spool is amazing. Featured as being the most castable reel in the market place the Penn Fathom star drag conventional baitcasting reel has stood the test of time. The improved configuration allows the spool to spin independently of the spindle and pinion gear, which significantly reduces friction.
4. Noeby Baitcasting Fishing Reel 10+1 Ball Bearings Casting Reel Right/Left Handed Baitcast Fishing Reel Baitcaster

Any skill level can use this reel. The Noeby baitcasting fishing reel has a nylon plastic body, a stainless steel bearing, CNC machined aluminum spool and brass gear. The Ultra light weight design with super smooth performance, and has a removable quick release side plate for fast spool. This reel is built with a magnetic cast control to allow you to put your lure in the fish zone irrespective of the wind and weather.
5. KastKing Rover Round Baitcasting Reel – No. 1 Rated Conventional Reel – Carbon Fiber Star Drag – Reinforced Metal Body & – 2016 Rover RXA Conventional Reel Inshore and Offshore Saltwater and Freshwater Reel
Low price & High Quality is what KastKing Rover Round Baitcasting Reel has to offer. The schematic parts list included is going to be beneficial. Between it's hard anodized aluminum side plates and spool this reel is shown it's versatility side. The line out clicker alarm and premium shielded stainless steel deep race ball bearings are ideal for smooth operation.
6. SHISHAMO Upgrade Baitcasting Reel 17+1 Ball Bearings Left Hand Right Hand Bait Casting Fishing Reels Coil Gear Ratio 6.3:1 Baitcasting Reel
The Shishamo upgrade baitcasting reel is 17 ball bearings + 1 one way clutch bearing is great for the power needed to hook a fish. The Shishamo is set apart from the rest as it's power disk drag system gives a smooth drag performance. It's super silent high speed helps on low maintenance. However, it doesn't seem to have the rubber gaskets on it to keep dirt and dust out of the interior of the reel so proper maintenance is imperative.
7. KastKing Royale Legend Baitcasting Fishing Reel – Perfect Baitcasting Reel
The tournament ready KastKing Royals Legend Baitcasting reel is superior. The performance and the low profile design bait caster with a super silent high speed 7.0:1 line retrieve will make fishing worth wild. Also, the proven 11+1 shielded MaxiDur Corrosion resistant ball bearings for super smooth casting, retrieve, and long life. Dynamic two color anodized aluminum forged multiported whiffle-style spool offers maximum strength while reducing weight. This reel is great for anyone who is beginning to fish.
8. Abu Garcia Low Profile Baitcast Fishing Reel
The Quietness and smoothness of this bait-casting fishing reel is almost unbelievable. If your looking for a baitcassting fishing reel that has went through all the tests for durability and quality then Abu Garcia low profile baitcasting fishing reel is it. It is compact with bent handle and star to use provide a more ergonomic design. The coated line guide reduces friction and improves durability.
9. Entsport Titanium Alloy Casting Reel Saltwater Low Profile Baitcasting Fishing Reel 10+1 Ball Bearings Baitcast Reel Baitcaster Fishing Reel Baitcaster Magnetic Braking System Baitcasting Reel

If your looking for a surprising reel that surpasses the others on every aspect the Entsport Titanium Alloy casting reel saltwater low profile baitcasting fishing reel is the pick. The magnetic braking system is ideal. For this reel to have long life it has a CNC machine aluminum spool with large line capacity. The smooth and reliable star drag system offers plenty of shopping power. The balanced aluminum handles with over sized comfortable non SLS EVA foam soft grip, provide comfort for all day use.
10. Piscifun Thunder Baitcasting Reels Aluminum Saltwater High Speed 7.1:1 Baitcast Fishing Reel Baitcaster with NMB Ball Bearings Reel

The Piscifun thunder baitcasting reel is ideal for saltwater fishing. In the Spring seasons the particular reel is perfect for every angler. The two piece Japanese high speed precious stainless steel provides increased corrosion protection. A major benefit with the Piscifun is the aircraft grade graphite side plates which provides increased scratch resistance. Since casting weights vary some rely more on the thumb than braking systems with this particular reel. Make sure that the owners manual is included before purchasing this baitcasting reel.
These are the best baitcasting fishing reels out there. Durability, power, and fishing reel maintenance are going to be some of the features of interest. After reading this article I hope that you are able to narrow your choice and have a great fishing experience.
Best Outdoor Portable Wireless Bluetooth Stereo Speakers Reviews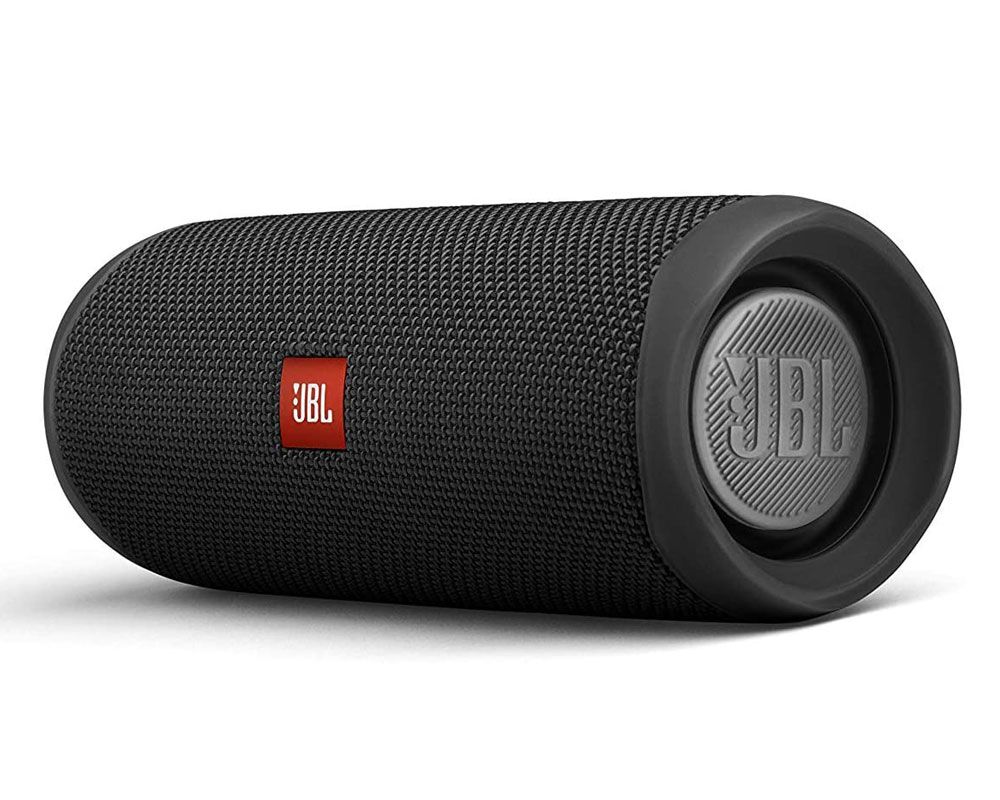 With all the Outdoor Bluetooth Speakers available, how do you know which one is best for you? Outdoor Bluetooth speakers come in all shapes and sizes, they're great for parties, cookouts, events, and even casual leisure on the deck. Their portability and wireless capabilities make them easy to set-up with your favorite Bluetooth enabled devices. Whether you prefer better sound quality, price, longer lasting battery, or a mix of all three there are plenty of choices for you today.
What to look for
With advances in battery capabilities, audio capabilities, and environmental durability, Outdoor Bluetooth Speakers have proven to hold their own if you know what to look for. However, not all speakers are made the same. The hard work in determining what's right has been done for you and broken down in our list of the best outdoor portable wireless Bluetooth stereo speakers.
1. Outdoor Tech OT1800 Turtle Shell 2.0 – Rugged Water-Resistant Wireless Bluetooth Hi-Fi Speaker
The turtle shell 2.0 is a very impressive speaker that is designed to be shock, water, and dust resistant making it suitable for messy environments. The speaker comes with a built-in microphone that is perfect for conference calls. If you plan on using the speaker for a long time its Lithium-ion battery lasts up to 16 hours making it the perfect choice for long events. The Hi-Fi Speakers deliver great sound quality.
2. [Water-resistant Outdoor Speakers], Wireless Speakers, Bluetooth Speaker 4.0 with 2 X 3W Stereo Speakers, 3600mah Rechargeable Battery, Microphone, Ipx4 Splash- Proof

This speaker comes equipped with a 3600 mAh power bank, for charging your devices. It is able to be hooked onto pants, jackets, bikes, etc. using the carabiner hook it has built on. Much to your surprise, it is also water and dust resistant so simple splashes or sand won't cause much bother. It can connect up to 33 feet away from your bluetooth device. The battery life lasts around 10 hours and takes 3 to 4 hours to charge, displaying a solid red indicator when you're at full charge and a blinking red light when it is in need of charging.
3. Anker SoundCore Bluetooth Speaker with 24-Hour Playtime, 66-Foot Bluetooth Range & Built-in Mic, Dual-Driver Portable Wireless Speaker with Low Harmonic Distortion and Superior Sound

This speaker comes equipped with a 24 hour / 500 song playtime. This is a massive feat in comparison to other Bluetooth speakers. The range is capable of up to 66 feet, basically double of what you could expect from most other Bluetooth speakers. It has a dual high-performance drivers. You can connect to Bluetooth or use an aux cable. While the bass on this device isn't impressive it delivers clear sound at high levels and for long periods.
4. Omaker M4 Portable Bluetooth 4.0 Speaker with 12 Hour Playtime for Outdoors or Shower

The Omaker M4 Portable Bluetooth speaker comes with a built-in microphone and AFC technology. Designed for use outdoors and in the shower the speaker does a great job at filling the room with clear sound. What the speaker lacks in bass it makes up for in battery life. This is a good speaker for medium-sized rooms and listening with maybe a group of people. The speaker handles well in outdoor activities and carries the sound well and clearly. The speaker can play for 12 hours straight at 80% volume with only a 3 hour recharge time. It can connect to your Bluetooth devices from up to 33 feet away, comparing to other Bluetooth speakers in its price range.
5. AOMAIS Sport II Portable Wireless Bluetooth Speakers 4.0 with Waterproof IPX7,20W Bass Sound,Stereo Pairing,Durable Design for iPhone /iPod/iPad/Phones/Tablet/Echo dot
This portable bluetooth speaker comes with your standard bluetooth 4.0 as well as an audio input line for all your audio devices. It includes a floating accessory with the speaker so you can use it in the pool or at the beach right next to you while you're catching some waves. With the 20W sound capabilities it'll give you a nice listening experience for up to 10 hours of playtime. This speaker has a nifty feature where you can pair it with a second speaker, something most portable bluetooth speakers lack. Like most bluetooth speakers, you can expect to pair your devices up to 32 feet apart.
6. DOSS Touch Wireless Bluetooth V4.0 Portable Speaker with HD Sound and Bass

Equipped with 12W full stereo capabilities via dual drivers this portable speaker gives quality sound at low and high volumes. The bass it delivers isn't too deep but still gives the listener a great experience. This speaker features a built-in microphone so you can make and receive calls. The speaker comes with built-in Micro-SD card slot for playing music and updating its firmware. Connect via Bluetooth or an aux cable for up to 12 hours of music playback.
7. Big Blue Party Indoor-Outdoor Bluetooth Speaker
The Big Blue Bluetooth Speaker has adjustable bass, volume, and treble controls giving you control of your music right from the speaker itself. This speaker is great for parties, both indoor and out. This outdoor portable Bluetooth speaker has the option of either plugging it in or running on battery life for up to 4.5 hours of heavy use and can be up to 33 feet away from your Bluetooth-enabled device. This is a good speaker for events with a lot of people as it comes with four built-in speakers and a subwoofer, sending sound in every direction.
8. Mpow Bluetooth Speaker Portable Wireless with Extral 1000 mAh Emergency Power Bank for Outdoor
This speaker provides an added utility of having a 1000 mAh power bank designed into it. It's a small speaker with a 5W subwoofer and radiator, giving you a little bit of bass. If your sound tastes don't require too much bass then it remains a decent device. With the 1000 mAh power bank, you can charge your phone right from the speaker perfect utility for those who are always letting their phone battery run low. The speaker comes with a 3.5MM audio line as well as Bluetooth, allowing you to use any audio device by simply plugging in the auxiliary cord like you would headphones.
9. Photive HYDRA Waterproof Wireless Bluetooth Speaker. Rugged Shockproof and Waterproof Portable Wireless Speaker
This speaker offers protection from dust, shock, and water. You can enjoy up to 8 hours of battery life with this speaker. The sound output is very pleasant, coming with a sub-woofer and two 40 mm drivers delivering a great sound quality to the listener. This speaker was designed with durability in mind made from aluminum and rugged rubber exterior.
10. Bluetooth Speakers, TaoTronics Stereo 20W Wireless Portable Speaker (Dual 10W Drivers, Dual Passive Subwoofers, Strong Bass, Aluminum-Alloy, Bluetooth 4.0, Built-in Microphone
This speaker comes equipped with two 10-watt speakers and 2 passive radiators giving the listening an impressive amount of bass and overall sound quality. The battery lasts for up to 8 hours on a single charge, but can vary based on the levels you listen to the device at. You can connect to this device from 33 feet away using any Bluetooth-enabled device and also make use of the built-in microphone. As with all new speakers, you should definitely give this speaker a week or two to break-in and see the improvement in quality.
Conclusion
Of all the speakers we covered, I find that the AOMAIS Sport II Portable Wireless Bluetooth Speakers is a really good contender. It offers water-ristance and can be submerged in as much as 1 meter of water for 30 minutes. It comes with a floating accessory making it perfect for a day at the beach or relaxing in the pool. It is also Dust, Shock, and Mud proof making it durable in any environment.
As far as sound quality is concerned the AOMAIS Sport II delivers a great and full sounding sound and bass with its 20W support. From Bluetooth to auxiliary you can connect a range of devices to it hassle free. What really made me love this speaker is the audio pairing capabilities, being able to pair two of these together for a seamless listening experience at every level is definitely an added bonus.