Best Artificial Silk Flowers Trees And Plants Reviews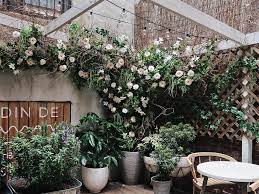 The final touch that makes your home decor look like pottery barn. Many of us wish our living spaces looked more like the furniture catalogs we love. If you look carefully, you'll see that plants are almost always included in their photos of stunning homes. If you have a brown thumb, you've probably already dealt with houseplant disappointment. You buy a few live plants, resolving to water them regularly, only to discover a mini Sahara desert with a few brown twigs several weeks later. Fortunately, high quality silk flowers and plants can bring that magazine worthy charm to your home or office.
1. Vickerman 4-Feet Artificial Capensia Bush in Decorative Rattan Basket

The Vickerman artificial capensia bush gives you a shrubbier plant that is excellent for screening unsightly cords or dressing up smaller areas. Standing 4 feet tall, it's also a good scale for rooms with short ceilings. Its medium textured leaves make a nice backdrop as well. This bush features 504 multi-colored leaves and real wood trunks. The foliage is varied in texture. It comes pre-potted in a rattan basket with natural moss.
2. Nearly Natural 5209 Ficus Silk Tree
The Nearly Natural ficus silk tree is a welcome addition to your conservatory choices. While the live ficus are known for their nasty habit of dropping leaves, you can put your vacuum away and enjoy the slender, delicate look of this 5 foot tree. This full, natural looking tree features over 1008 individual leaves and natural trunks. It comes in a non-decorative plastic pot which is 5.5 inches wide by 5 inches tall. The tree itself is 6 feet tall.
3. Nearly Natural 6584 Corn Stalk Dracaena Decorative Artificial Silk Plant
The great thing about artificial plants is that you can design combinations of plants that would not normally thrive under the same conditions. The Nearly Natural corn stalk dracaena plant offers a bold texture and vibrant green color that pairs very well with more subtle plants. It comes in a basic 8.5 inch plastic container and measures 57 inches tall by 28 inches wide.
4. Nearly Natural 6608 Bougainvillea Hanging Basket Decorative Silk Plant
We all love flowers on the porch, and the Nearly Natural bougainvillea hanging basket will look just as vibrant on your stoop after you've been on vacation for two weeks as it did the day you left. No more asking your neighbors to water, keep your home looking its best with the brilliant pink flowers and vines of this hanging basket. It measures 32 by 32 by 24 inches, and features two-toned foliage and vibrant pink blooms. It is potted in a brown rattan basket.
5. Artificial Flower Purple Lavender Bouquet for Home Decor and Wedding Decorations
Bring to mind the romantic ambiance of France with bouquets of lavender scattered around your home. The Artificial Flower purple lavender bouquet includes 8 bundles. This may seem excessive, but repetition is a very effective interior design concept. Try placing a row of lavender in antique pitchers on your mantle or shelf in a bathroom. The bundle heights are between 14.5 inches and 16.5 inches tall, and each bundle consists of approximately 6-8 stems.
6. National Tree Arborvitae Tree with Dark Green Round Plastic Pot
Replace outdoor potted plants with artificial ones in hard-to-grow spots. The 36 inch National Tree arborvitae tree features sturdy plastic foliage that enables it to stand up to tough weather. While the live species' root system would quickly take over a pot, this artificial option enables you to easily change out colorful annual plantings around it. This product arrives planted in a basic plastic pot and its dimensions are 9 inches in diameter by 36 inches tall.
7. TWO Pre-potted 4′ Spiral Boxwood Artificial Topiary Trees
Consider buying two of the Arcadia Silk Plantation spiral boxwood topiary trees for a classic entrance or hallway. Their dark green leaves are full and thick enabling you to place them in areas that get traffic from all directions. While these come in basic plastic pots, you can upscale their look by placing them in your own container. Each plant features 1221 leaves and has dimensions of 4 feet tall by 1 foot wide. The basic pot measures approximately 7 inches wide by 5 inches tall.
8. Silk Decor 4-Feet Tri Ball Boxwood Topiary Plant
Another entrance or hallway accent plant is the Silk Decor 4-feet tri ball boxwood topiary. This plant features two tone foliage for that realistic look. It comes potted in a green plastic pot that is 6 inches tall and 6 inches in diameter. The ball diameters are gradated: the top ball is 12 inches, middle ball is 15 inches and bottom ball is 18 inches.
9. Large Luxury Artificial Japanese Fruticosa Tree, Stylish Contemporary Handmade Using Real Bark Replica Fake Indoor Plant
The artificial Japanese fruticosa tree has a unique, twisted bark trunk and contemporary form. Its Asian look makes it an excellent choice to complement modern or transitional style furniture. At a height of 5 feet 4 inches, it is substantial enough to be the focal point in a room. It features a real bark trunk and arrives in a plastic terra cotta pot. Its dimensions are 1.5 feet across by 5 feet tall.
10. House of Silk Flowers Artificial Triple-Stem Phalaenopsis Orchid Arrangement, Lavender
As it flowers on for months, the House of Silk Flowers lavender triple-stem phalaenopsis orchid arrangement will surprise your coworkers with your amazing green thumb. It features thick, green leaves which are wired to be flexible permitting you to arrange them in a natural looking curve. The matte fabric artificial blossoms are subtle and classy. Standing 2 feet tall, this potted plant looks like it came straight from the florist. This plant features three stems. Each stem has 7-9 blooms and 4-6 buds. Its black glazed ceramic pot measures 6″ x 6″ x 6″, and its dimensions are 18″ diameter x 24″ tall.
While we usually think of paint colors, furniture, rugs and lighting when we design our living spaces, plants provide natural ambiance and a fresh addition to any décor. Shades of green are an important accent color to keep in mind when decorating. Artificial plants enable you to bring bold or refined textures and calm, relaxing colors into your home. Their versatility and convenience make them a must-have for you in your busy lifestyle. Begin branching out by beautifying your home with these specimens today.
Best Heavy Duty Rolling Garment(Clothes) Racks Reviews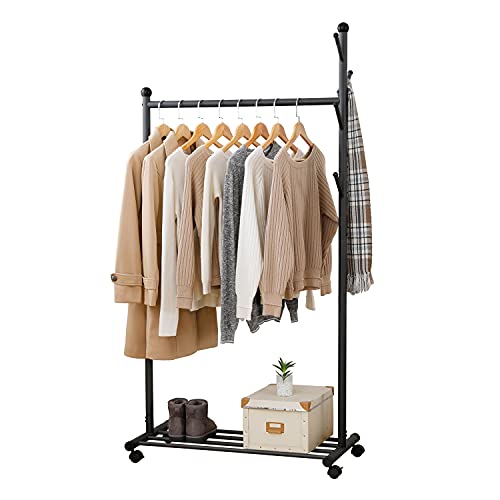 If it seems that you never have enough space in your home for all of your clothes or accessories or you just need to have a convenient place to store items such as jackets, cats and other outerwear in your office or workplace the answer may be as simple as a garment rack. Choosing the right garment rack for your needs though can be tricky. Making sure that you select one that has the sizing that you need, the load carrying ability, and most of all the durability that will stand up to the ways that it will be used is important. Here are 10 of the best ones on the market today and some of the features that help them stand out as top picks no matter what application you will be using them for.
Top 10 Best Heavy Duty Rolling Garment(Clothes) Racks Reviews
1. Whitmor Commercial-Grade Steel Supreme Double Rod Garment Rack, Black
This rack is very impressive with 2 rods to hang pants and shirts separately remove the bottom rod to hang longer items such as dresses and overcoats. The adjustable swing arm makes hanging things such as scarves, ties, and belts convenient. The top shelf is perfect for handbags and hats while the bottom shelf is an ideal place to keep shoes. This rack can be assembled easily in a few minutes with no tools and is made of strong and durable steel. The 10-year warranty means that it's a headache-free option to add more storage to your closet easily.
2. Alera Wire Shelving Garment Rack (Black)
This rock offers the convenience of an additional second shelf on the bottom to make storing items such as shoes and handbags easier. The side hooks are perfect for scarves, ties, belts and more. The top rack makes for ideal storage of garment and hat boxes to keep your closet uncluttered and organized. Four rolling casters mean that you can easily move this rack around even when loaded, ideal for nesting racks in front of one another to create even more efficient use of space. Both bottom racks are adjustable for height. The classic black finish looks great and the all steel construction is durable and strong.
3. 400LB LOAD Commercial Grade Rolling, Z-Rack Garment Rack with Nesting Orange Base
This professional grade, commercial style rack features a Z-base for stability and convenience and a total capacity of 400 pounds. The 1?" diameter hanging rail is high polished chrome as are the uprights. The OSHA safety orange base nests with other racks of the same model and size of convenient storage when not in use. The same high-quality type of rack that is used in high-end retailer, fashion houses, and warehouses. The large rubber wheels with brakes and rubber bumpers mean that this rack will move easily and safely even when fully loaded.
4. Extended Height Double-Rail Rolling Z Rack Garment Rack with Nesting Black Base
The gorgeous black nesting base of this rack compliments an décor. The rack is extended height, thanks to the pair of 10" extenders and has double bars to accommodate a full wardrobe easily. Rack can hold up to 400 pounds and even when fully loaded can easily be moved thanks to the four large castors which have rubber wheels to grip and rubber numbers to protect other surfaces from scuffs.
5. Honey-Can-Do Bottom Shelf Expandable Chrome Garment Rack
This rack is perfect for home, but looks especially great in the office. Ideal for an office which doesn't feature a closet for hanging jackets or coats, or for an employee break room. The rack is a slim 39" but can be expanded due to the two retractable hanging rods that slide out from the main rod on either side. The high shine, chrome finish is a great complement to any decor and the four large removable casters make moving the rack easy if needed. A large shelf on the bottom is the perfect place to store shoes or rain boots.
6. Commercial Grade Adjustable Garment Rack
This commercial grade rack can handle up to 250 pounds easily and features large castors for easy movement. The rack is adjustable in height offer 8 positions from 46 to 66 inches, making it ideal for use in a cloakroom or coat check. A 5 year "no overload" guarantee means that if any part of this all steel no plastic rack sags, bends, cracks or breaks under normal use the maker will repair or replace it.
7. SONGMICS Heavy Duty Garment Rack with Top and Bottom Shelves Rolling Clothes Rack, Black ULGR45P
This is a great rack for the office or workplace. The rack features three shelves which are adjustable as well as a standard hanging bar that is perfect for coats and jackets or a change or clothes. The side bar is ideal for bags, ties or scarves The heavy-duty casters make moving it a breeze even when loaded. All steel with a black powder-coated finish is durable and looks great anywhere.
8. SONGMICS Rolling Clothes Rack Adjustable Garment Rack Portable Hanging Rack for Clothes with Brake Wheels ULLR01L
This great rack is perfect for just about any need that you may have. The rack adjusts both in length and in height to accommodate all of your wardrobe needs. Starting at 34.25 inches long and 38.25 inches high to a fully extended size 59.40 inches long and 65.70 inches high. Four large heavy-duty casters make the rack easy to move, and two of the casters have brake locks to ensure stability. Easy to assemble with no tools required. High shine chrome finish with black plastic trim pieces looks great in any environment.
9. Z Rack with Cover Supports & Vinyl Cover
Commercial grade Z base rack features a nesting bottom with four large rubber casters and bumpers as well as an OSHA complaint coloring. The rack has an attractive chrome polish on the uprights, cover supports and hanging rod. The cover is made of heavy no rip clear vinyl and features a zipper in the middle front. Covered by a 5 year, no overload Guarantee and with a 400-pound capacity, it's a great choice for fashion houses, dry cleaners, and more.
10. Collapsible/Folding Rolling Clothing/ Garment Rack Salesman's Rack
This rack is one of the best around for those who may need an occasional clothing storage or display, but don't have a lot of space for a rack to stay in place full time. With a 250 pound capacity it is able to hold a full wardrobe easily. The main rod has extension rods at both ends to extend its capacity even further. The offset uprights provide a smaller base that's easy to maneuver when needed, but a full length hanging rail. The entire rack can be collapsed and folded up to only 5" high. Constructed of durable chrome plated steel it will provide years of reliable service.
Conclusion
Choosing the right garment rack for your needs is a great way to add additional storage space to your home for clothing or to add the convenience of a closet to a location that does not have one. Make sure that you choose the right rack for the weight, height and length of bar that you need. A garment rack is the ideal solution for your garment hanging needs no matter what they are or where.
Best Outdoor Home Surveillance Security Camera Systems Reviews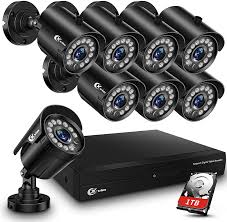 Are you looking for the perfect security cameras? Then look no further than these that are listed below. You'll be very happy with what you find, and you can use these things very easily to create a sense of safety and security around your home.
1. EZVIZ Smart Home 1080p Security System, 8 Weatherproof HD 1080p Cameras, 8 Channel DVR 1TB HDD, 100ft Night Vision, Works with Alexa using IFTTT

This product is designed with a smart home camera kit. It has IFTTT capability, and you can add new features and functions with one-click updates, which are easy to manage. You can see anywhere and at anytime.
2. Trivision NC-335PW 3 Megapixel HD 1080P Waterproof Wireless Outdoor Home Security Camera System for iPhone, iPad, Android Smart Phone, PC and Mac
This product has a quick setup and an intuitive operation. You can get this product up and running in a matter of minutes, and its Anytime app can be downloaded. You can view remotely anywhere, anytime.
3. Best Vision 16-Channel HD DVR Security System with 8 1MP IR Outdoor Weatherproof Bullet Cameras, 1TB Hard Drive and Remote Surveillance
This product includes a pro level DVR, and it features 16 channels that you can record and playback in real time. It also supports motion detection, and it has a high resolution bullet camera. This kit comes with everything you need.
4. Amcrest 1.3-Megapixel (1280 x 960) 4Ch Network POE Video Security System (NVR Kit) – Four 1.3MP POE Weatherproof Bullet IP Cameras, 98ft Night Vision, Pre-Installed 1TB HDD and More

This features real-time and playback, and you can search, playback, and use to backup functions to provide enhanced ease of use and security. It comes with a pre-installed hard drive, and you can connect it to your home security system.
5. Zmodo 8 Channel 4 Camera Outdoor 720p HD Simplified PoE NVR Surveillance Security Camera System
This product is a high-resolution surveillance system camera security system. This comes with night vision, and you can see up to 65 feet in the dark. These cameras are highly versatile, and you can use them both indoors and outdoors.
6. Video Camera Security System,Hi-Tech 4CH 960H DVR Recorder with 4PCS Built-in Waterproof LED High Resolution Indoor/Outdoor IR Night Vision CCTV Surveillance Cameras
This video camera security has 4 channels and a camera security system. It also has a remote view, and it features motion detection with push notifications that let you know when something is detected. If you need to save the recording, you can assemble an internal hard drive or a regular hard drive to use on this product.
7. ANNKE 8CH HD-TVI 1080P Lite Video DVR and (8) 960p 1.3MP Indoor/Outdoor Fixed Cameras with IP66 Weatherproof Metal Housing-NO HDD
This product has the newest lite digital video recorder, and it also has indoor/outdoor cameras for true day and night monitoring. You can get it set up quickly and with much ease, and it has multi cloud technology, network penetration, and alarm information that it puts on your phone. All of these systems come with guaranteed power supplies, and you're sure to appreciate that it has a 2 year guarantee and comes with tech support.
8. Smonet 6 Channel 960P(1280X960) HD Wireless Video Security System (NVR Kit),6PCS 1.3MP Wireless Weatherproof Bullet IP Cameras,Plug and Play,65ft Night Vision,1TB HDD Pre-installed
You will need to use cables with this product, but it is indeed wireless. It is easy to do it yourself, and you can set it up easily. You don't need wires anymore. This is the most beautiful product, and it is also hidden, and it is very safe. It also has crystal clear night vision, and you can find a waterproof camera to go with your product. You'll also really love the motion alerts that you get from this product.
9. Swann SWDVK-4ALP14-US Compact Security System 4 Channel Digital Video Recorder & 4 x Cameras.
This is the security system 4 channel digital video recorder. It has 4 all-weather, high-resolution cameras, and it has powerful night vision and you can set it and forget by continuously recording from 4 cameras for 30 days+. You can save time and also have peace of mind. And of course, you can also connect to the Internet in seconds. You'll love that you have surveillance in the palm of your hands, and you can view everything you record live.
10. Smonet 4CH 720P HD NVR Wireless Security CCTV Surveillance Systems(WIFI NVR Kits)-Four 1.0MP Wireless WIFI Indoor Outdoor IP Cameras,P2P,65FT Night Vision
This wireless system doesn't mean that you don't have to use cable; of course you have to use cable. This product is the most beautiful, most hidden, and most safe thing, and you can plug in your camera and get your local Wi-Fi network. You, of course, will also get push notifications on your phone or camera when motion is detected, so you can make sure you do the right thing and act on that slight motion detection.
As you can see, you've found the perfect answer with these security cameras, and they are meant to provide you with that extra level of safety and security that you need. The benefits to having these cameras is that they are made to make sure that you get protected from your possible intruders or other people who may be seeking to get into your space. So, you will want to be careful with your space, and make sure that you use the cameras to protect yourself.
These cameras come in a wide variety of styles and can be found to protect you and your family as you seek to make sure you get what you need in terms of safety and security. Don't neglect to purchase one of these today.
Top 10 Best Food Vacuum Sealers Reviews
o you just seem to have a thing for freezer-burnt meats and soggy salad? Tired of of having to rush against time to save your food from a bad case of mold? Maybe its time that you consider a vacuum sealer system. It's like this ultra cool little machine that sucks air and really saves the day! Maybe you're a meat-lover or even a hunter and you take pride in the freshness of your meat, this product is great for long-term storage of fresh game. A Vacuum Sealer System is also great for shorter term storage needs like deli meats and cheese. Maybe you're the type who likes to save a few bucks a year and just can't stand the thought of things going to waste. Well a Vacuum Sealer System is great for keeping food fresh for up to five times longer compared to traditional storage methods and as a result saving you hundreds or even thousands of dollars a year! Variety is the spice of life and there are a many different vacuum sealer systems out there for you to get lost in possibilities but before you do that let me spare you the time and trouble.
Top 10 Best Food Vacuum Sealers Reviews
1. FoodSaver Professional Vacuum Sealer
Going into the not-so-basic sealing needs, there is the FoodSaver Professional Vacuum Sealer. This vacuum sealer features a manual operation for ease and precision, a convenient roll holder and bag cutter, an extra large removable drip tray for easy disposal, an extra-wide sealing strip to create a secure and air-tight seal, and the famous accessory port and vacuum hose for effective use with the optional seal canisters and saving major time in marinating foods in matter of minutes instead of hours.
2. Nesco VS-02 Food Vacuum Sealer
Then there's the Nesco VS-02 Food Vacuum Sealing System which features a one-touch operation that turns off automatically, a nifty roll storage compartment with bag cutter to keep you sealing and rolling, a switch to extend sealing time for easy adjustment to your wet or dry sealing needs, and also an override seal function to help protect your delicate meats during the sealing process.
3. Seal-a-Meal FSSMSL0160-000 Vacuum Sealer
Then there's the Seal-a Meal FSSMSL0160-000! Despite the rather long product name, the Seal-a-Meal vacuum sealing system doesn't take long at all to get the job done. As a great introduction to vacuum sealing, this compact unit has a straightforward design and operation and seals in seconds. It features a press/hold sealer system which puts you in total control of how tight or "not-tight" you want the seal to be. The Seal-a-Meal also comes with the removable drip tray for getting rid of the mess quick and easily and is quite fitting for most of your sealing needs.
4. FoodSaver V3240 Vacuum Sealing System
Now we have the FoodSaver V3240 which features a space-saving vertical design to help keep your kitchen tidy, a simple, user-friendly manual operation with two vacuum speeds for your very specific sealing needs, a moist/dry food setting to give you the best sealing, the protection of the CrushFree instant seal that helps preserves even your most delicate of meats, and a very convenient roll holder and bag cutter to make sure you're always suited and booted ready to take care of business!
5. FoodSaver V2244 Vacuum Sealing System
First off there's the FoodSaver V4422 Vacuum Sealer System. This neat little hero is compact in size but does a big task of preserving everything from cookies and cheese to even your most delicate meats. It gives a Crushfree instant seal that protects your meats during the sealing process. It also comes with a dishwasher safe removable drip tray for easy disposal and cleaning of any excess liquids you're left with. The FoodSaver V4422 also comes with an accessory port and hose vacuum which could be used for sealing canisters completely to ensure an air-tight seal and also for marinating foods in a matter of minutes instead of hours compared to other traditional methods!
6. VacMaster VP112 Chamber Vacuum Sealer
Then you have the VacMaster VP112 Chamber Vacuum Sealer which is also great for eliminating the waste of food by the bulk. The VP112 is also great for liquid-rich foods and helps keep your precious meats fresh for you to enjoy even months down the road!
7. VacMaster VP210 Chamber Vacuum Sealer
Now there's the VacMaster VP210 Chamber Vacuum System which is slightly different in mechanics and technology giving you greater demand over soups, stews, and marinades. The VacMaster is able to reach higher levels of vacuuming power giving you the power to store liquids, fish and meats without a scent, thus allowing you to eliminate the waste of food by the bulk load!
8. VacMaster PRO260 Suction Vacuum Sealer

Next up is the VacMaster PRO260 Suction Vacuum Sealer which is big in functionality but not too bulky for home use. The PRO260 gives a double seal on each bag to ensure a complete and lasting seal that preserves your food up to five times longer. The unit features a double roll-dispenser system and two-way bag cutter that allows you to really cut to the chase with your sealing needs. It also features a marinating option to really infuse your food with the flavor you deserve!
9. Ziploc V151 Vacuum Sealer System
Last but not least, you may even consider the Ziploc V151 Vacuum Sealer System which features a powerful motor strong enough to handle your most daunting sealing needs, One-touch vacuum and instant seal buttons with a manual function to take on your delicate baked goods, a canister port for evacuating accessories. The V151 is unit that's fairly easy to operate with LED indicator lights and also no hassle at all to clean and prepare for future use. Yes even this little guy knows how to get the job done!
10. FoodSaver GameSaver Deluxe Vacuum Sealing Kit
Next up is the FoodSaver GameSaver Deluxe which is great for hunters and sportsmen alike. It features a hands-free, press and release operation that helps save game-meat and other foods, a built-in cutter and roll storage for ease and convenience, vacuum chambers to catch any overflow liquids, and also the accessory port and hose to use with optional canisters for a very air-tight seal.
So now that time is in your hands what more do you have to waste? You have the power to keep your meats, soups and other produce fresh for up to five times longer and save yourself from wasting money and wasting time. Make sure to stay stocked on bags to keep you rolling my friend! Good Luck!